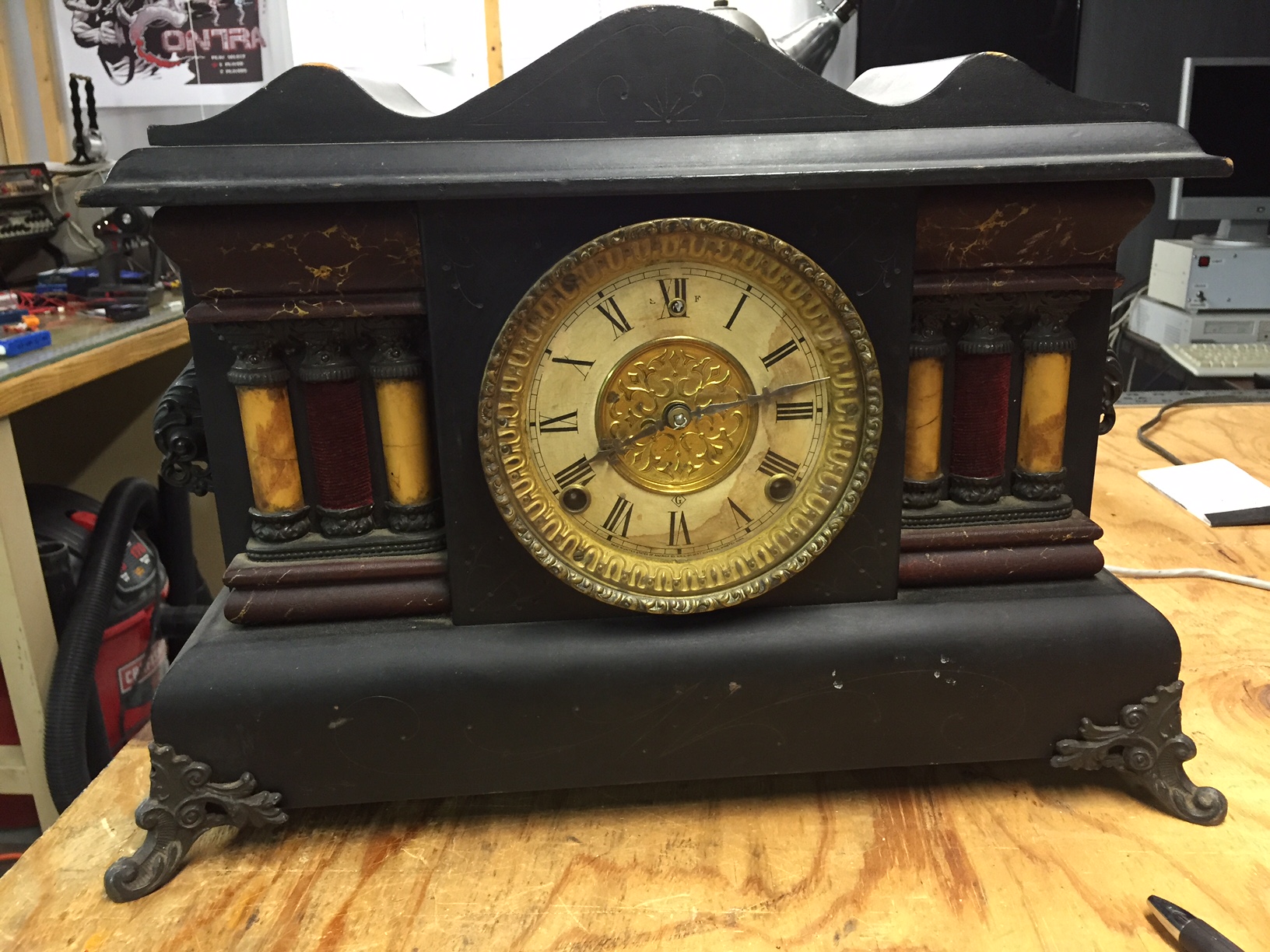 I repaired another old antique clock today.   This one is a 1909 William Gilbert mantle clock.   It has an 8 day movement and has a gong strike for the hour and a bell strike for every half hour.   My father in-law bought this clock last summer at a flea market in town for $50.  It did not function of course so I got to take it home and try to repair it.
Its a rather ugly clock in my opinion.  It still is mechanical and old which makes it cool so I will get it running again.   Currently it will run for about 5 minutes and stop which could be anything really but I have a hunch its dirty and probably has some worn out pivot holes just like every other movement I mess around with.
The first thing to do is to get the movement out of the clock.   I had to remove the wood back and expose the movement.    There are four wood screws that hold the movement to the clock and that's it.  Remove the four screws and remove the clock face hands and the movement just falls out the back.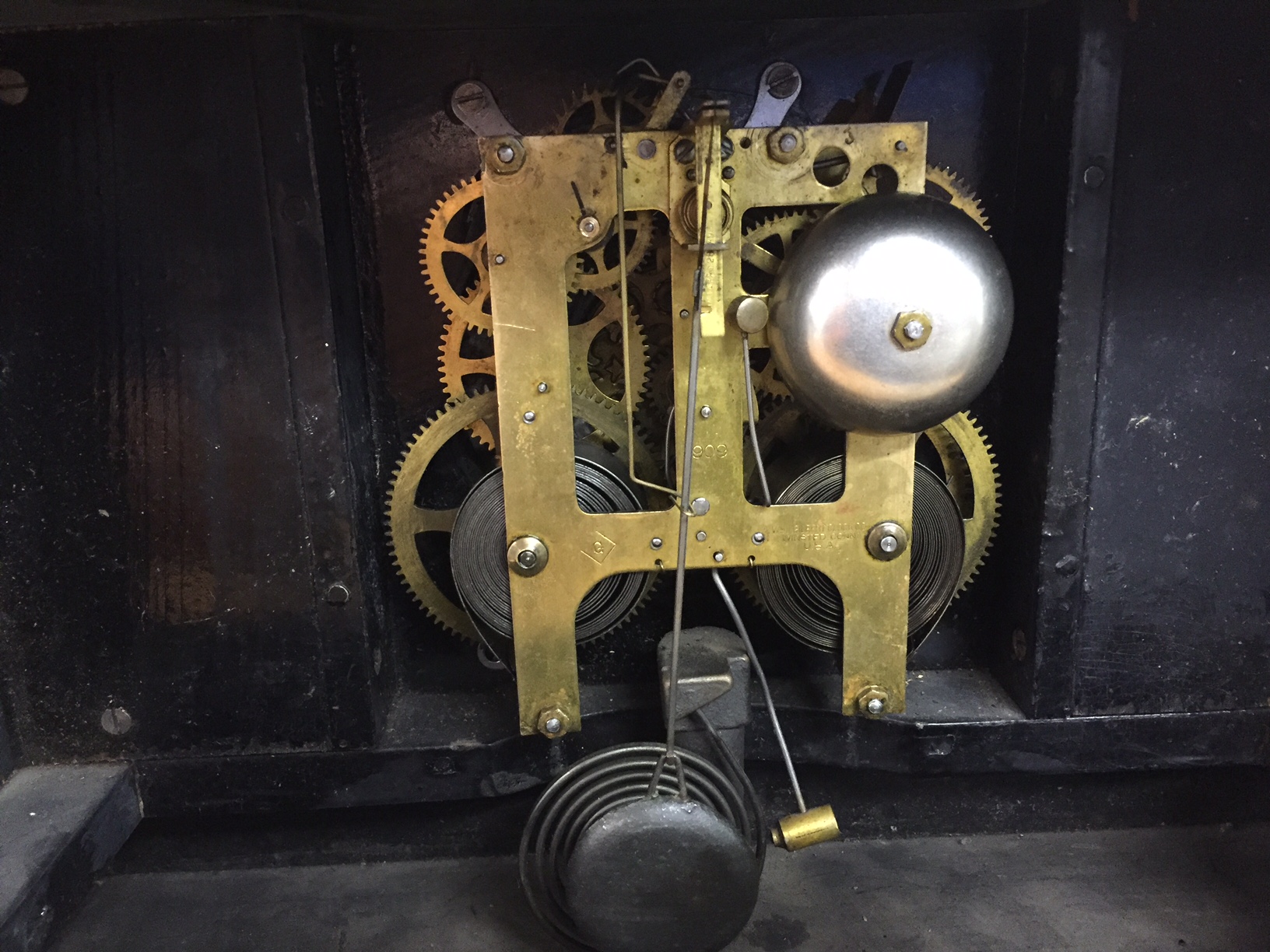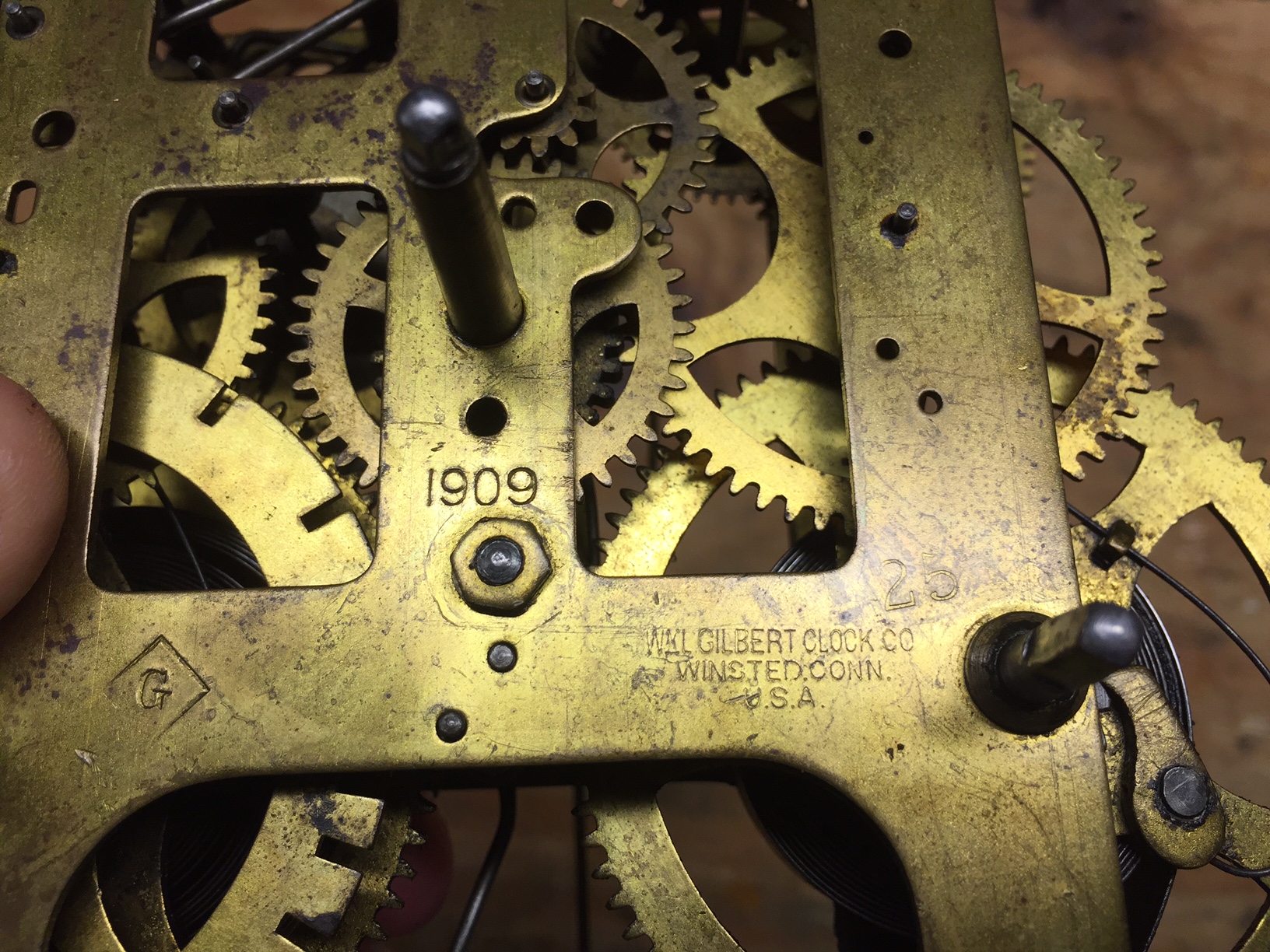 Its an old one and has the 1909 date stamp on it.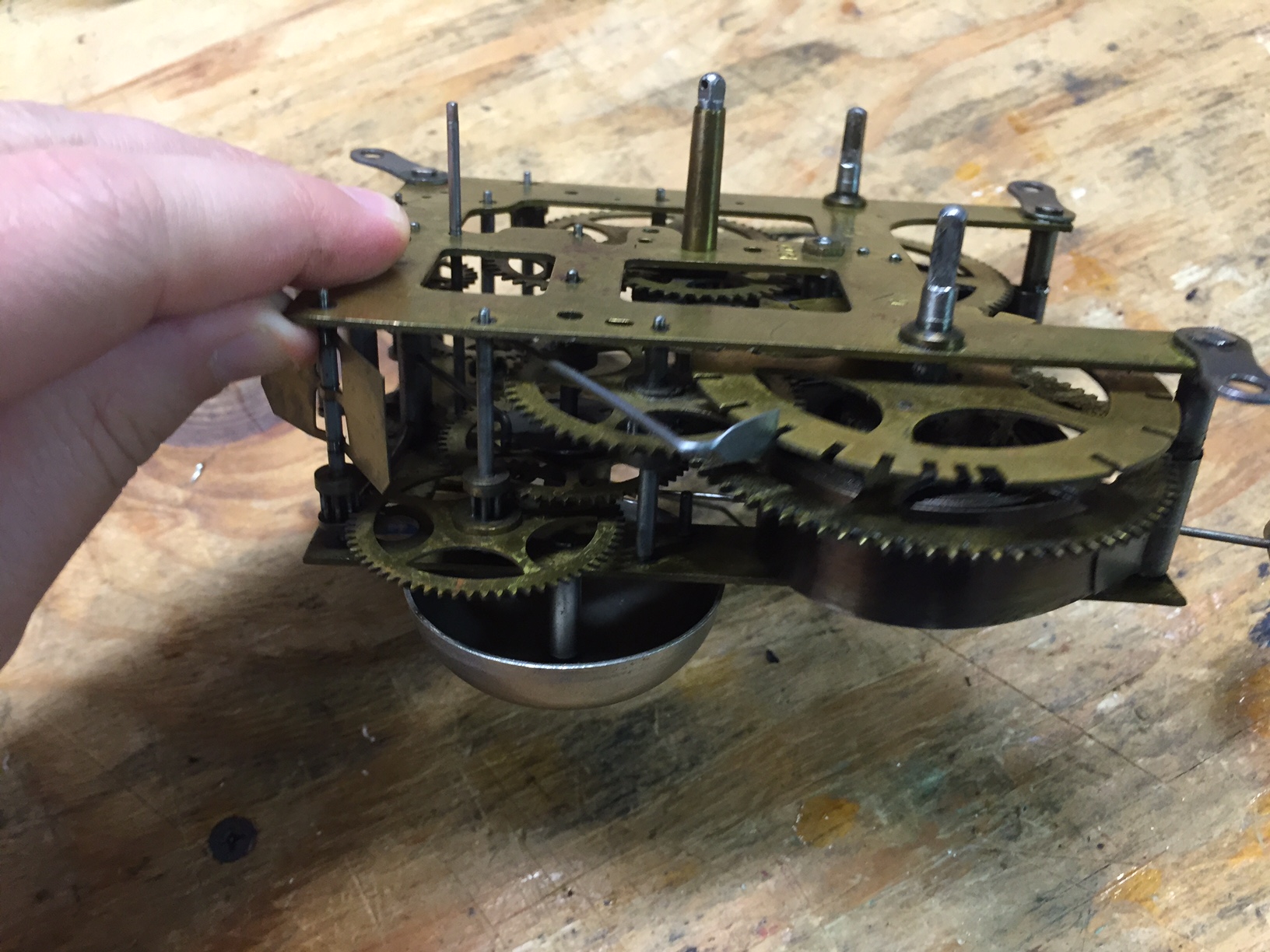 I removed the movement.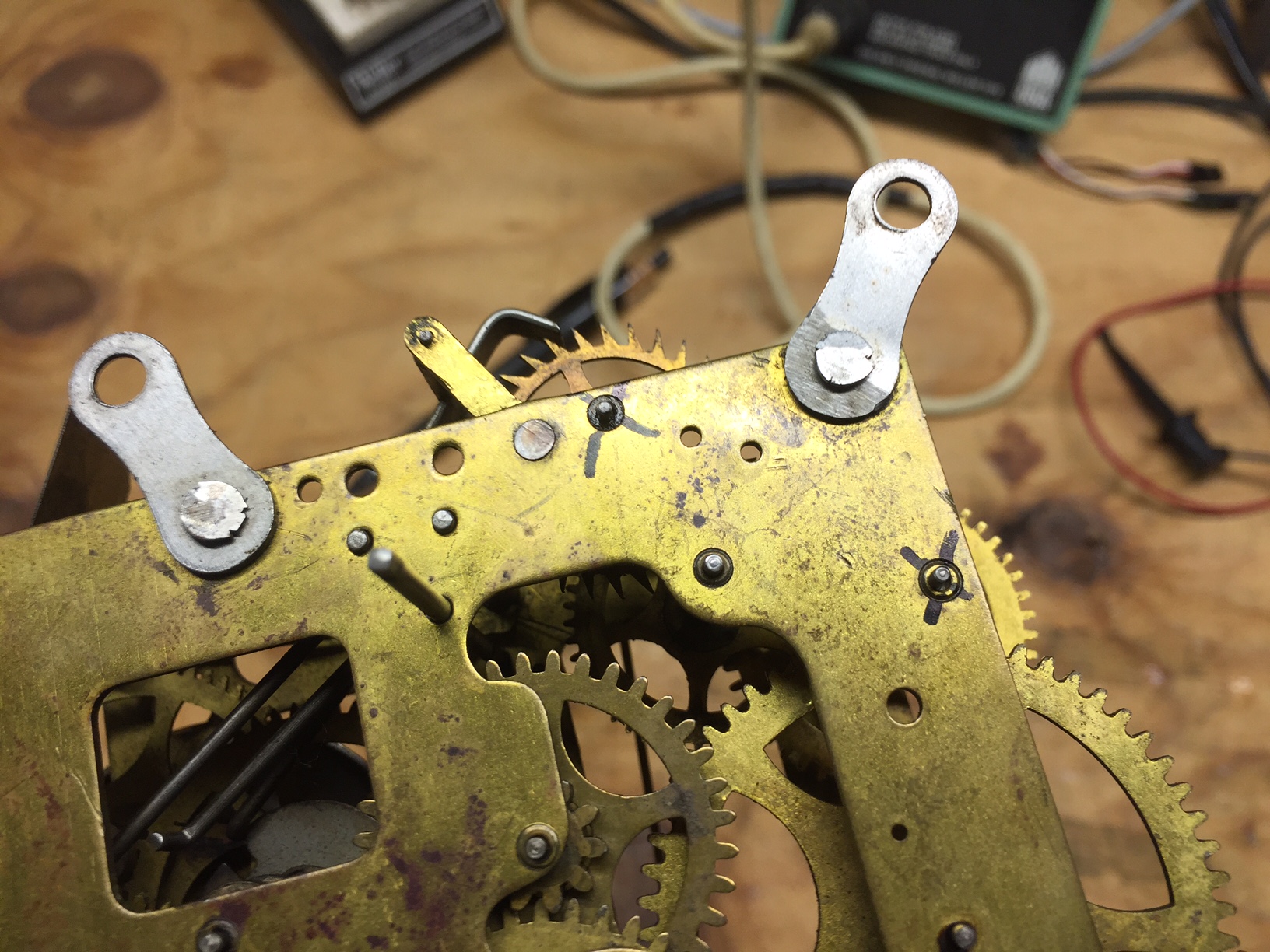 I found some worn out pivot holes and marked them with a marker.   Make sure to mark the side that is worn.  You can put some force on the main spring wheel and observe the pivots moving around.  It will move towards the worn area of the hole and if there is too much wear the clock will stop.  Some guys use pencil but I find it hard to see so just clean off the marker later.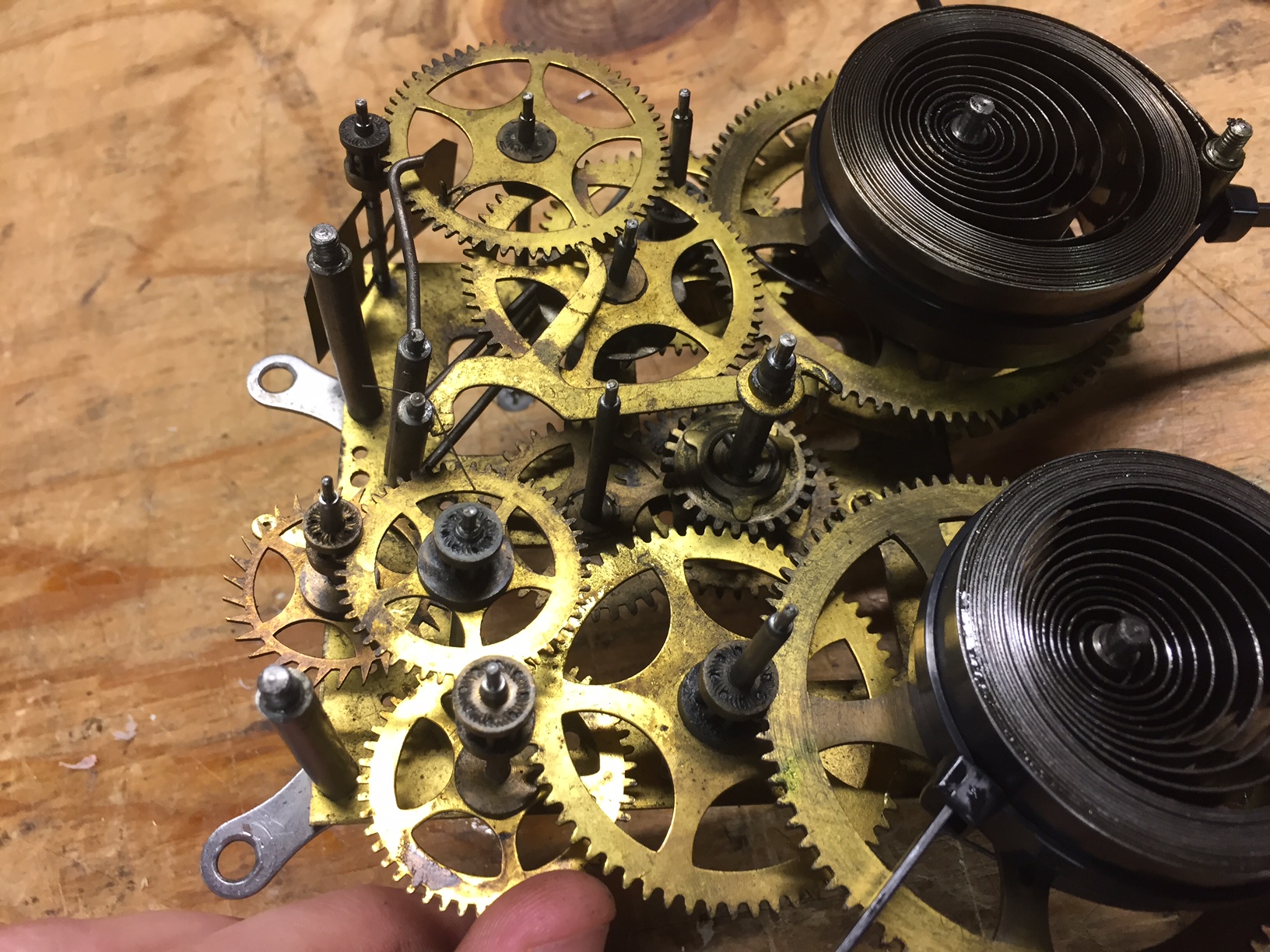 I take many pictures of the clock movement before I take it apart.  Movements all are very similar but I still forget where some wheels go and some have extra levers or different mechanisms.   Pictures work perfect and I always have to go back and look!!!   Make sure to secure the main springs with strong zip ties or wire before you unwind them.  Springs are nasty business and you don't want one of them uncoiling in an explosion which usually breaks gear teeth and could hurt you.   When its all apart, I clean everything with mineral spirits and a tooth brush.  Remove all the old oil and grime around the pivot holes.  Clean all the clock wheels.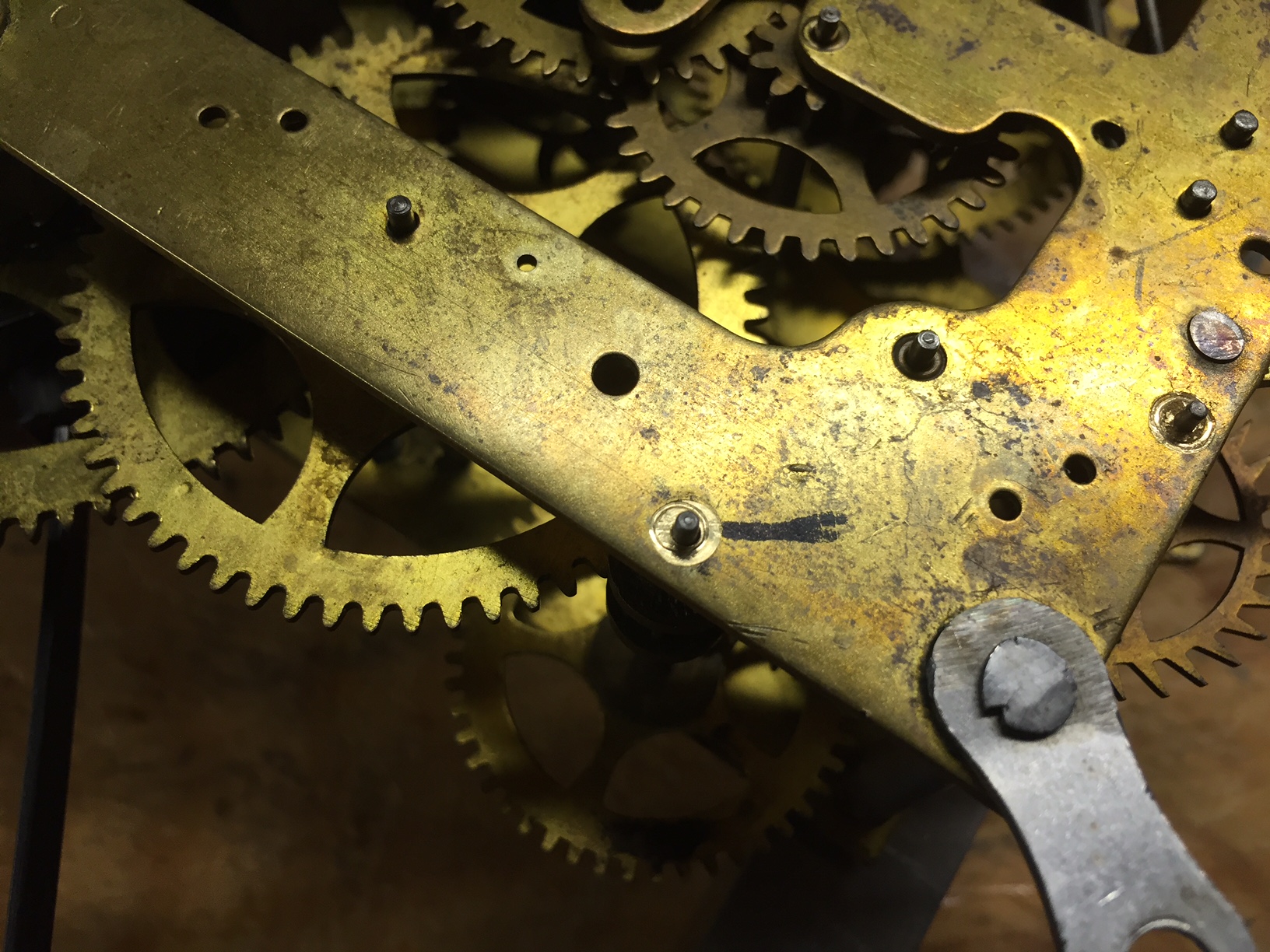 Worn pivots can be repaired with bushings.  I drilled out the old pivot hole with a 1/8″ end mill and pressed in an new bushing that I made on my lathe.  I have done this before and have a good explanation in another repair page I wrote.  Two pivots shown above are repaired with new bushings (shiny area is new).  I even tried to cut the oil groove like the original but I was slightly off center…..still works however.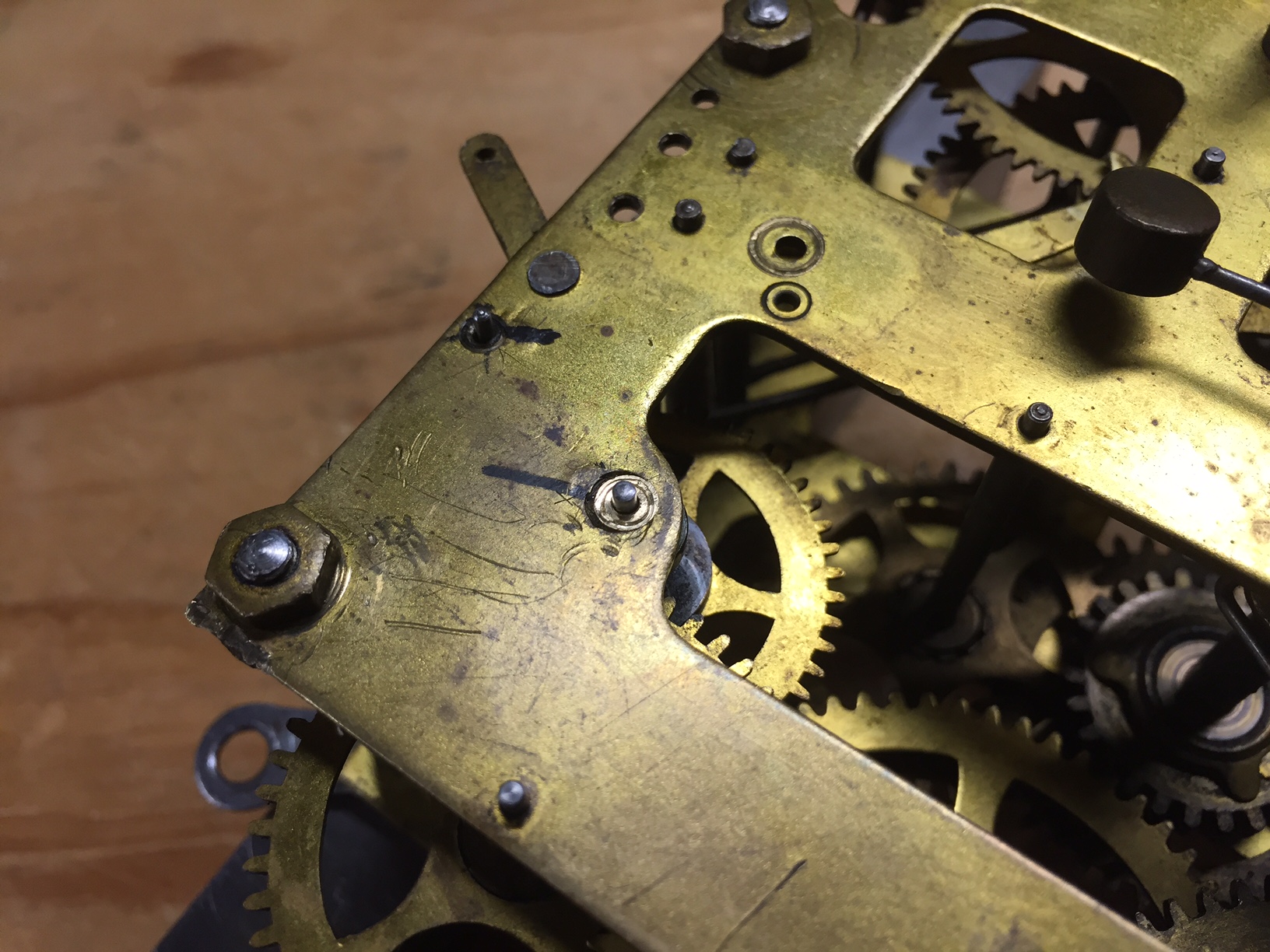 Another repaired pivot hole.   Oil groove is centered this time.
Reassemble the movement and test it out before releasing the main springs.  Make sure everything moves and functions as it should.  Also oil the movement with real clock oil.  Don't use WD-40 or car motor oil.   3 in 1 oil is barely acceptable but wont last long since its too thin and runs all over.   Get a good synthetic clock oil which will stick to the pivots for a long time.  I bought a small bottle for less than $20 and it will last my lifetime.
Repairing three worn pivots and a good cleaning and oiling was all this 1909 clock movement needed to function again.  Its been running for 20 hrs now and I suspect it will run fine for a week before it needs to be wound up again.
Here is a video of it running.  It is striking the hour.
Here is another video of the clock running and will strike the 1/2 hour bell towards the end of the video.
Below are some photos of making the bushings on the lathe: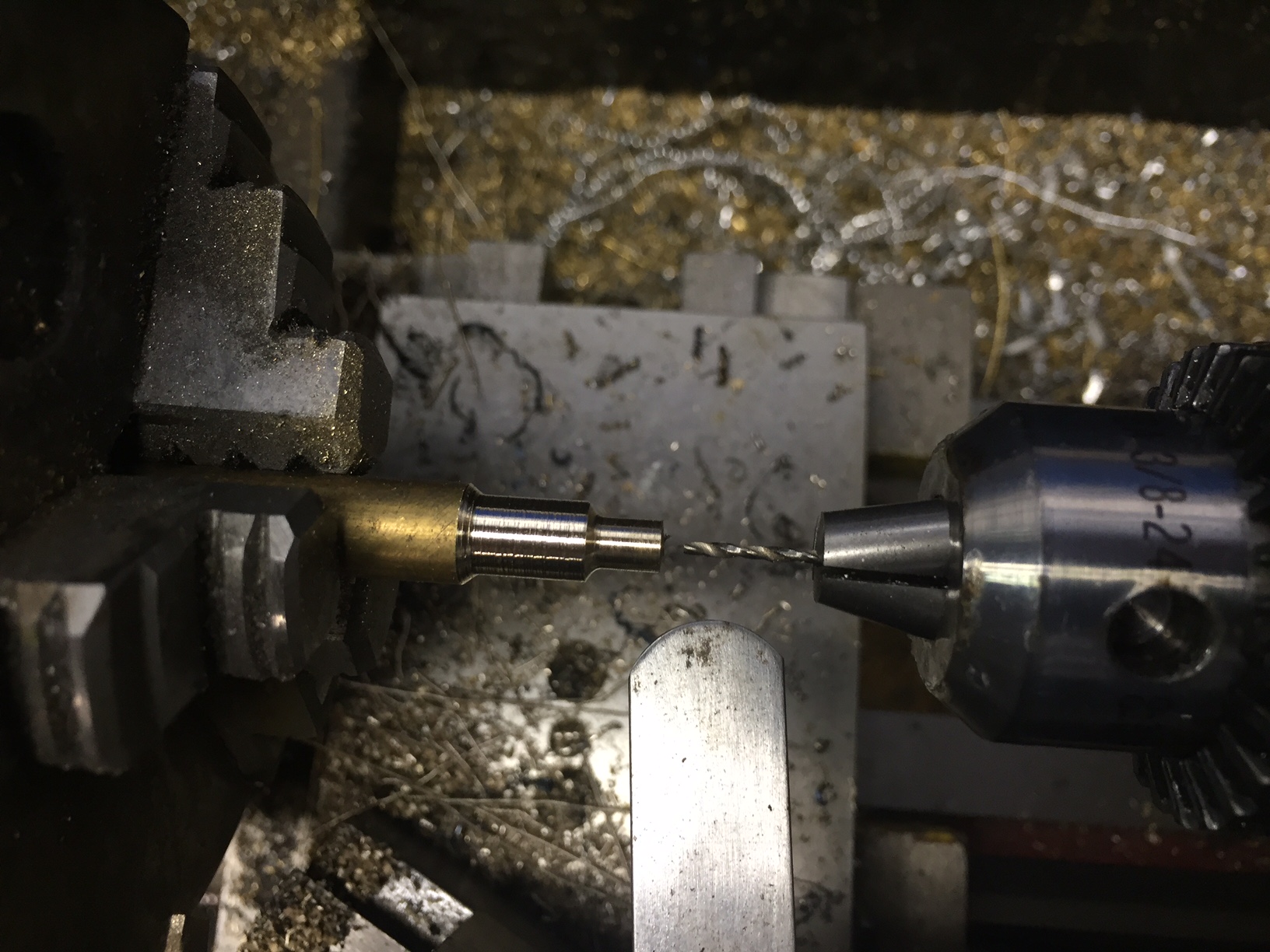 Above showing how it drill the small 0.050″ hole.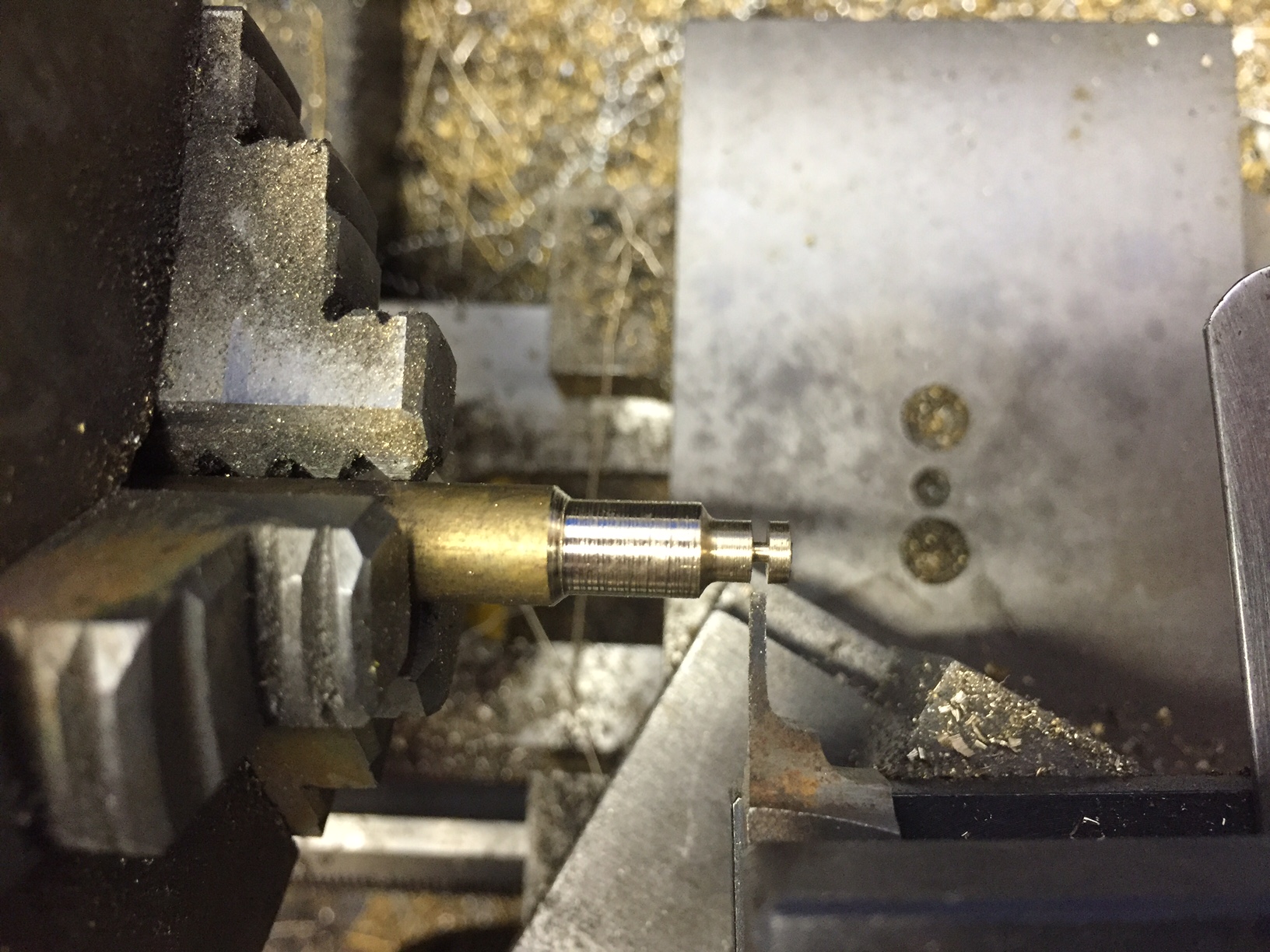 Above I am parting off one of the bushings.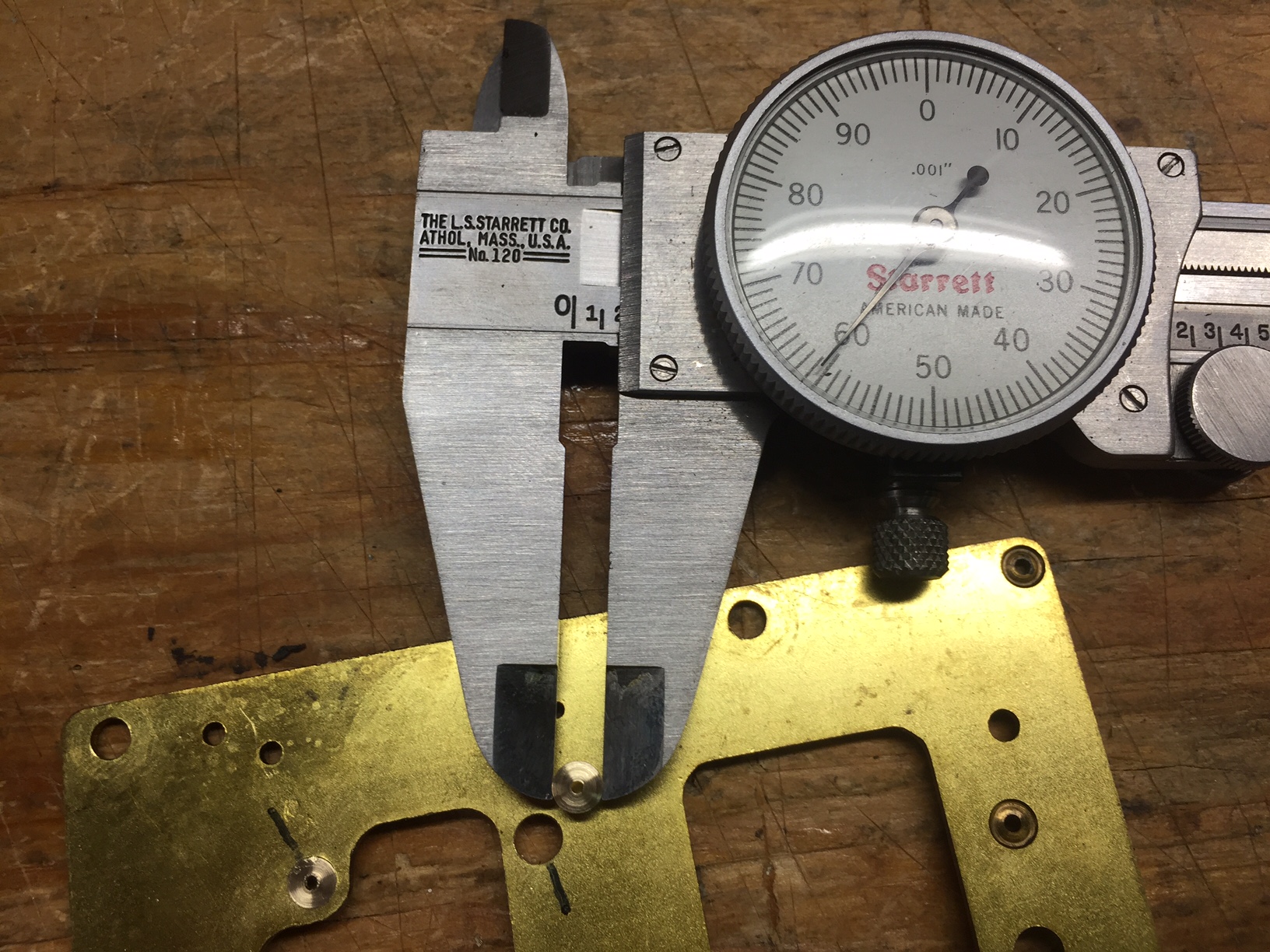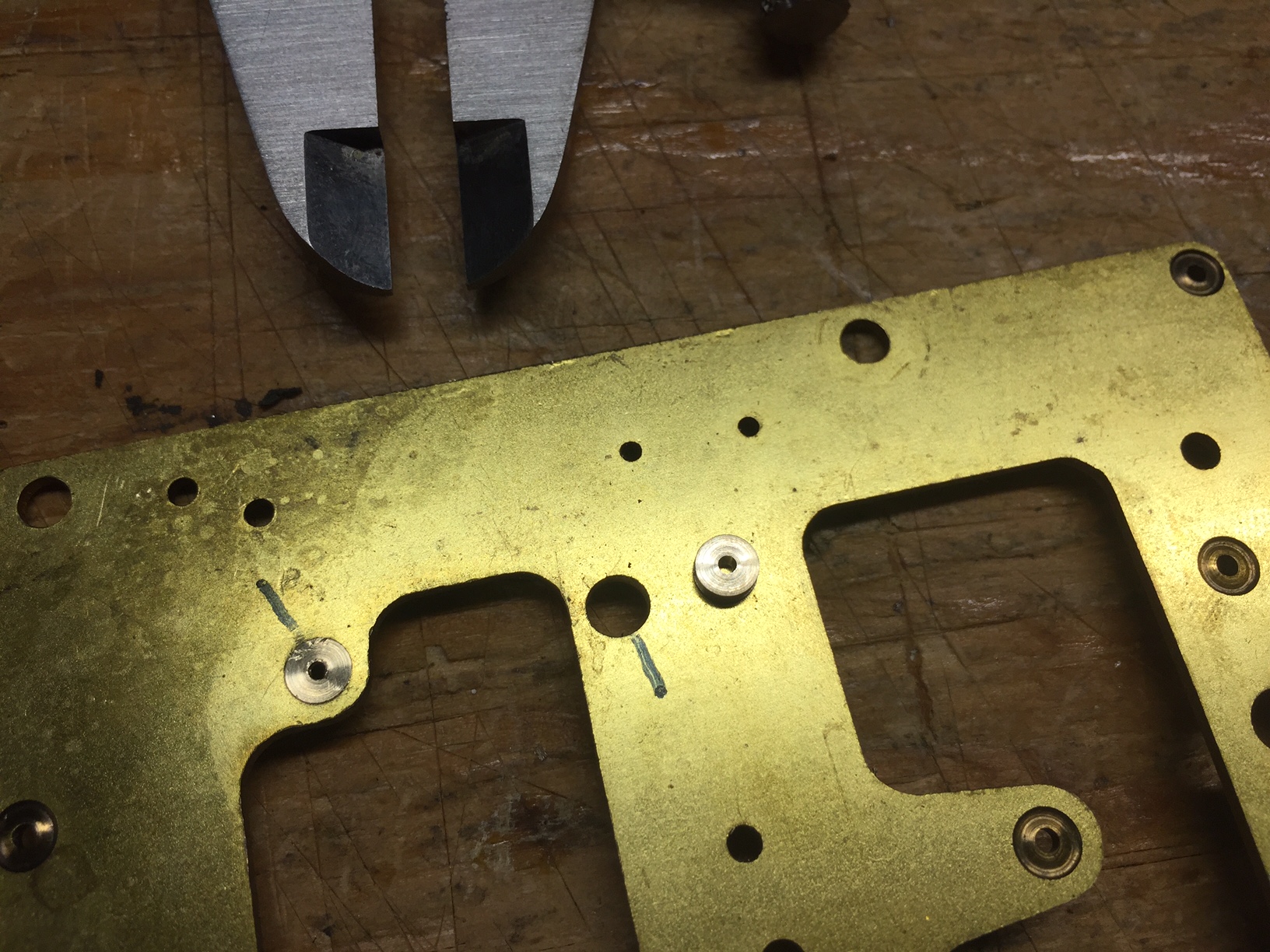 Above you can see one busing hammered in place and the other one is next to be pressed in.