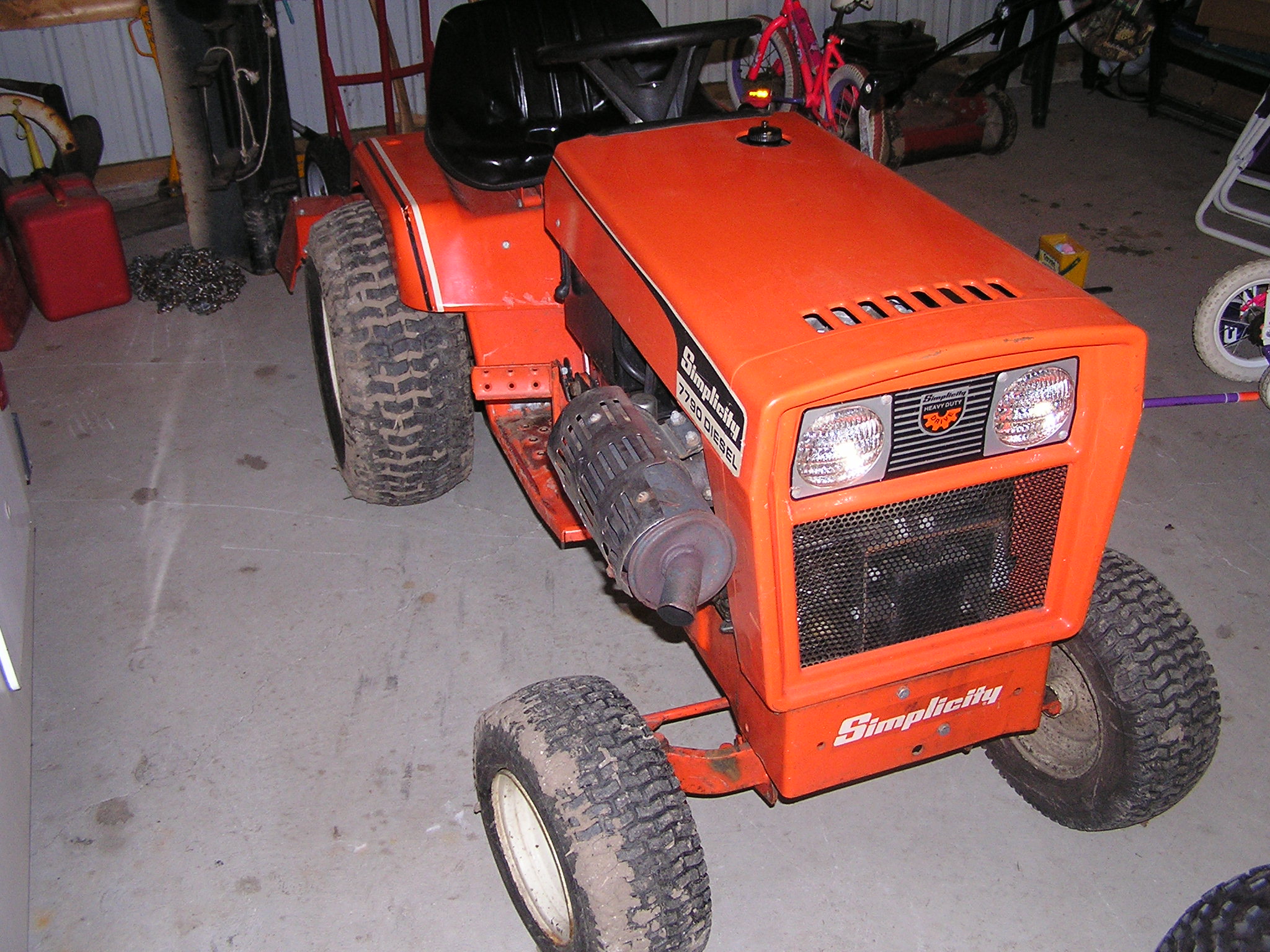 I acquired my dad's 1984 Simplicity 7790 diesel about 5 years ago.  My dad used this tractor for everything for 20yrs and originally bought it from my grandfather back in the 1986.   I have a ton of attachments for this thing including a cool front dump bucket.  Sadly, when I received the tractor it was pretty worn out.  The engine smoked really bad and leaked fuel everywhere.  It was very hard to start and was unusable.  The engine is a Lombardini 10LD400-2 two cylinder 18.5hp diesel engine.  It's air cooled and is a real work horse.    The only bad things are that it is loud and smells.  I however think it is a neat tractor and like driving it. This is identical to the Allis Chalmers 920 Diesel. All attachments from the Simplicity 7000 series frame tractors fit this tractor and many tractor parts (except engine parts) are interchangeable as well.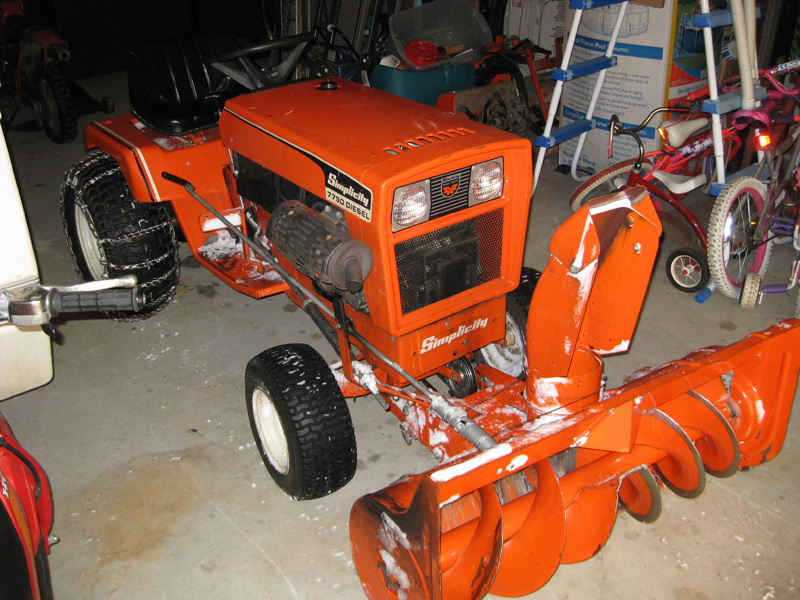 I spent the next month rebuilding the engine and getting it back into good working condition.  All the parts had to be imported from Italy which cost a lot and takes several weeks.
I bought all the engine parts from here:  http://powersupplyequipment.net/
They deal with Lombardini parts and were able to get me everything I needed.  The total cost for the rebuild was $582 which included a gasket set, valves, bearings, and piston ring set.  I did not need pistons or jugs since they were within factory specs.
Update 12-22-14– I guess powersupplyequipment.net no longer supplies the Lombardi engine parts.
Kholer now owns Lombardini. Parts might be available with them as well. There are also other parts that fit this engine perfectly. Rings are the same as a Mazda 626 Diesel, part # 2M4210.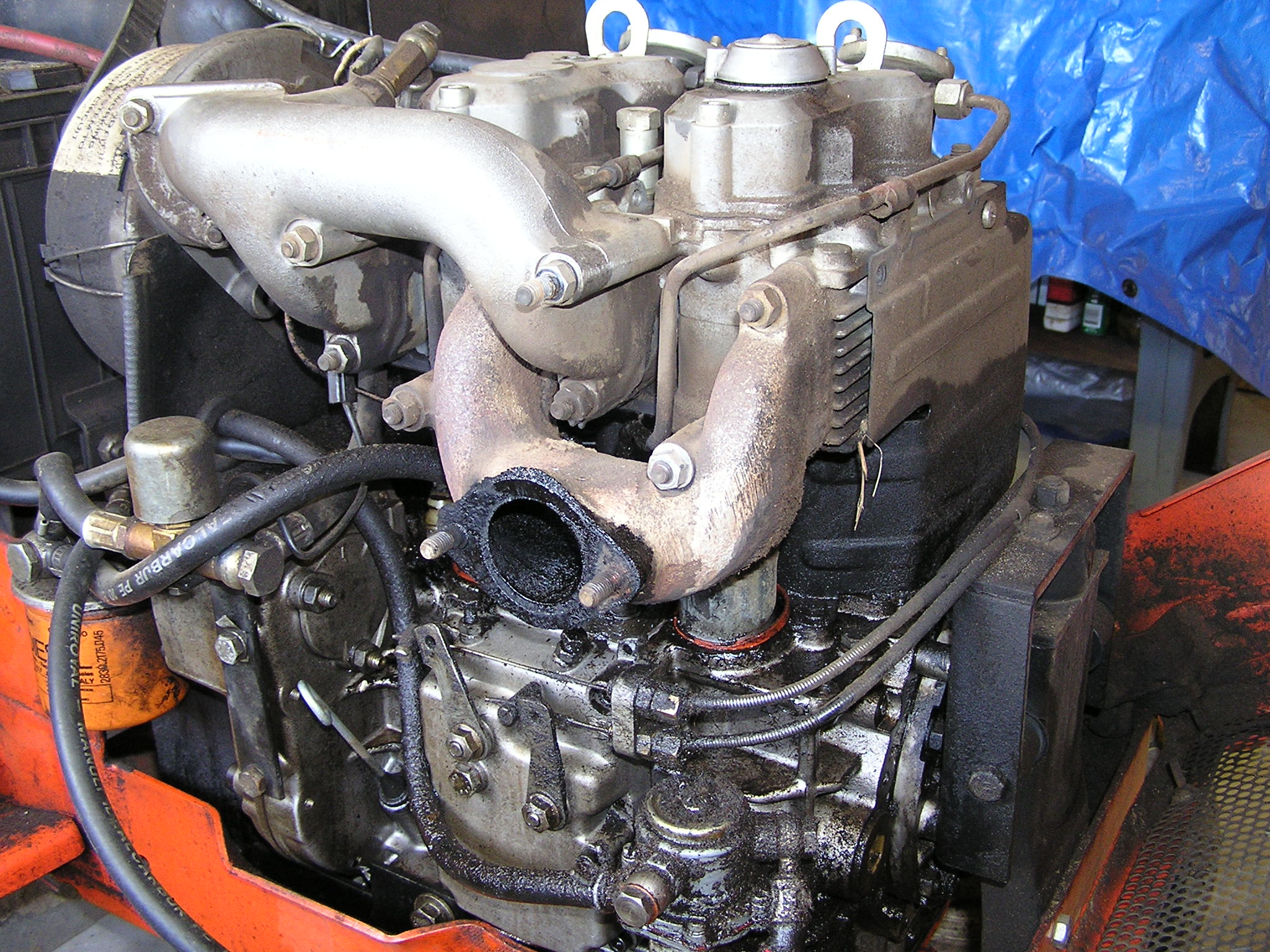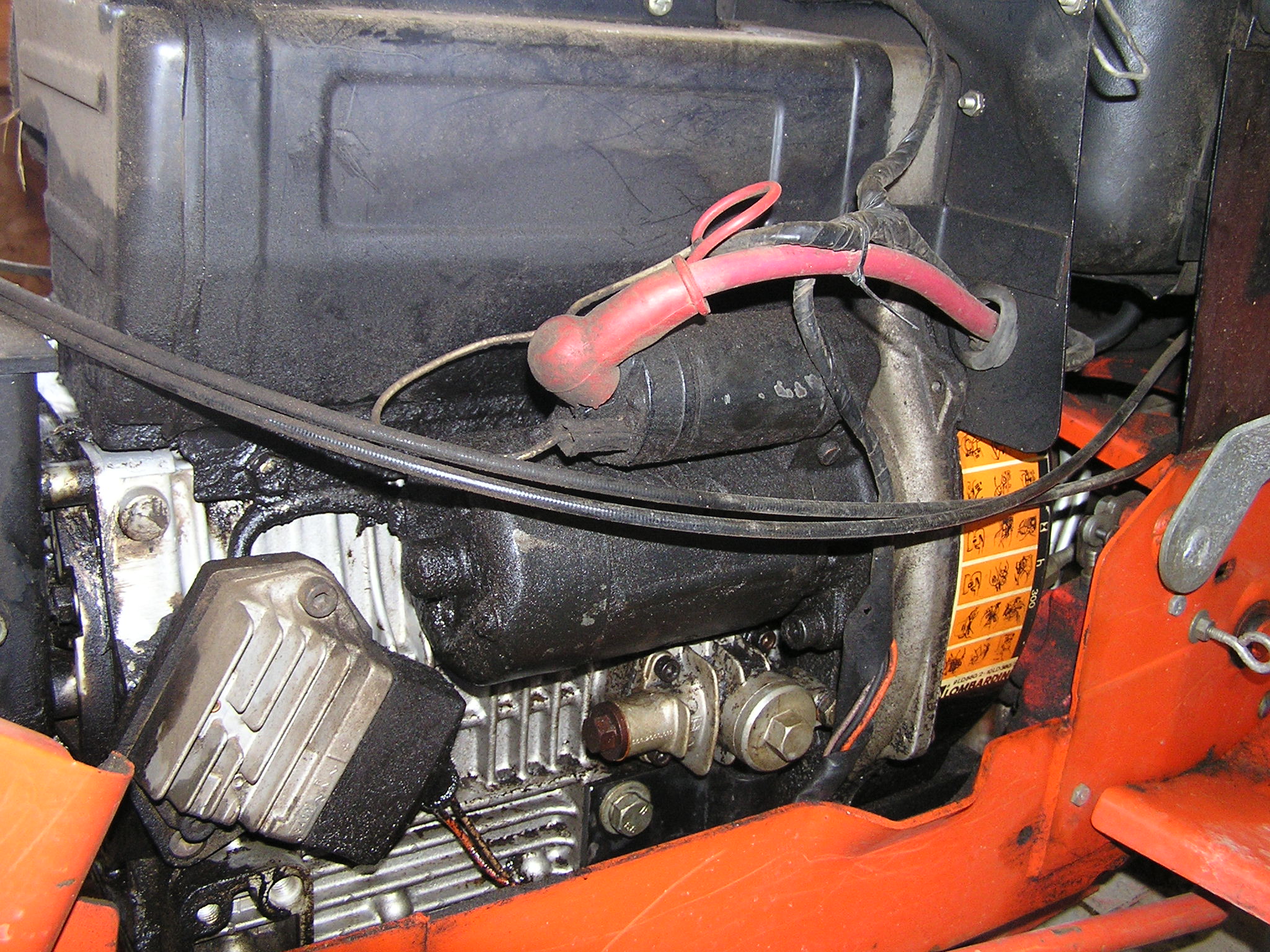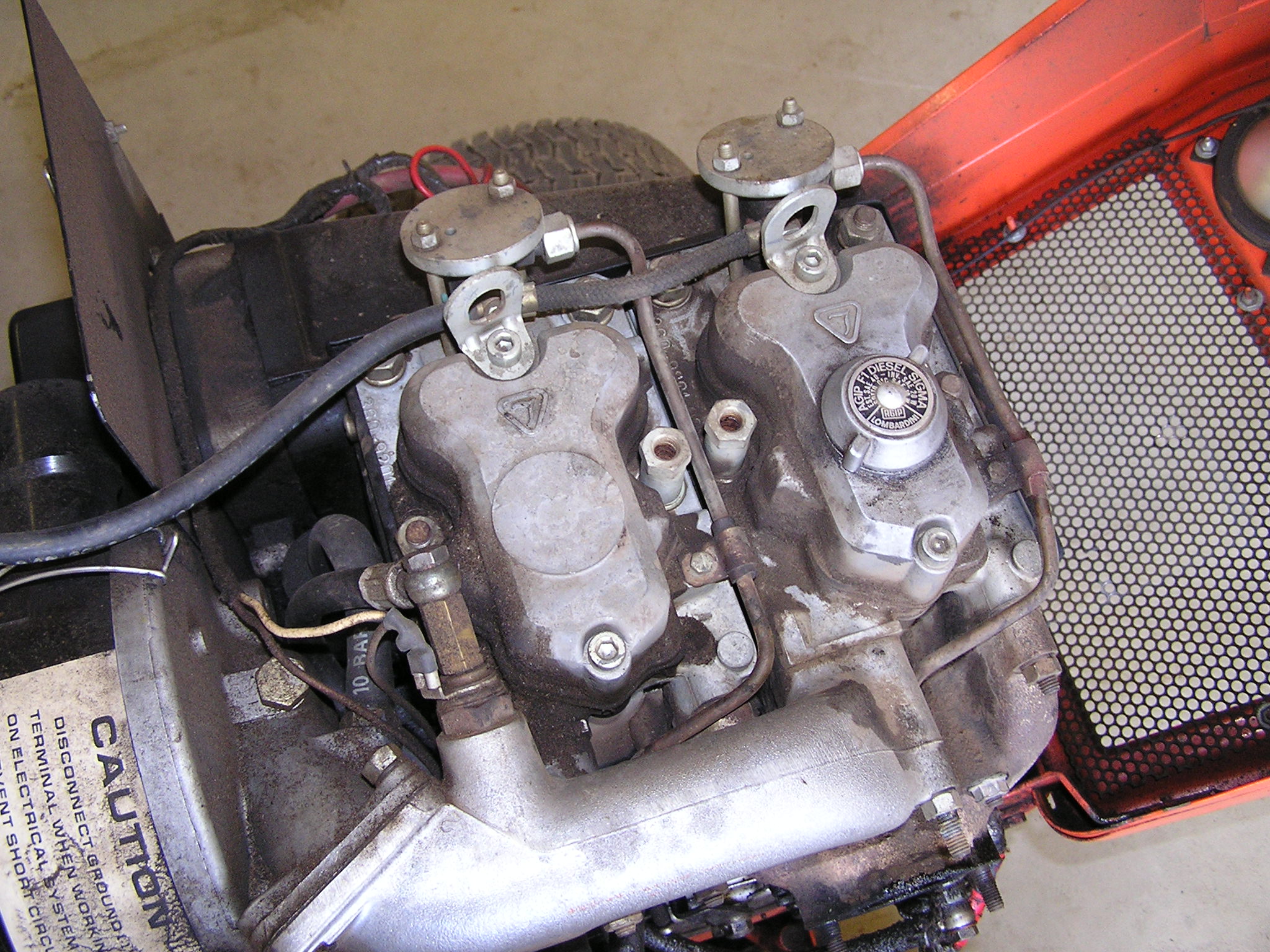 The engine leaked everywhere and had grease and dirt all over it.  Debris collects under the cowling and prevents air from cooling cylinder heads.  This will cause the cylinders to overheat and destroy the rings.  After every use you need to blow compressed air through the engine cowlings and blow all the grass and crap out of there.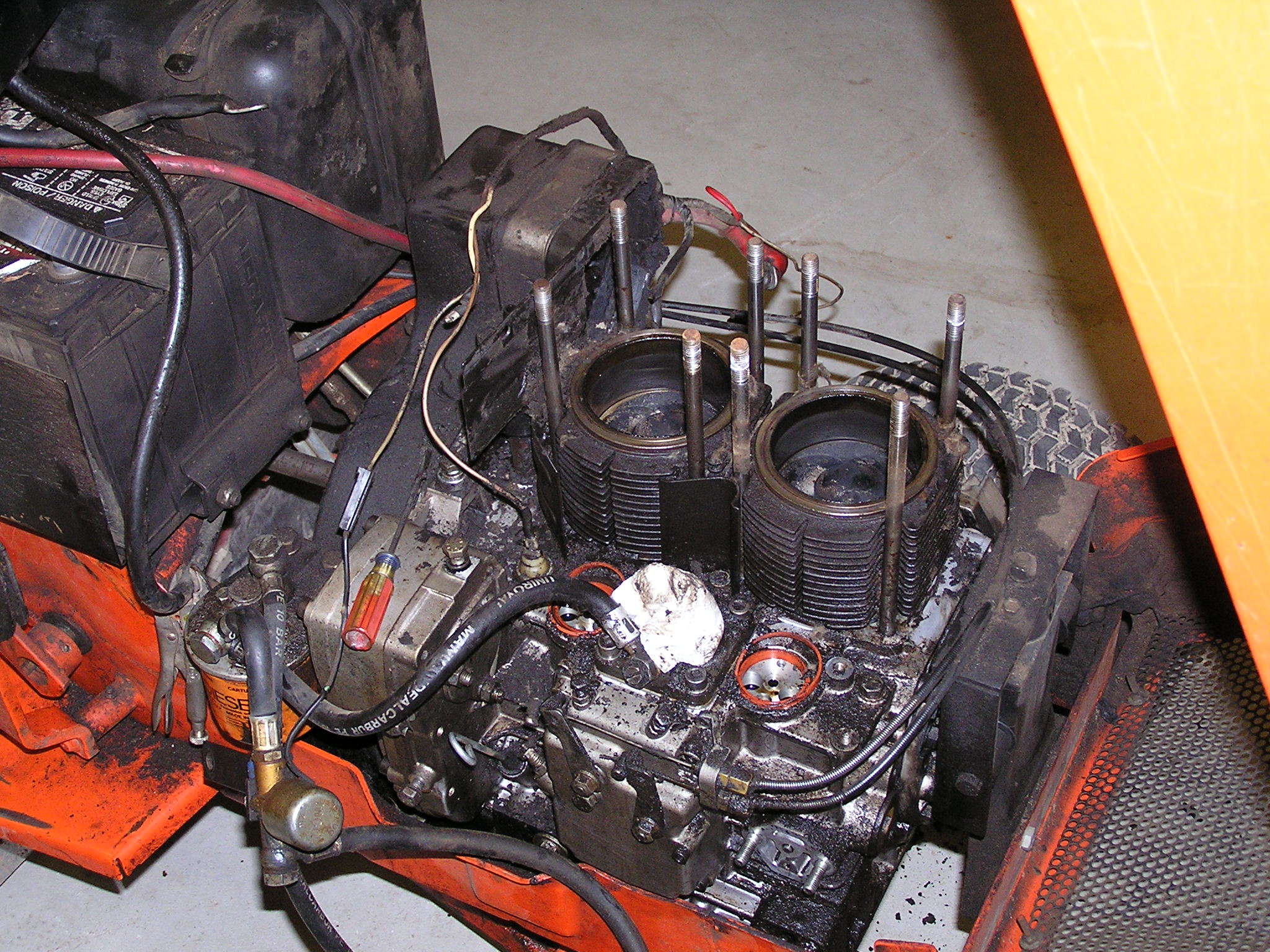 The first thing I did was remove all the cowlings. Next unbolt the intake and exhaust manifolds and carefully unscrew the injector lines. The engine is a really simple one to work on and has nothing special to worry about other than its a diesel. I plugged the injector ports with a clean rag to prevent dirt from falling in there.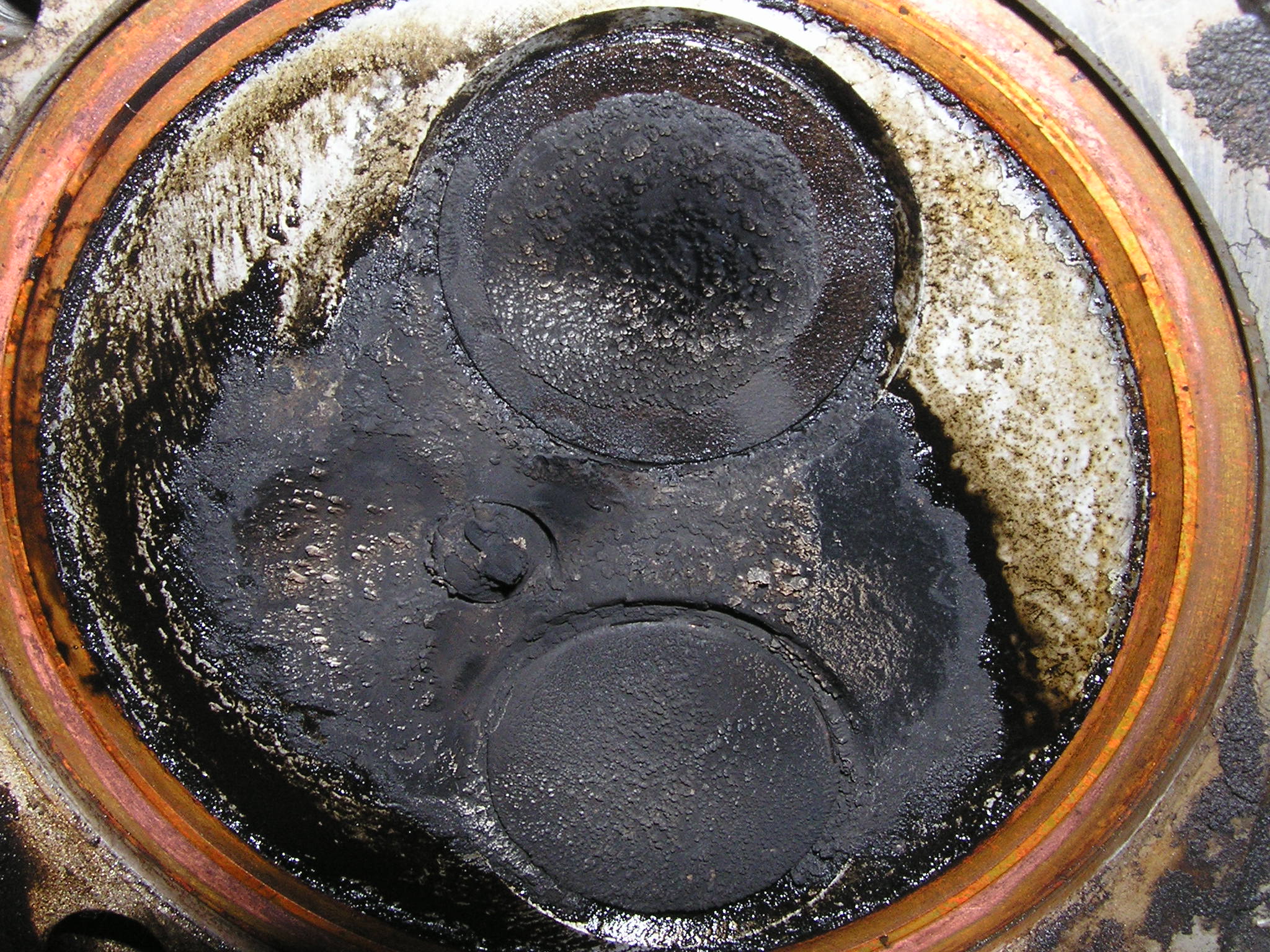 Examining my valves revealed a bad sign.  You can see oil everywhere which came from bad rings and leaky valves.  I needed to order a complete gasket kit, valves, and rings for this engine so far.  I also bought new con rod bearings as well.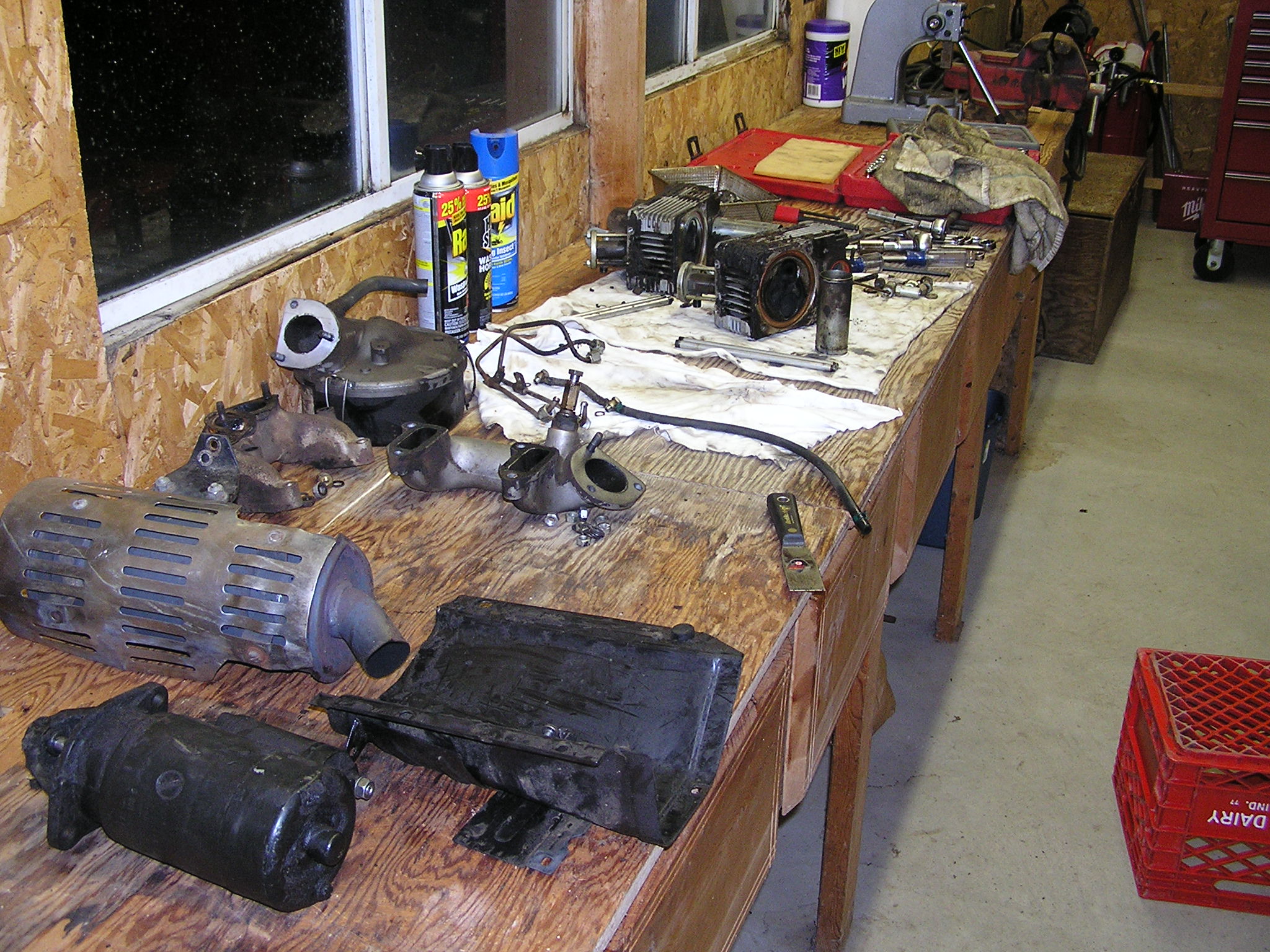 I bought this service manual by Clymer for this engine and I am not going to go into great detail on how perform every detail to an engine rebuild.
This book completely covers the Lombardini 10LD400-2 engine and I highly recommend it if you want to get your engine running.  I recommend that you have some mechanical experience before you attempt anything like this.   I cleaned everything and installed new valves and had the valve seats ground.  I also honed the cylinder jugs and installed new rings and bearings.  I took apart the injectors and cleaned them very carefully.  I had to replace all my fuel lines and a small copper gasket that was inside the fuel injector right under the nipple.
The engine is all cleaned up and put back together.  The manifolds are not on there yet but they will be shortly.


The injector pump is a very delicate device.  Do not dismantle this unless you know what you are doing.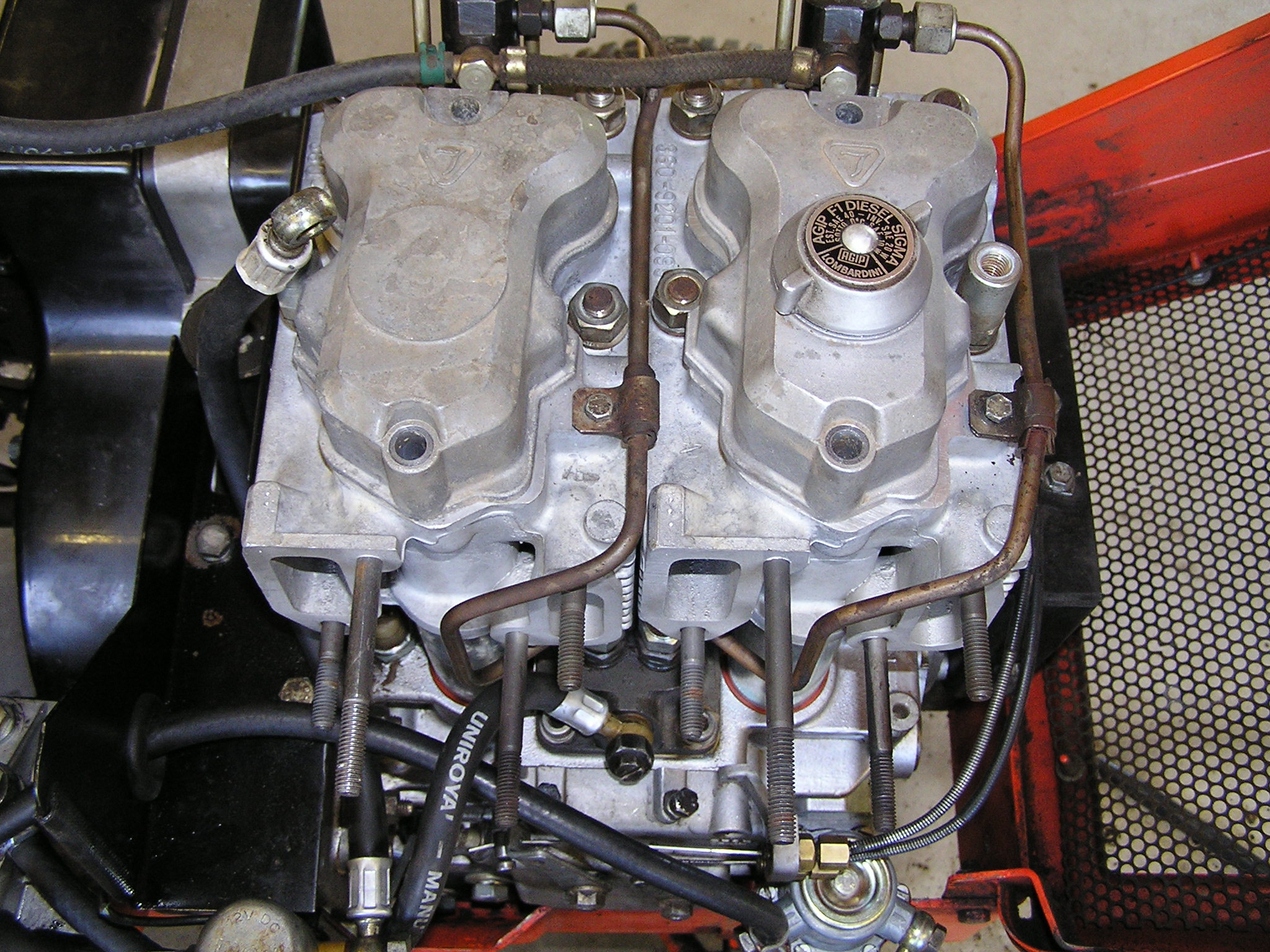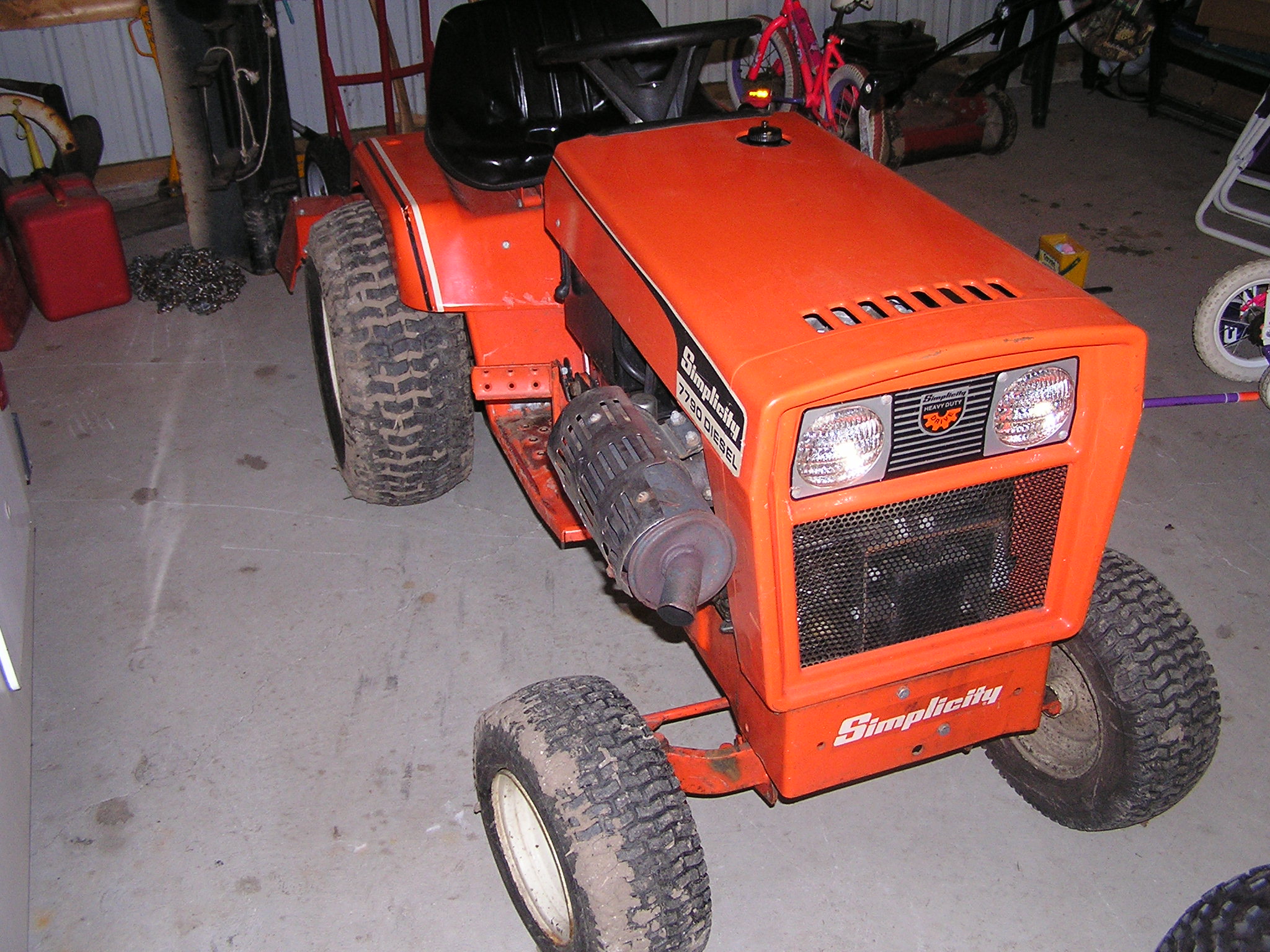 The compression on this engine was much higher after the rebuild and my starter could not turn it over.  I took my starter to a local starter repair shop and it had it repaired.   $100 later I had a rebuilt starter.   The tractor now starts easily and even in the winter it has little difficulty starting.   The rebuild was completely worth it.   I was amazed at the power that this little garden tractor has.  I mainly snow blow and rototiller my garden with it and have never had any problems so far.   I'll try to post some video of it running soon and some pics of the attachments.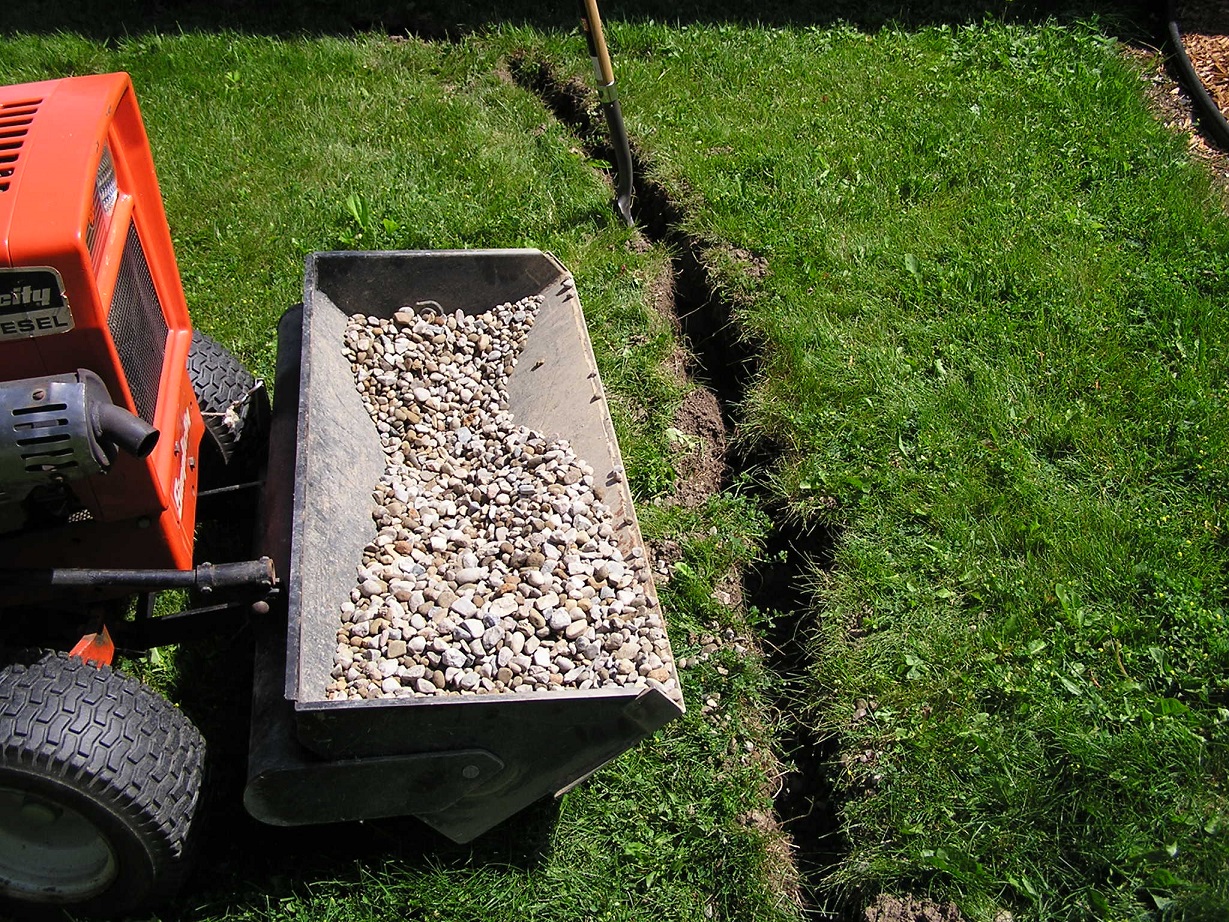 Shown above is the cool dump bucket.
Update 01-26-14

Had some trouble with the trans-axle this week.   Winter is blasting us here in Michigan so I have been using the snow blower attachment every week.   The tractor started to have trouble moving and eventually stopped moving unless I held the hydraulic lift lever open.   Honestly I have never touched the trans axle or changed fluid.  Its probably original since my dad never remembers changing it either.   Anyway,  I ended up changing the fluid and filter.  The fluid was dark red and I only drained about 1.5 quarts out of it.  I used Valvoline ATF type FA transmission oil to refill and added 2.5 quarts.   Wow this thing moves like new now.  I must have slowly lost some response over time because its never been this responsive.   I'll be changing the fluid every 400 hrs like the manual states now.    I used the replacement simplicity filter which was expensive.  Does anyone have a Napa cross reference for a non brand filter?  Has to be 25 micron.  I also checked the bevel gear box and ended up adding some 80-90 weight oil to that.   I'll take the old filter up town and see if I can get a Napa replacement.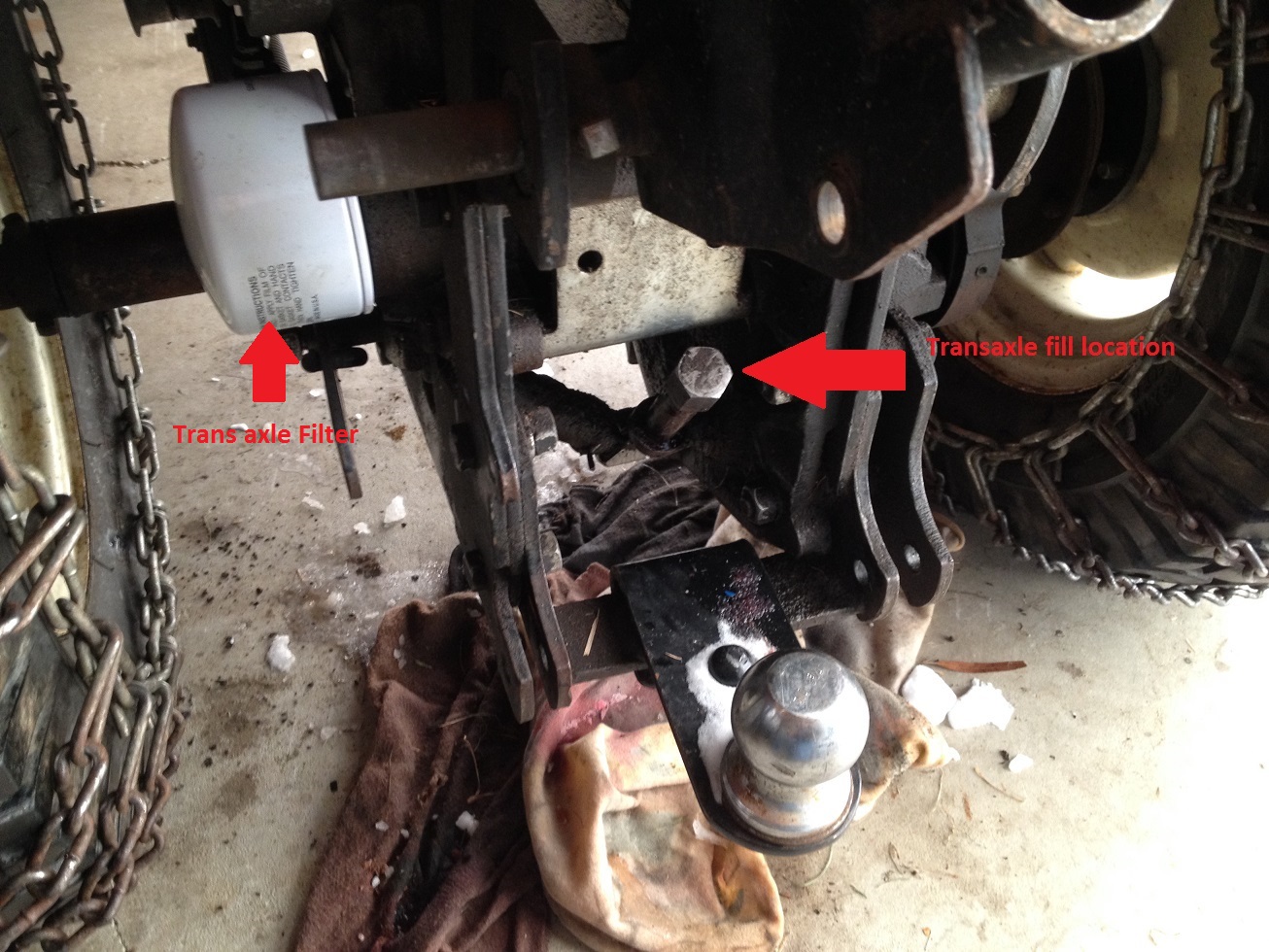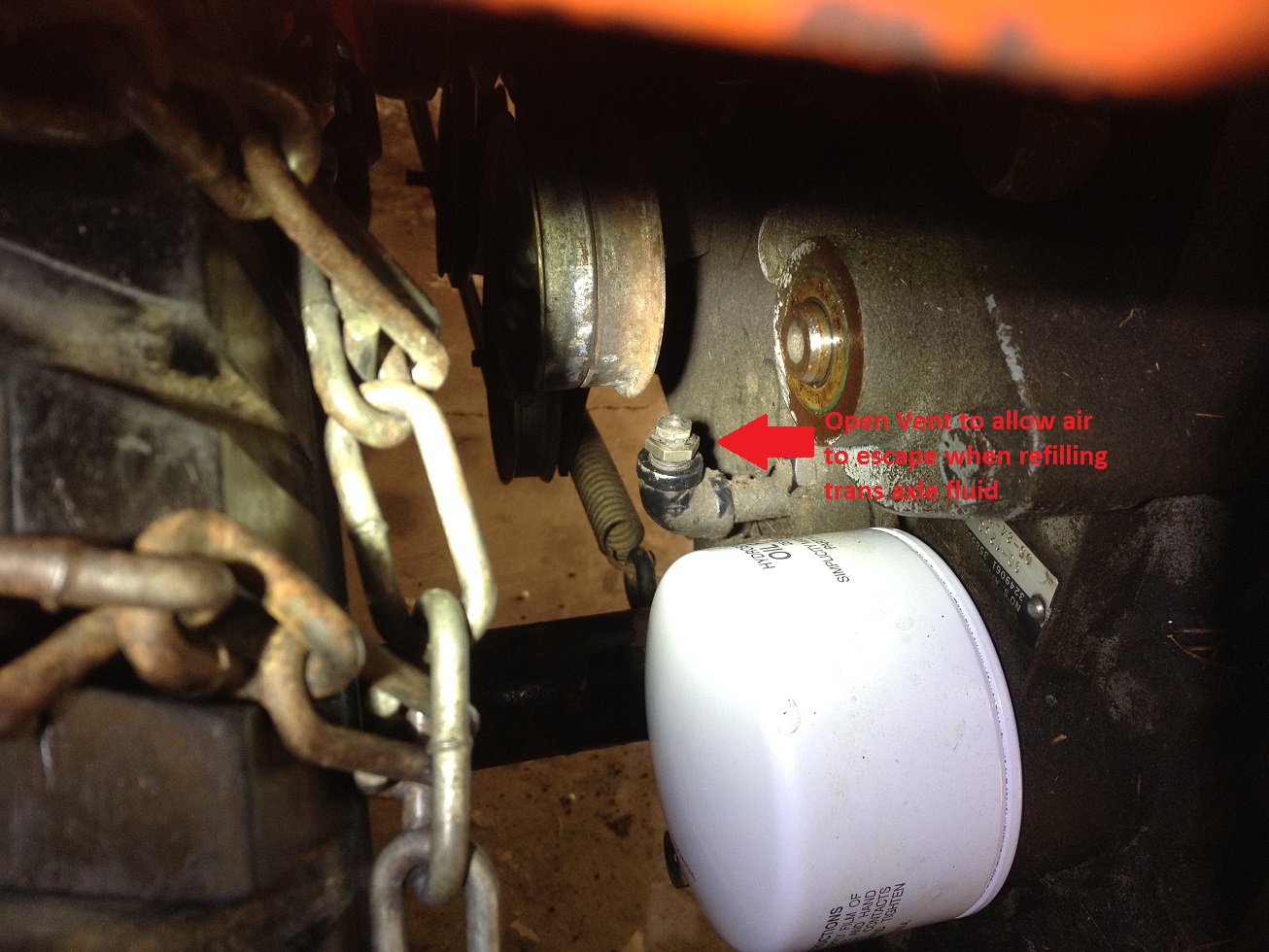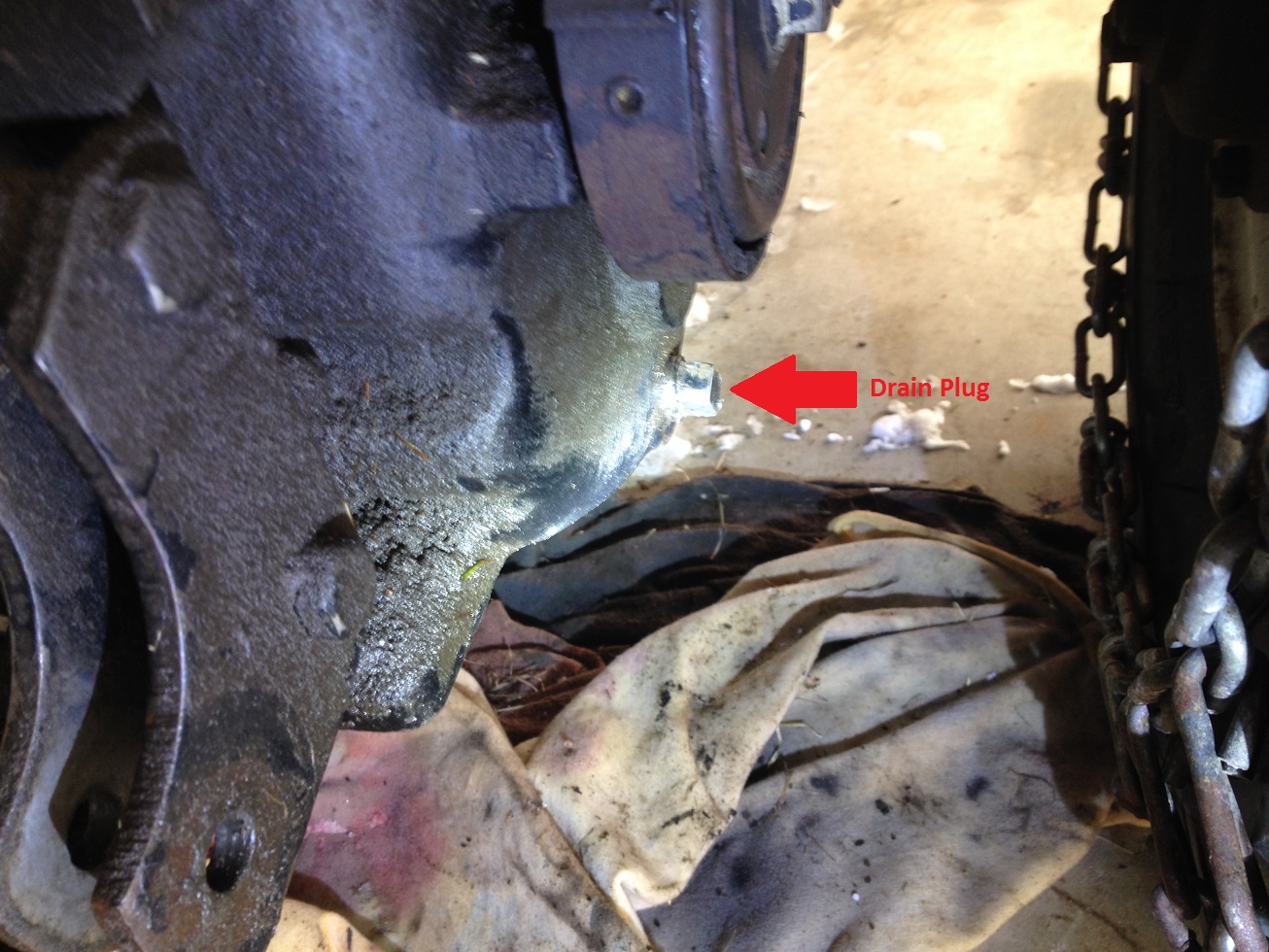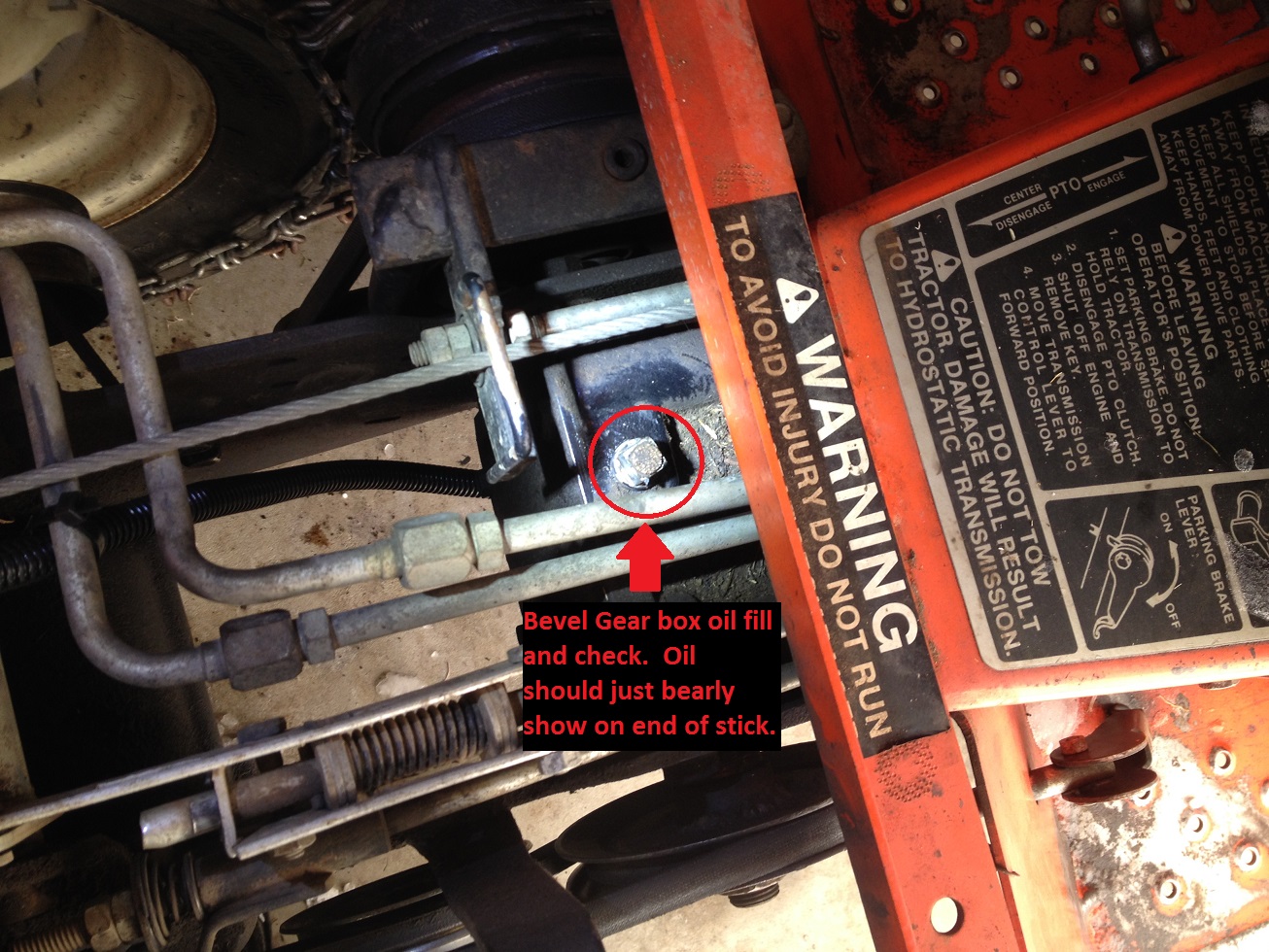 Update 01-27-15

I upgraded the snow blower skids to a new heavy duty "Armor Skid" set from Home Depot.  Welded from 1/8 inch and 1/4 inch steel.  My old ones were getting worn away (see below).  One of my skids was less than 50% and my snow blower was getting hard to push because it was dragging on the ground.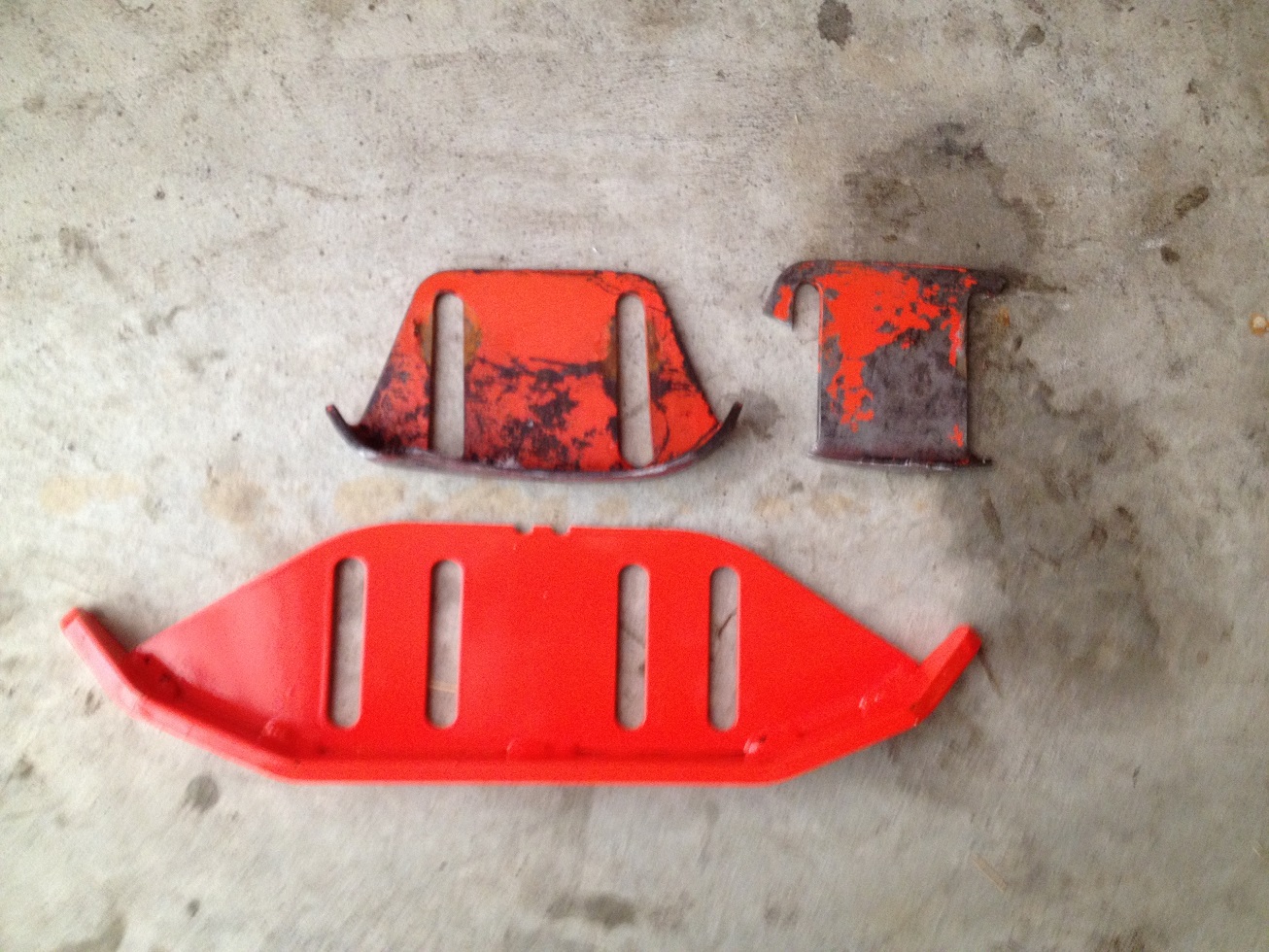 The new ones work great and I painted them "Chevy Orange" which is incredibly close to simplicity orange.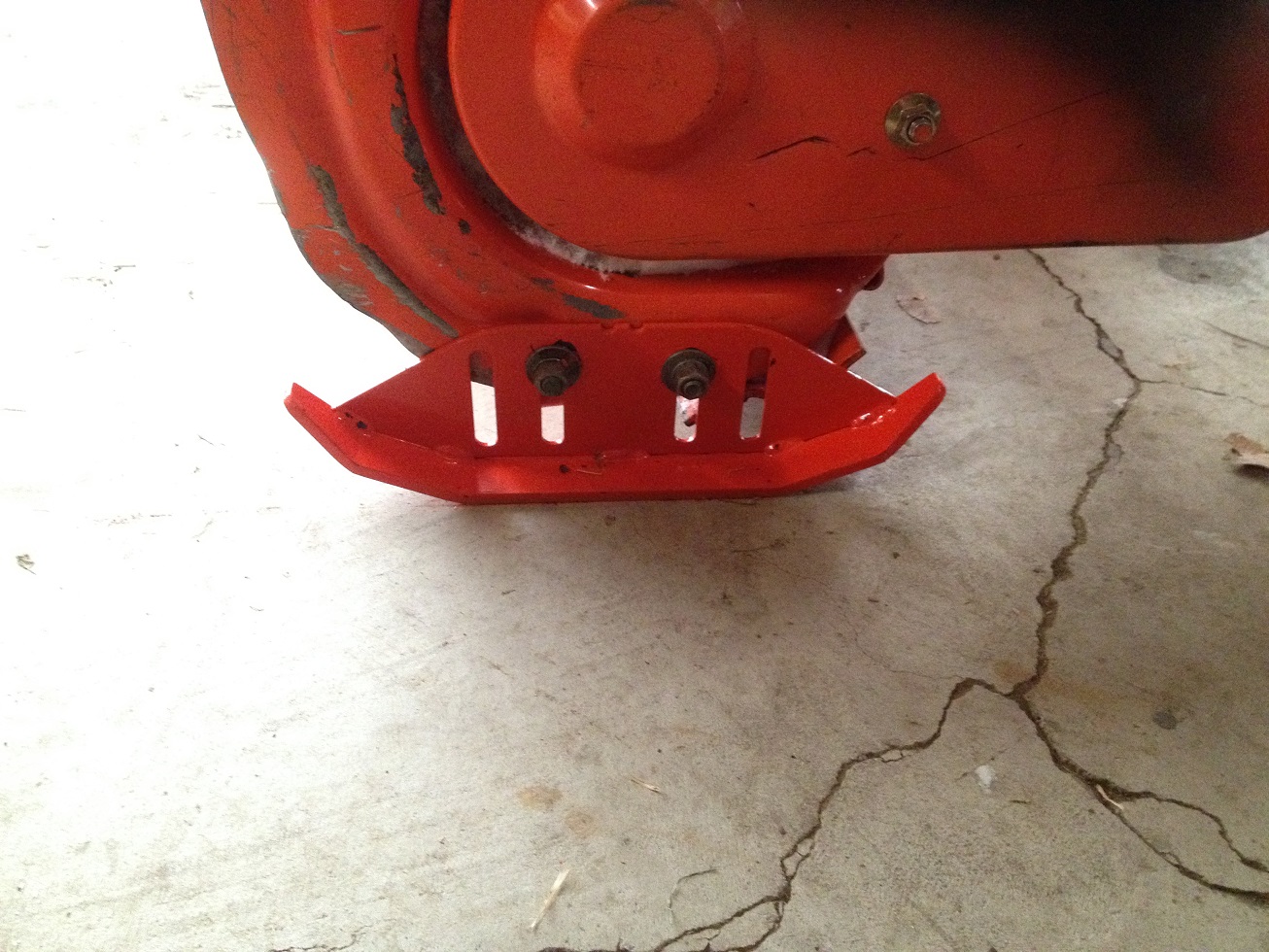 Update 03-03-16

I broke the drive shaft today while I was snow blowing.   I knew the couplings were getting old and I hit a small seam in the concrete driveway that jolted the tractor enough to break the coupling.   What a disaster.   The shaft banged all around and twisted itself into a pretzel.  I had to cut it out with a torch.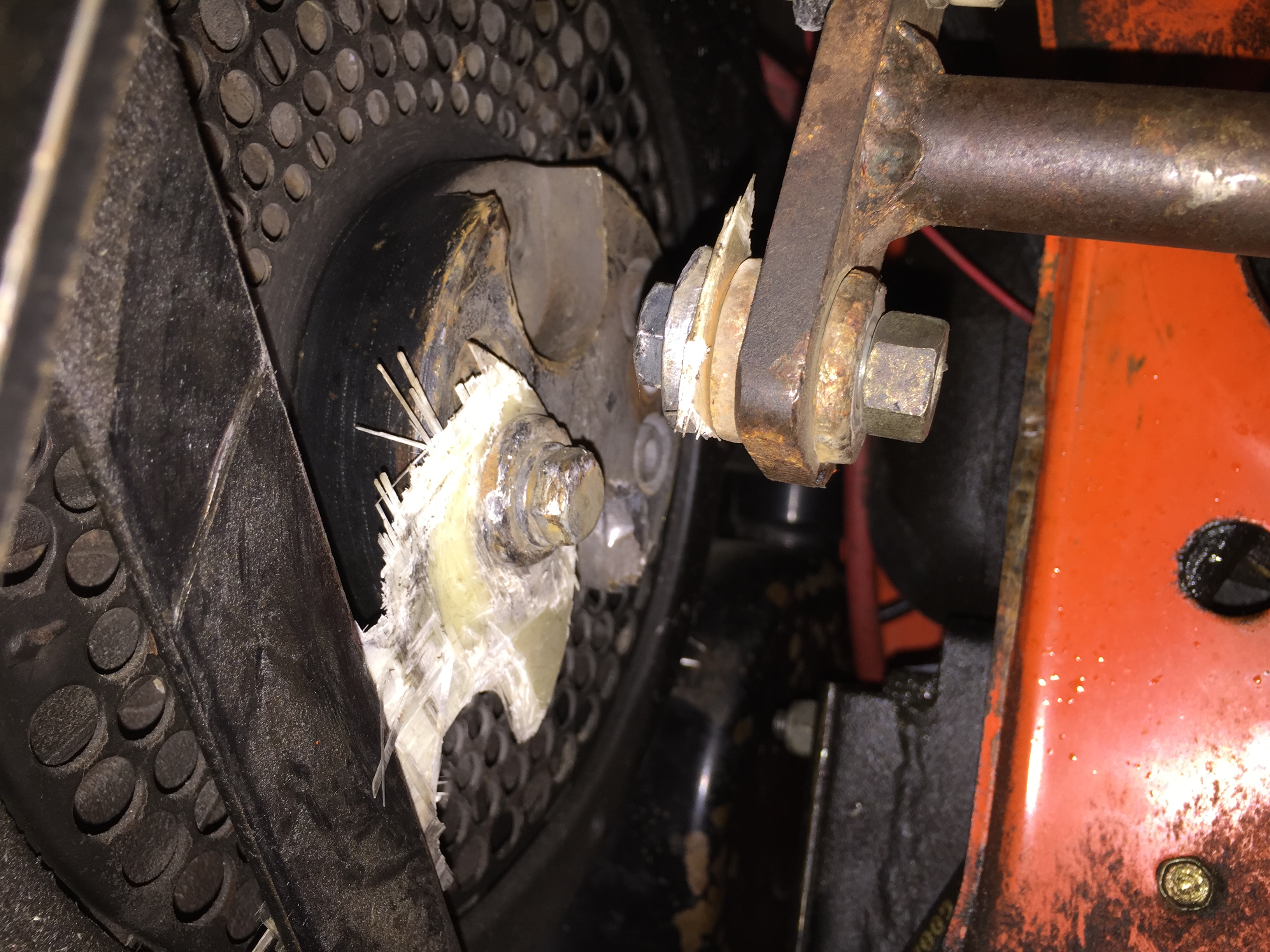 I also busted a screw off in the engine mount.  Gotta get that out.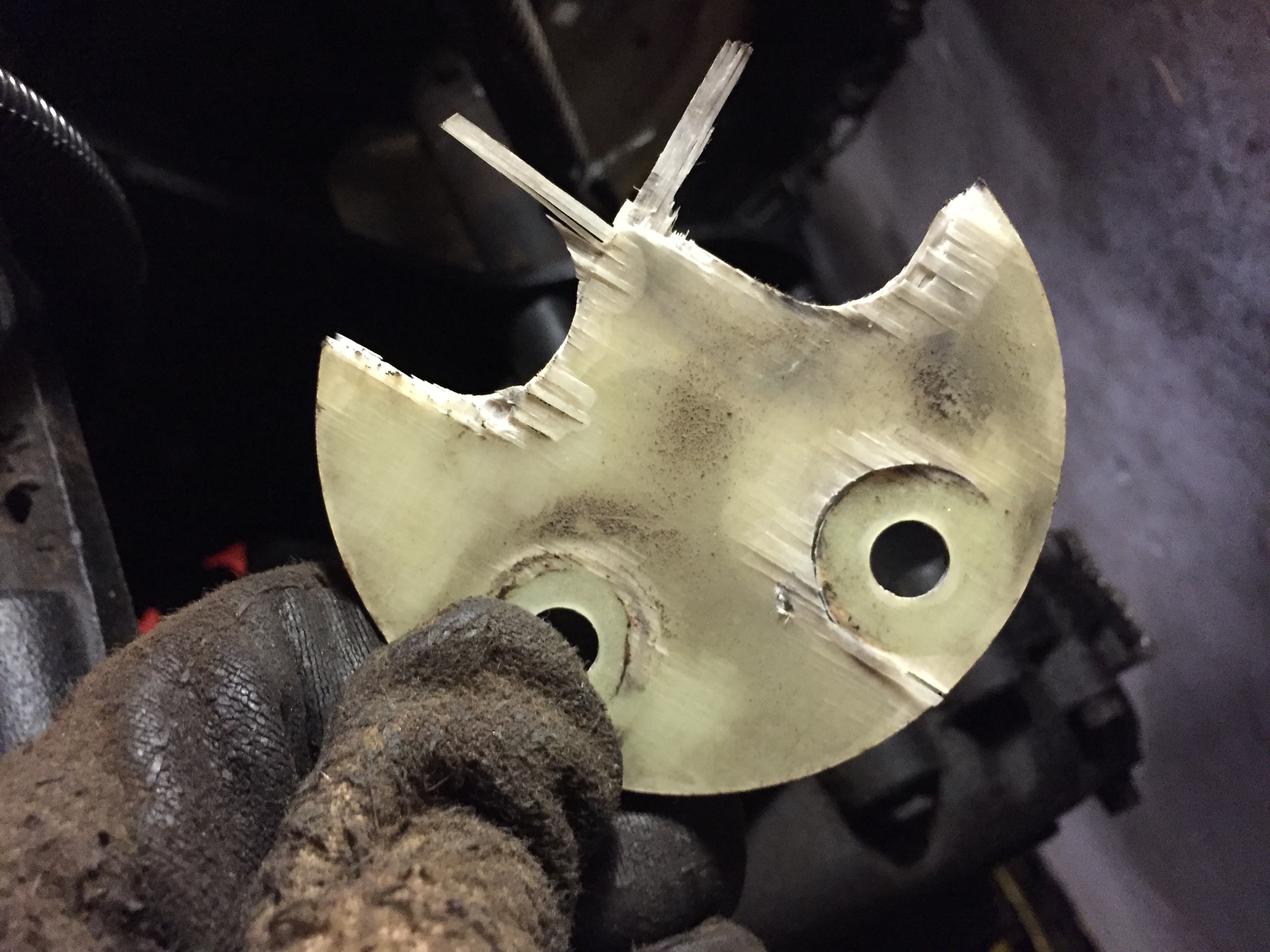 Busted up couplings.  The 2nd coupling exploded into a million pieces.  These are kind of expensive and I did not want to buy them.  I made a set myself out of G10 (same material circuit boards are made of).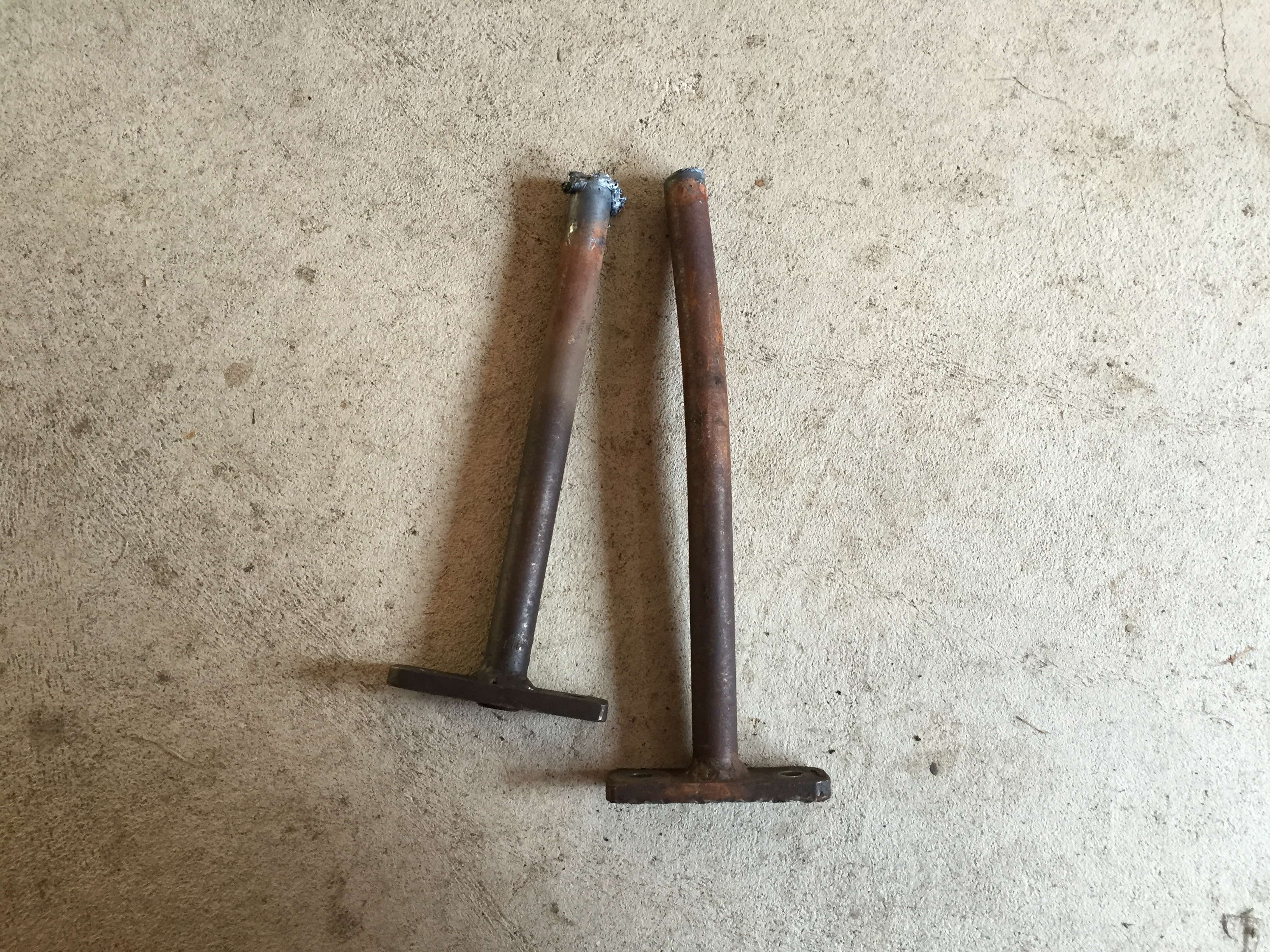 Getting the new shaft into the tractor is not too bad.  I had to lower one end of the hydraulic cylinder and remove one bracket that was in they way.  It took about 2 hrs to make this repair.
Drive shafts are expensive  ($150+).   I made mine easily with 1″ bar stock.   I ground the original ends off and welded them onto the new shaft.  Total cost for the new shaft was about $5 for the 3ft piece of cold rolled steel from the local steel supplier.    The new drive shaft measures 20 1/4 inch exactly if you want to make one.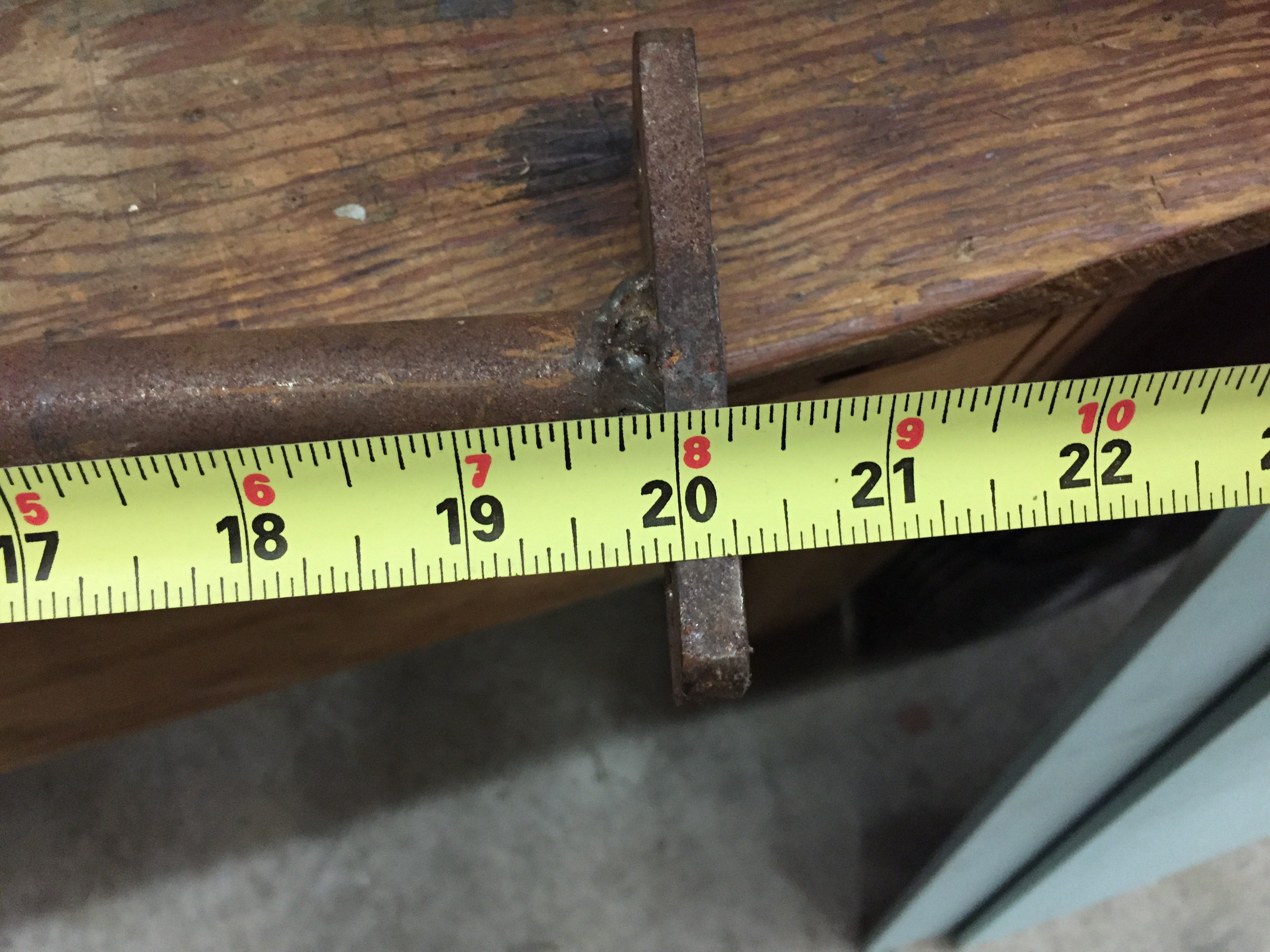 New drive shaft shown below.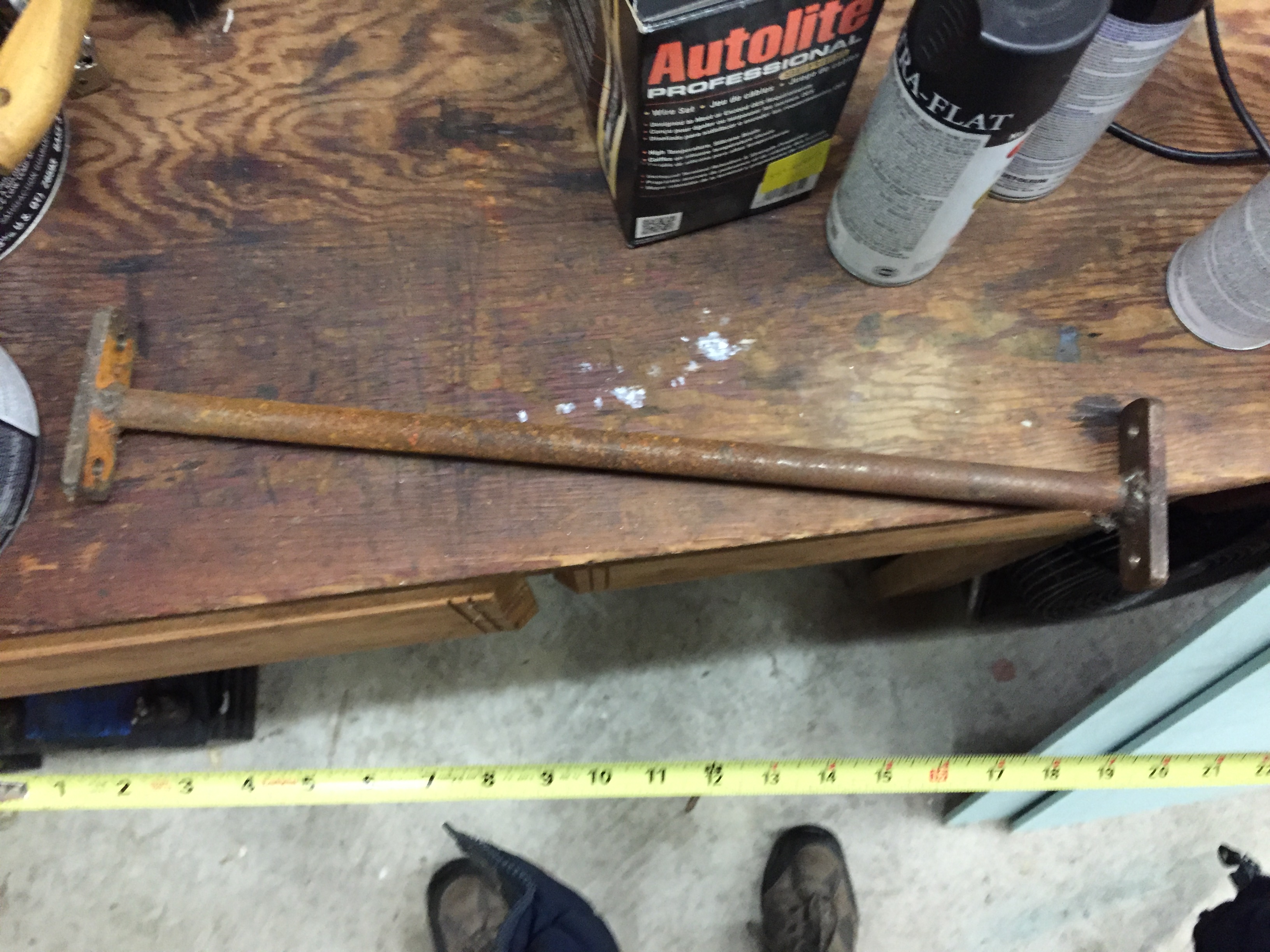 The couplings can be made or purchased.  Here is the drawing I made for the couplings:
Drawing of Drive Shaft Coupling
I made mine on my CNC mill but you can make them with a drill press and a band saw easily.  Just print the drawing to scale and tape it on your sheet of G10.  Drill the holes and trace the circle on with a pencil.  Cut it out with a band saw or jig saw.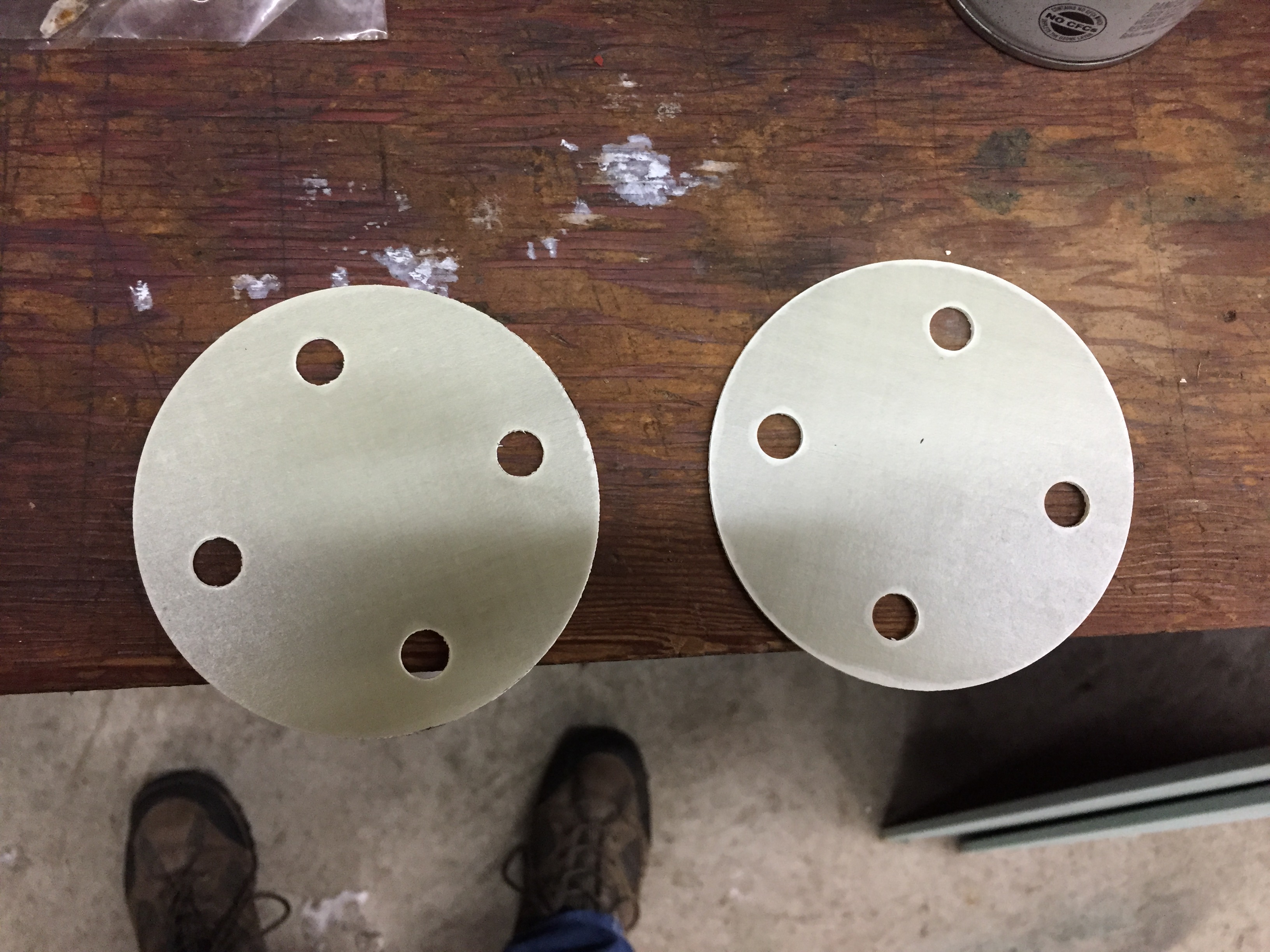 Now I need to get that broken screw out of the engine drive shaft hub.   I drilled it out from the back with a end mill.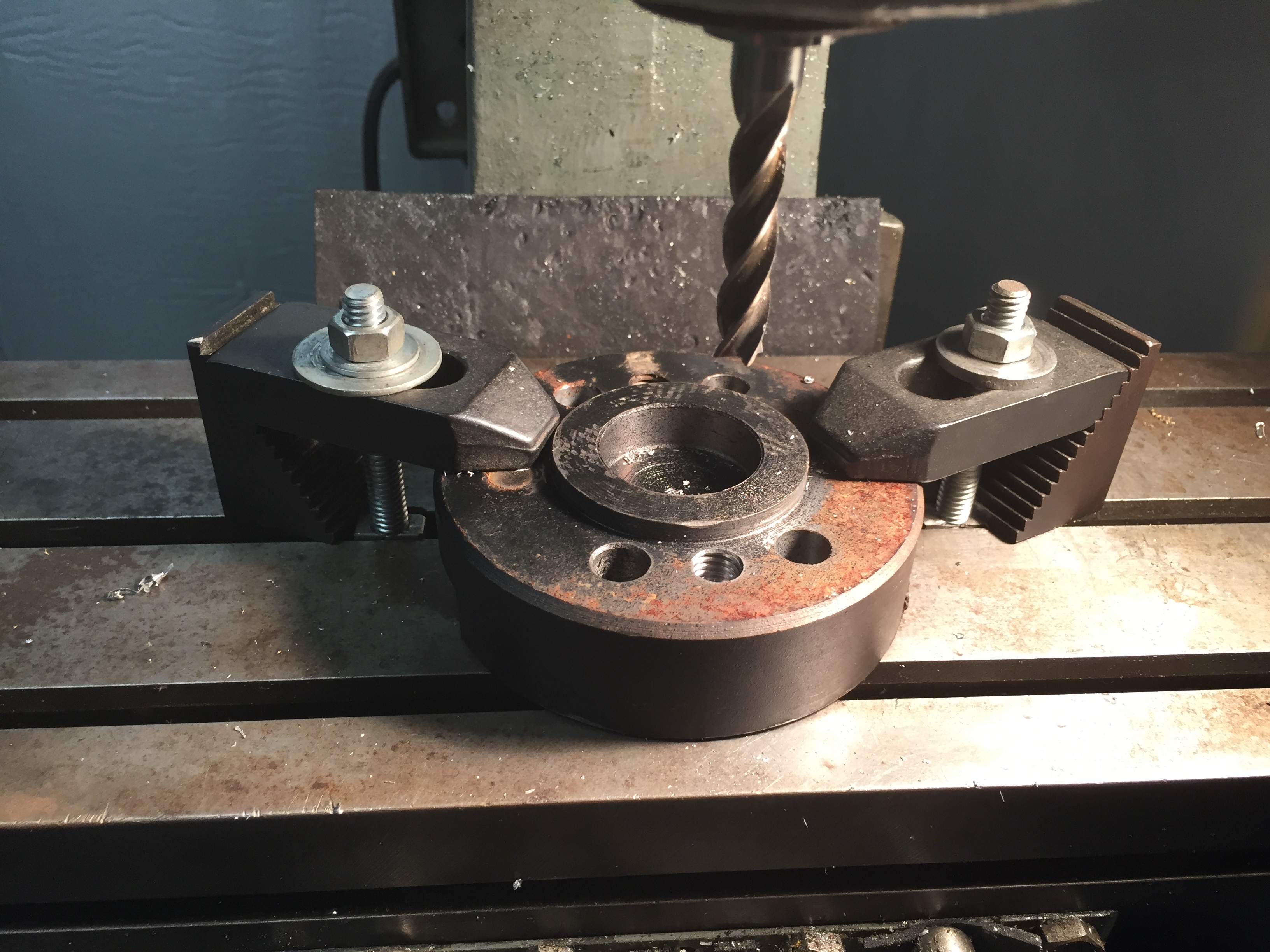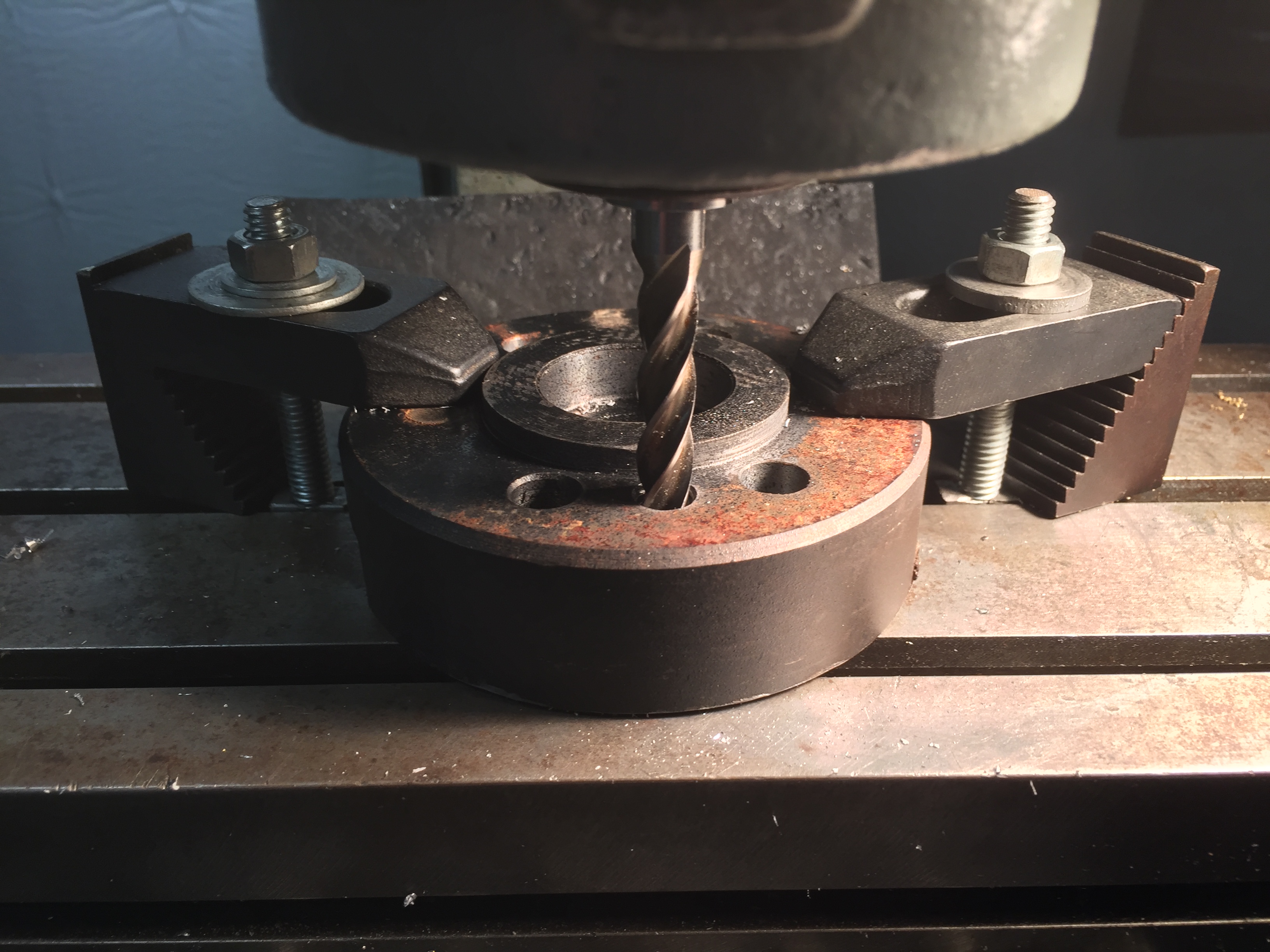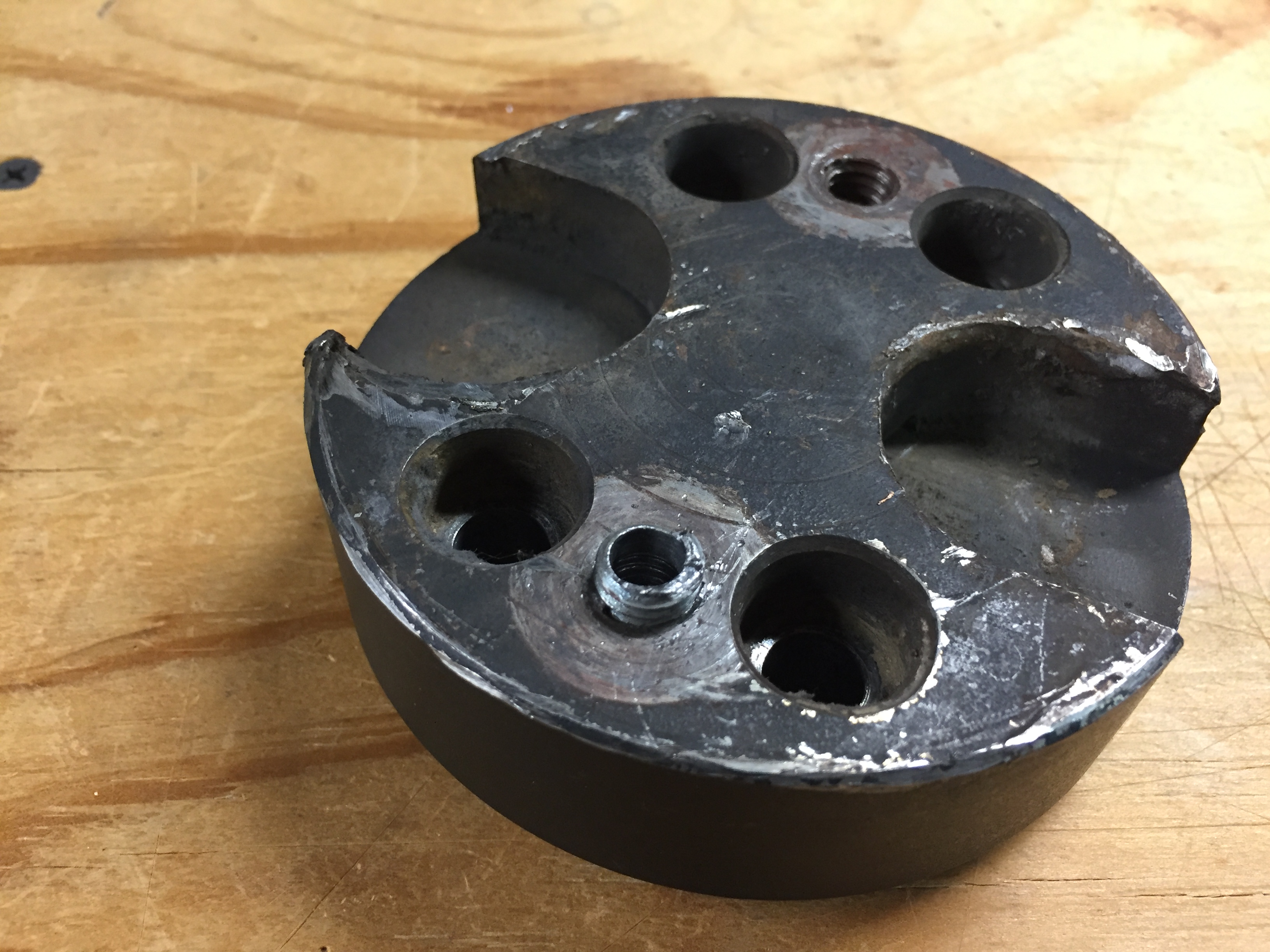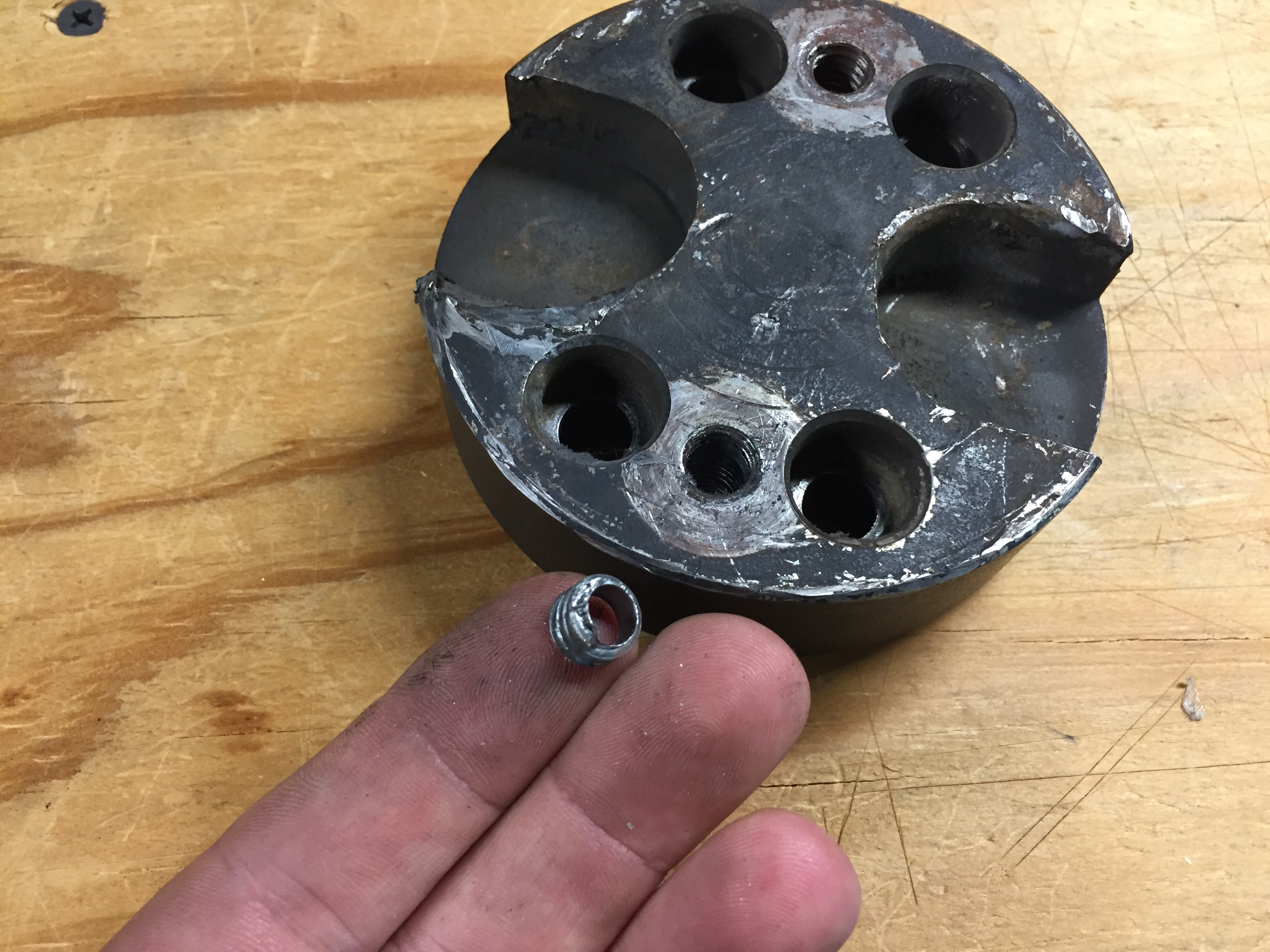 Got it out.  I ran a 3/8-16 tap in the hole to clean it out.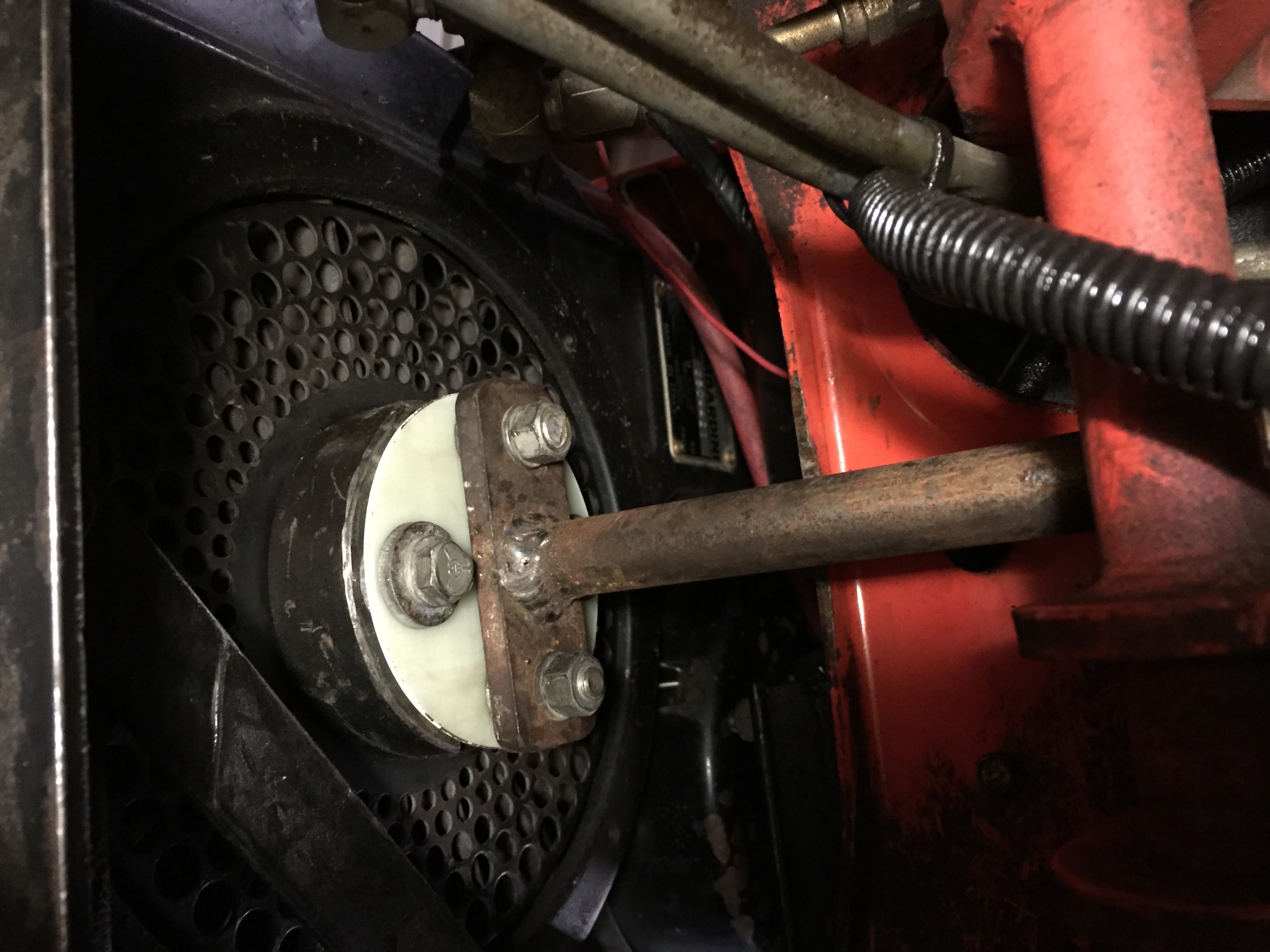 Here is the new shaft and the new coupling.  No problems now.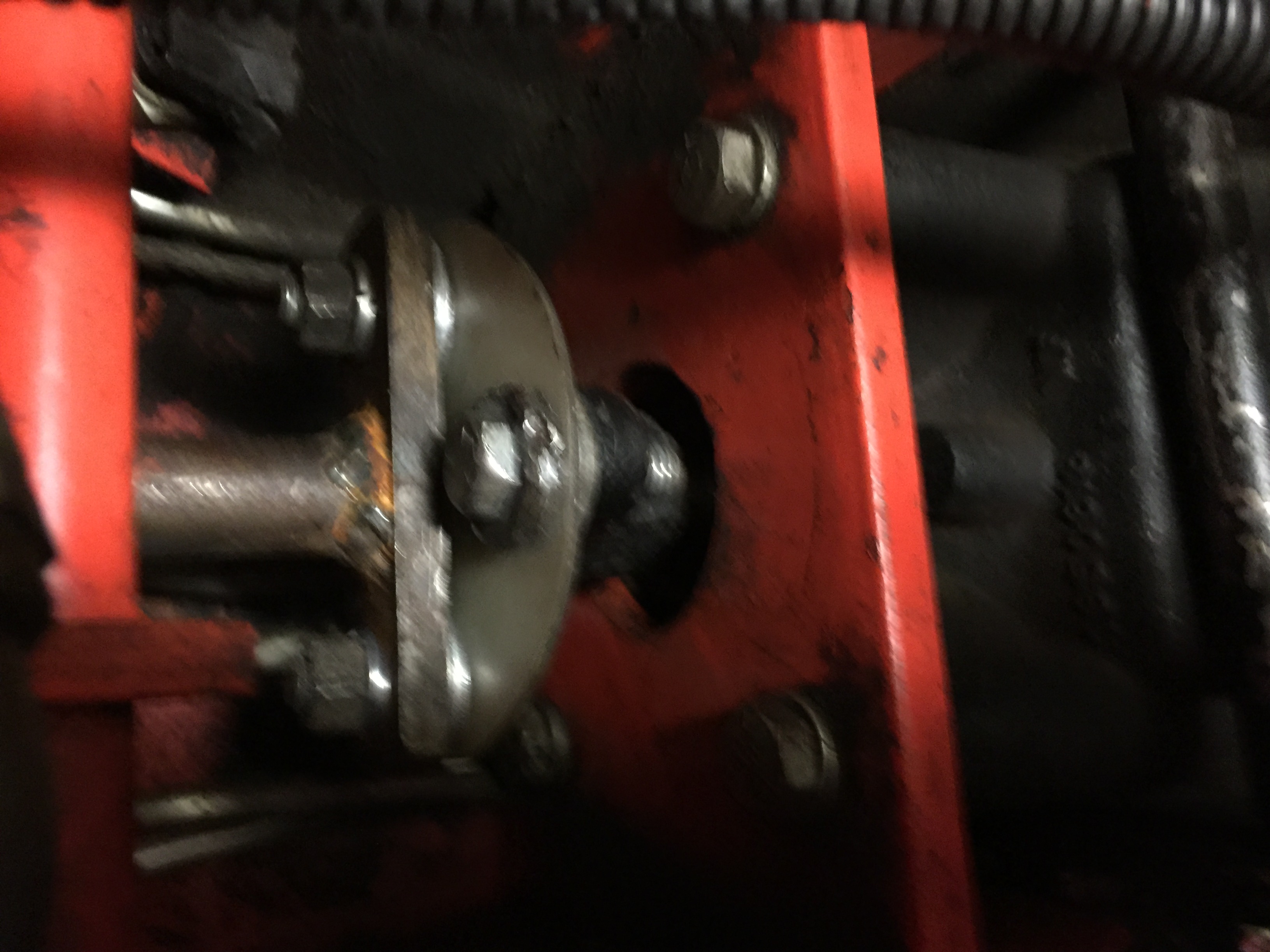 Made some spare drive shafts for later….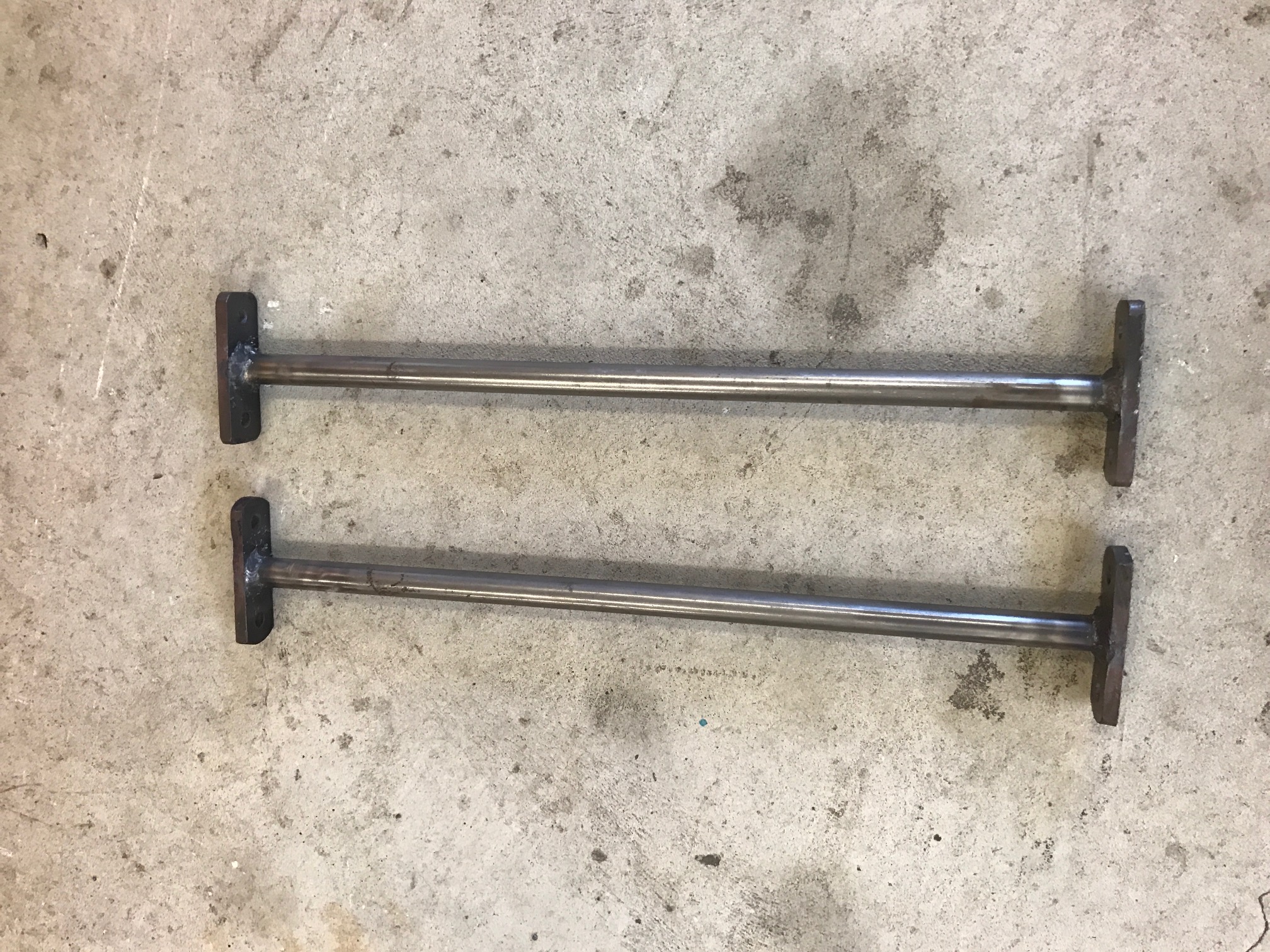 Update 12-04-16

Getting ready for winter and I found one of my PTO pulleys had a failed bearing.   Stupid thing cost $45 from Simplicity dealer and is an odd size.  I will be looking at Grainger or some other online store to find an equivalent for any other pulleys that fail.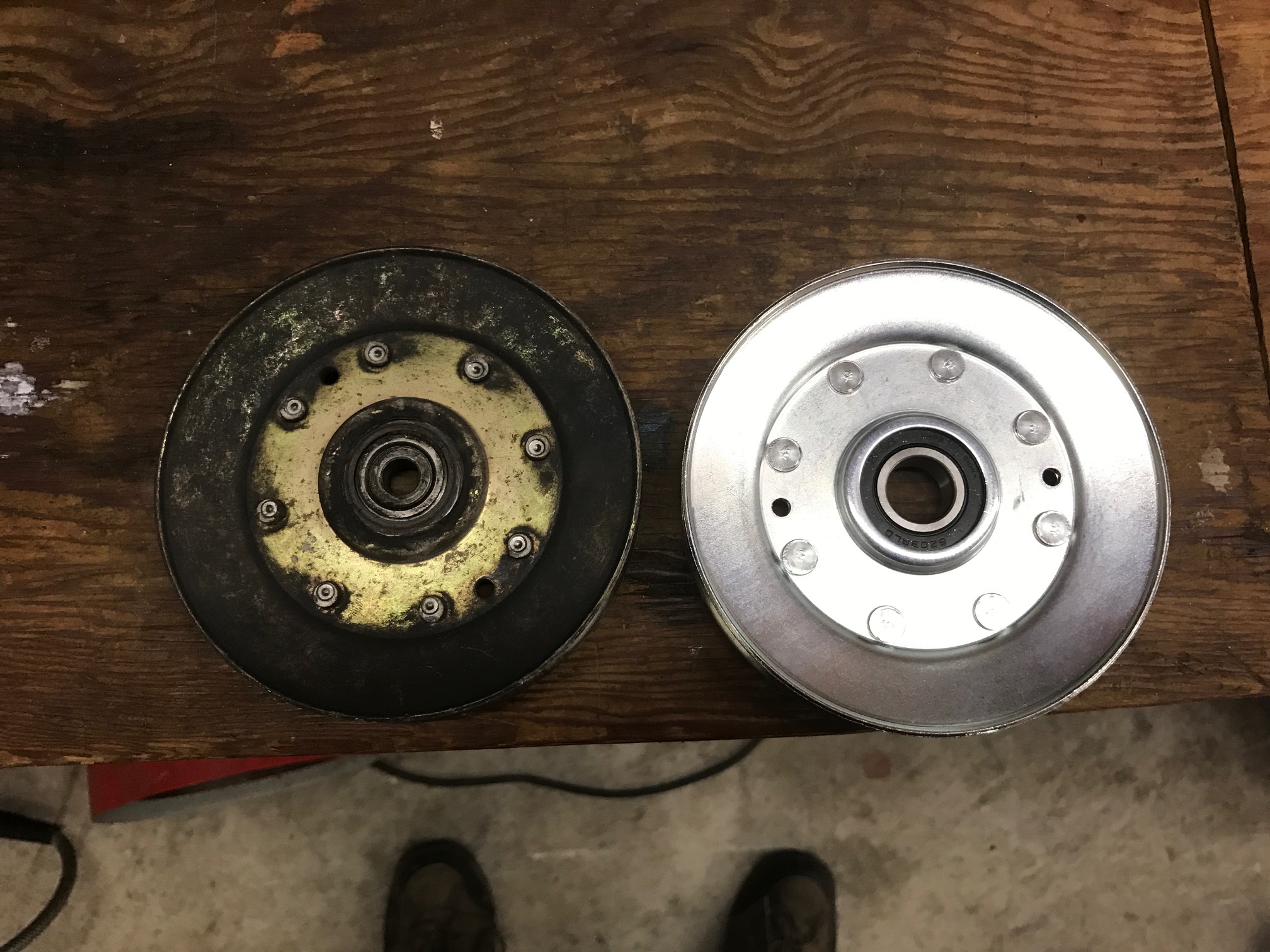 Don't forget to press out the center bushing on the old pulley.  It is needed for the new pulley.  I just used a socket and small hammer to tap it out.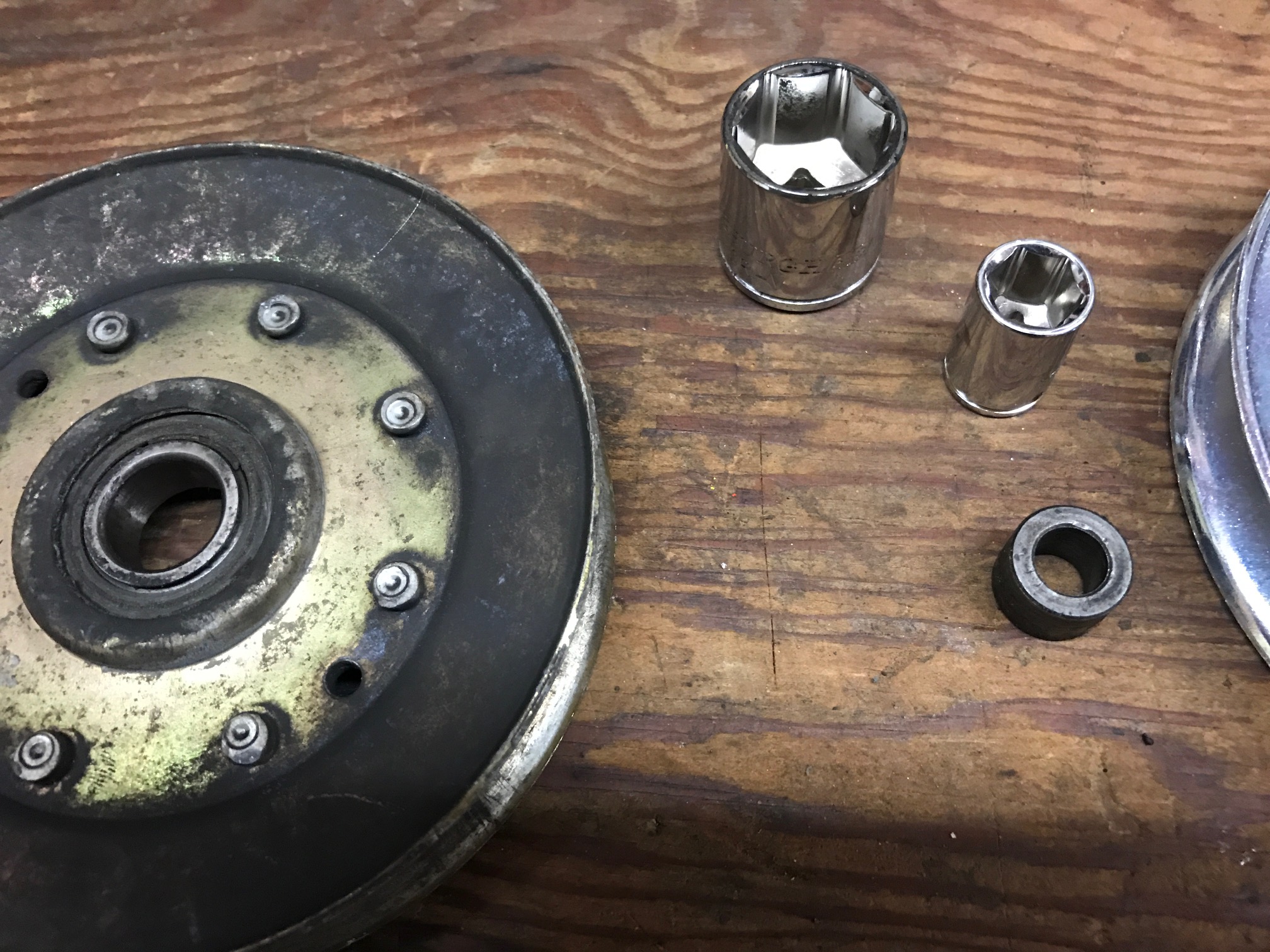 All done installed.  Good for winter.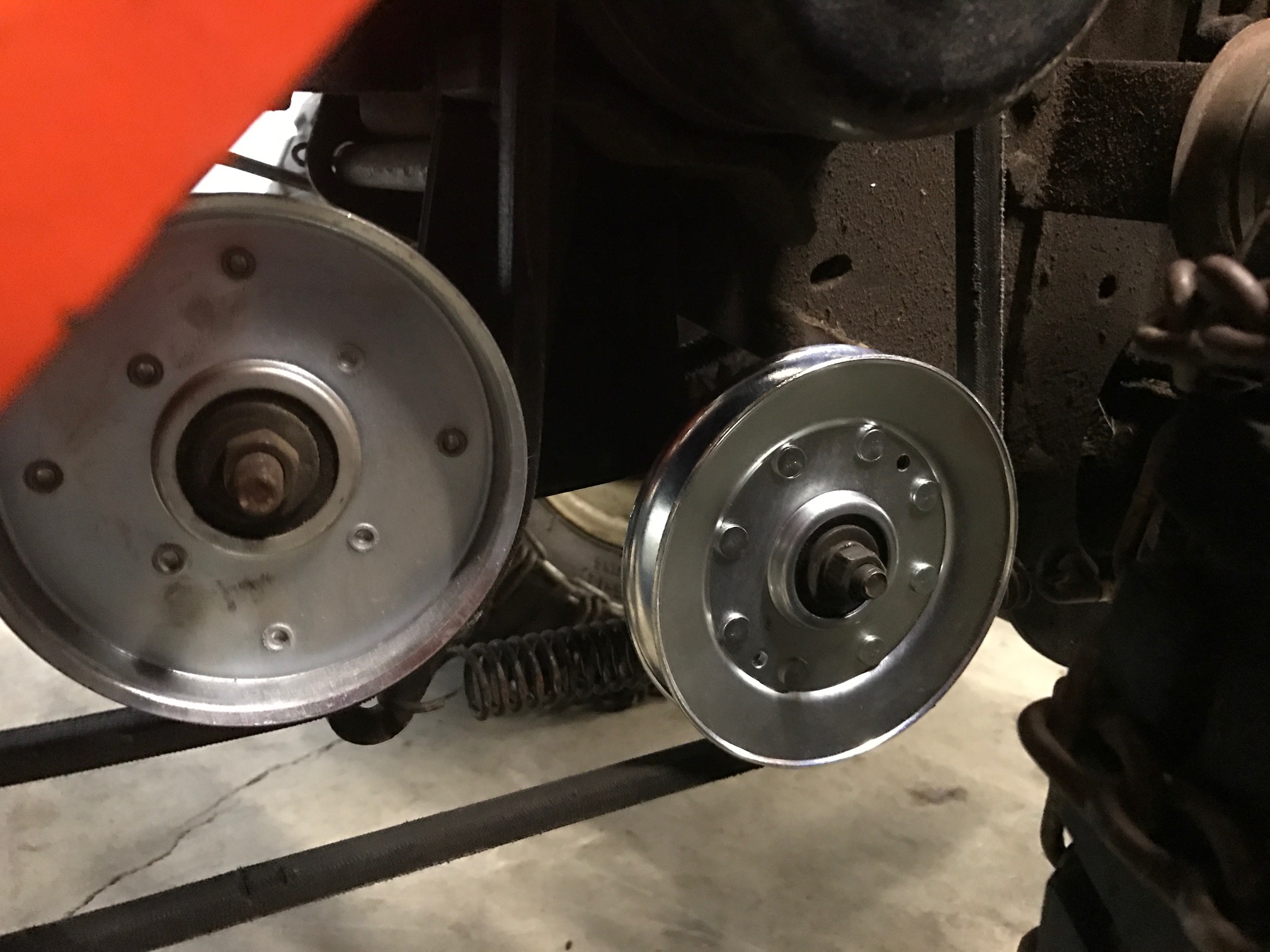 Update 07-30-17

Here are some pics of the Rototiller attachment.   I use it all summer on my garden.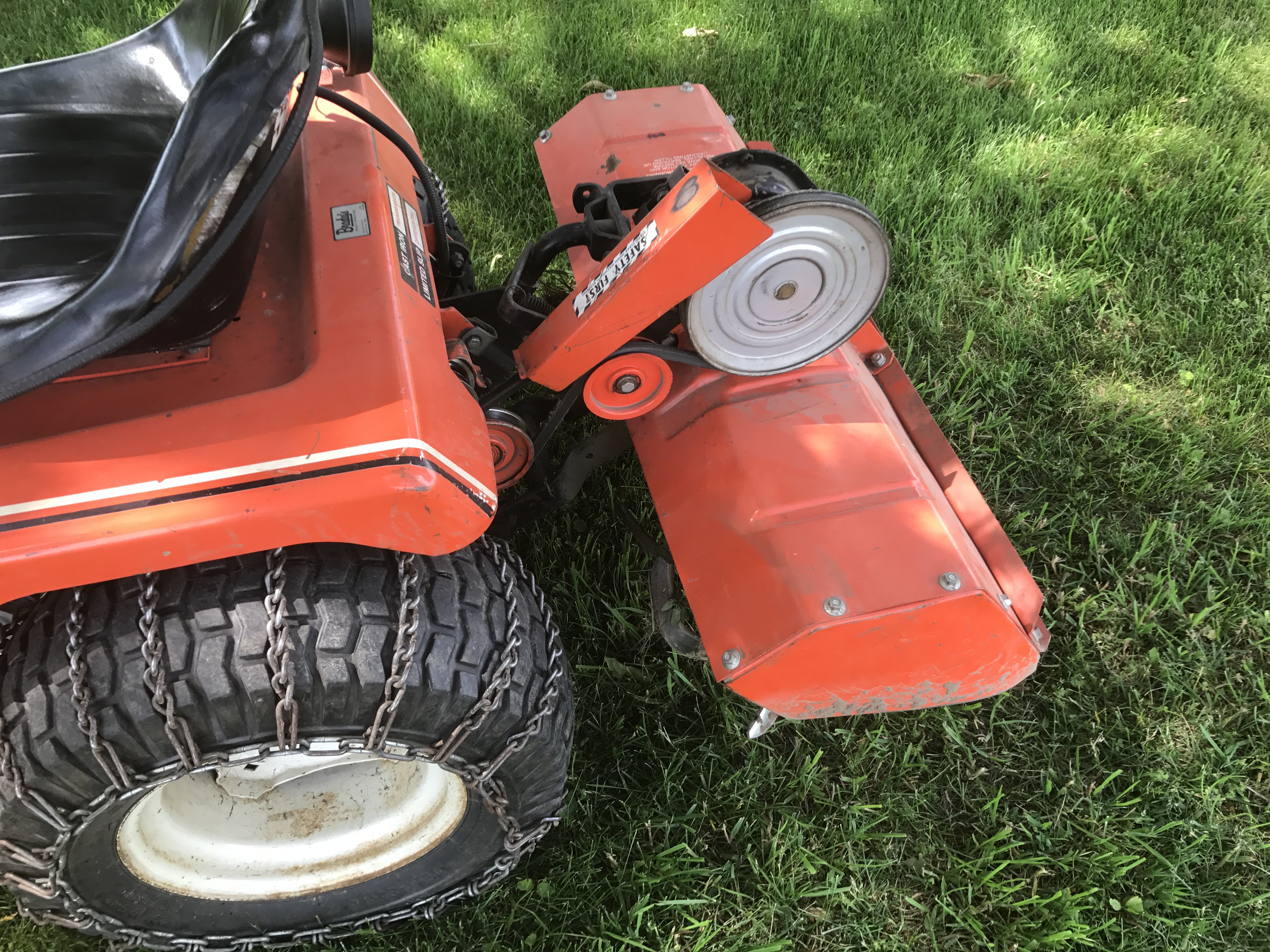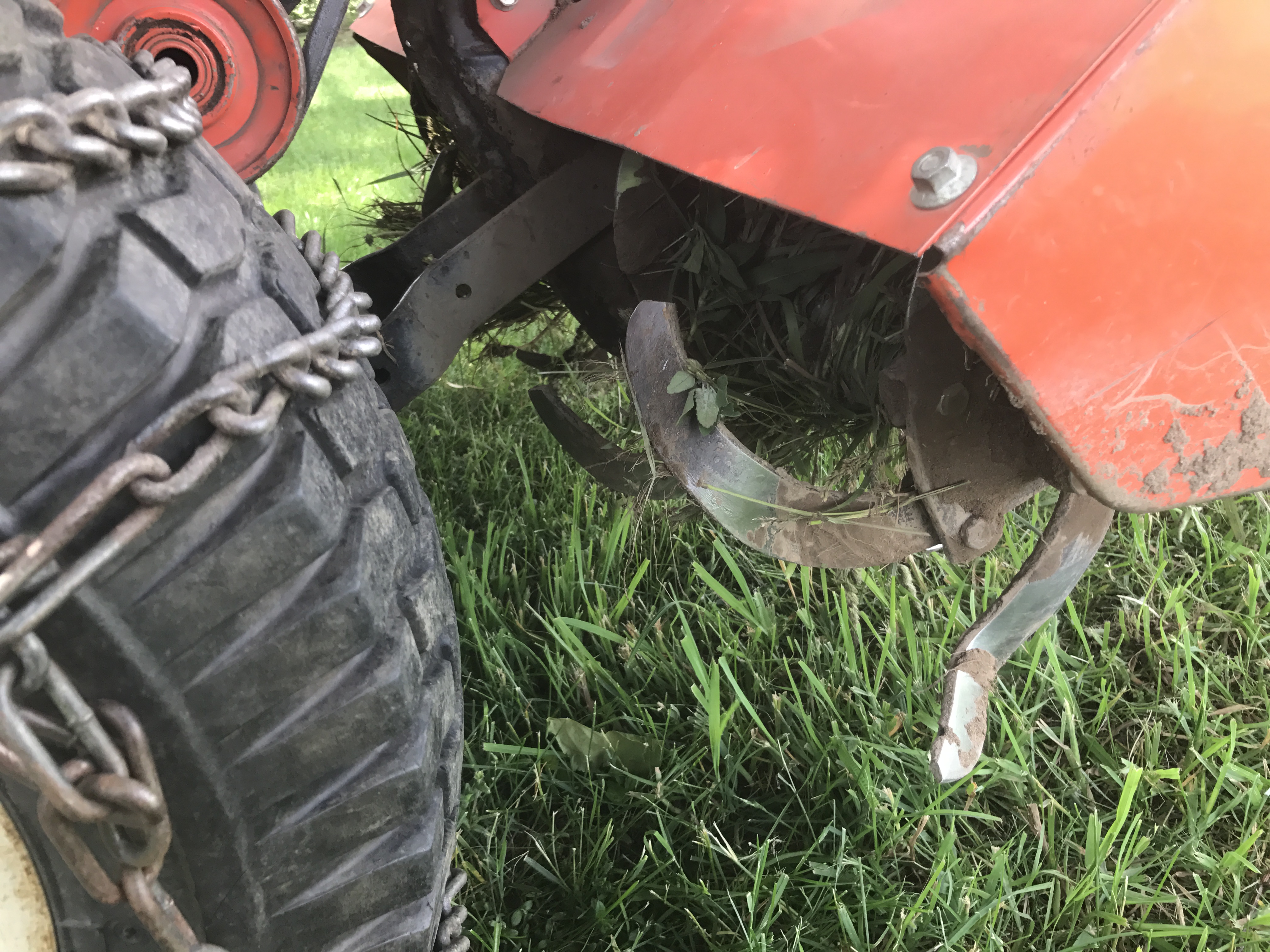 Update 10-18-18

I finally found an original SNOW CAB for my Simplicity.  There will be no more snow in my face this winter.    I don't think its original to my size tractor but its for the 7100 series SNOW CAB MODEL # 1667343 or 1690496.   I uploaded the install manual for this snow cab in the links below.   The cab is in pretty good shape for its age and I paid $150 for it used off craigslist.  It fits perfect so don't worry if you find one not specific to the 7790.    Get one for the 7100 or 7200 series garden tractors and it will fit the 7790.  This cab is heavy canvas with clear vinyl windows wrapped around a frame made of steel rod .  The roof is a hard top made of fiberglass and the doors open and latch on both sides.  Its quite a nice cab and I'll up load videos this winter when I use it.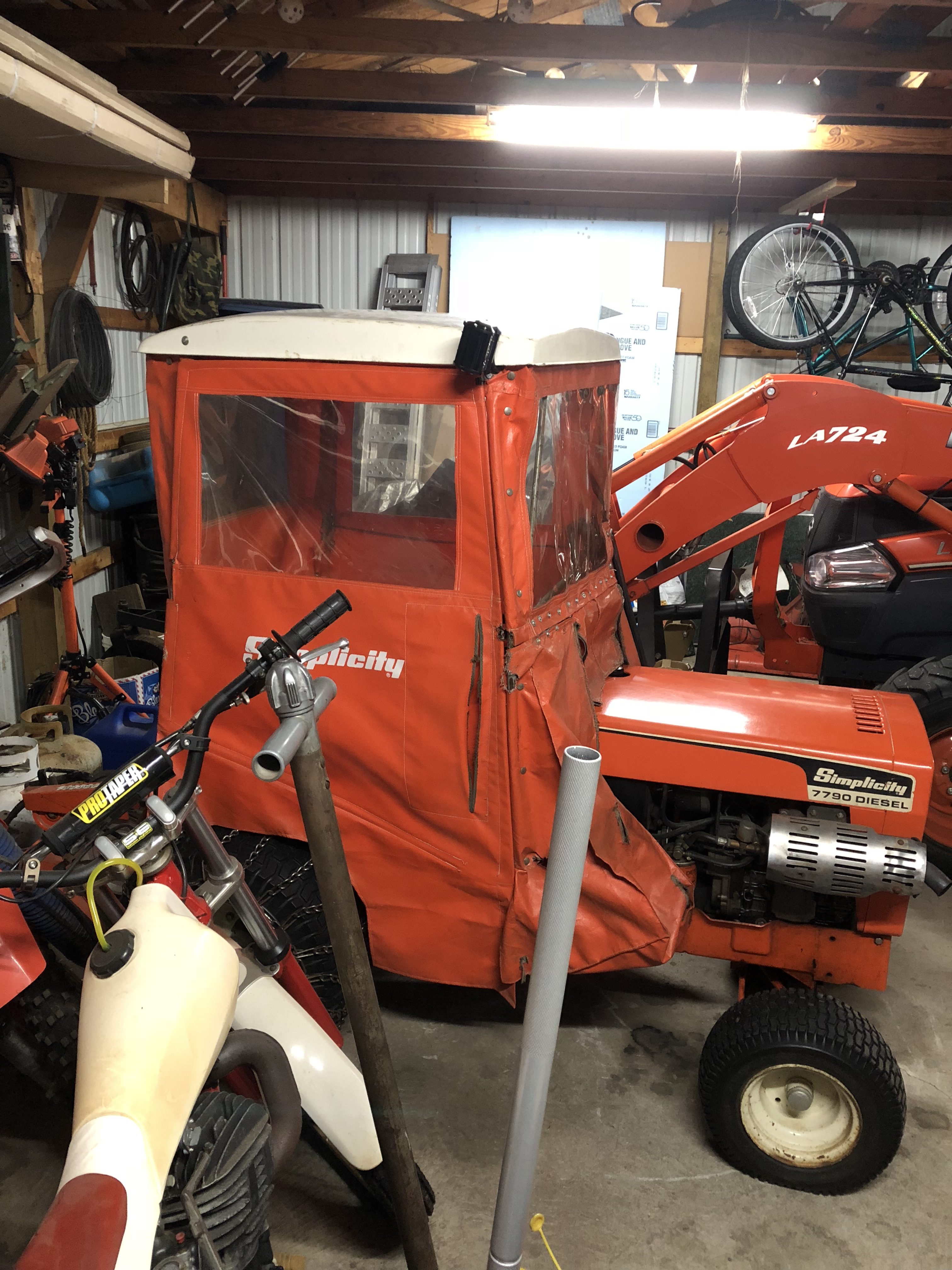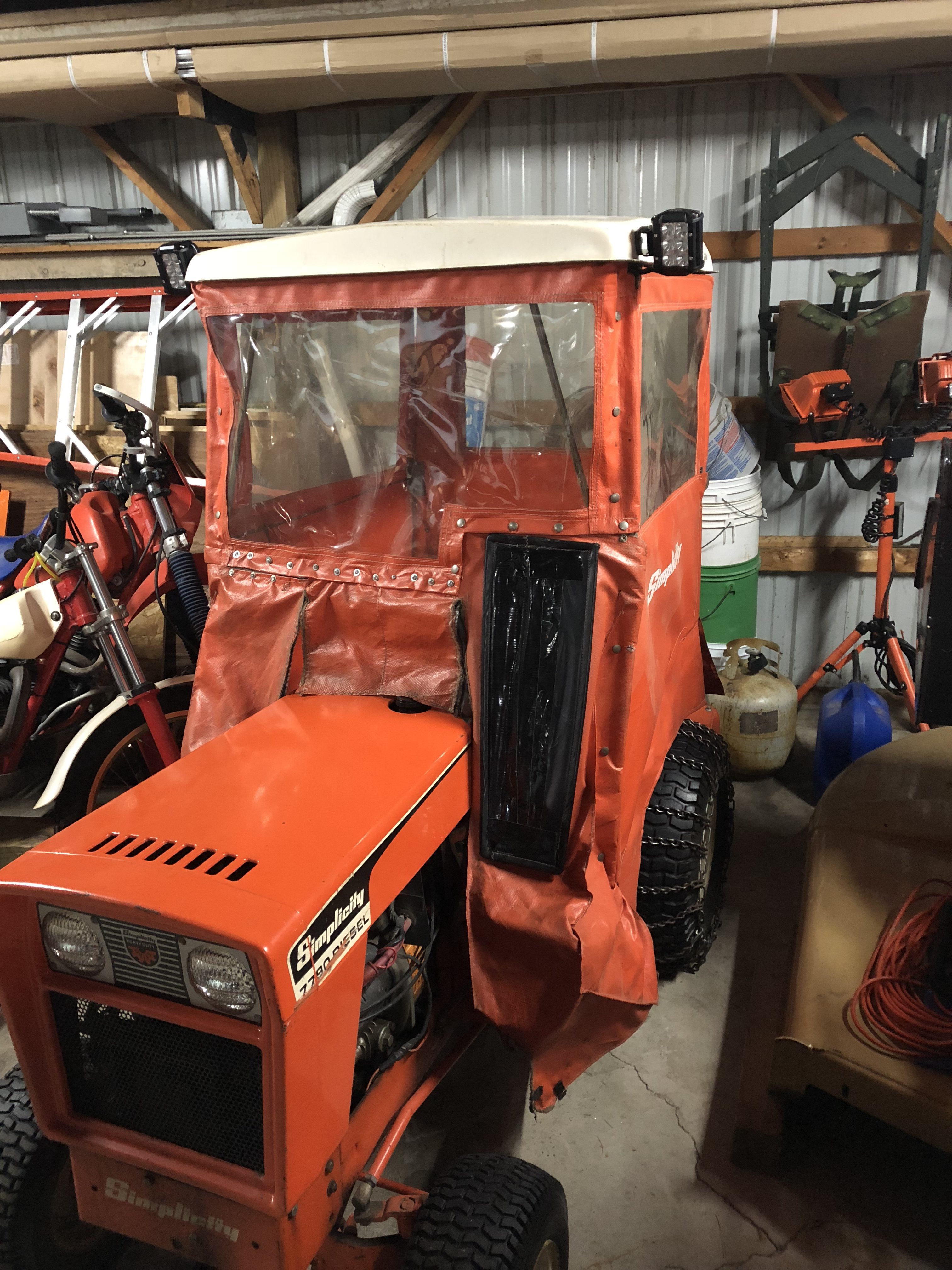 Installation was pretty simple but I had to add 4 mounting holes to my tractor and make two spacers for the dash board.   I think the 7100 series has a  slightly different tractor frame  than my 7900.   The cab mounts to the dashboard existing screw holes (remove the two top screws and save them).   I added 2 inch long spacers for these two locations since the cab frame was too high.  I made them out of 0.750″ round nylon plastic I had laying around.  I drilled them out for a 1/4-20 bolt.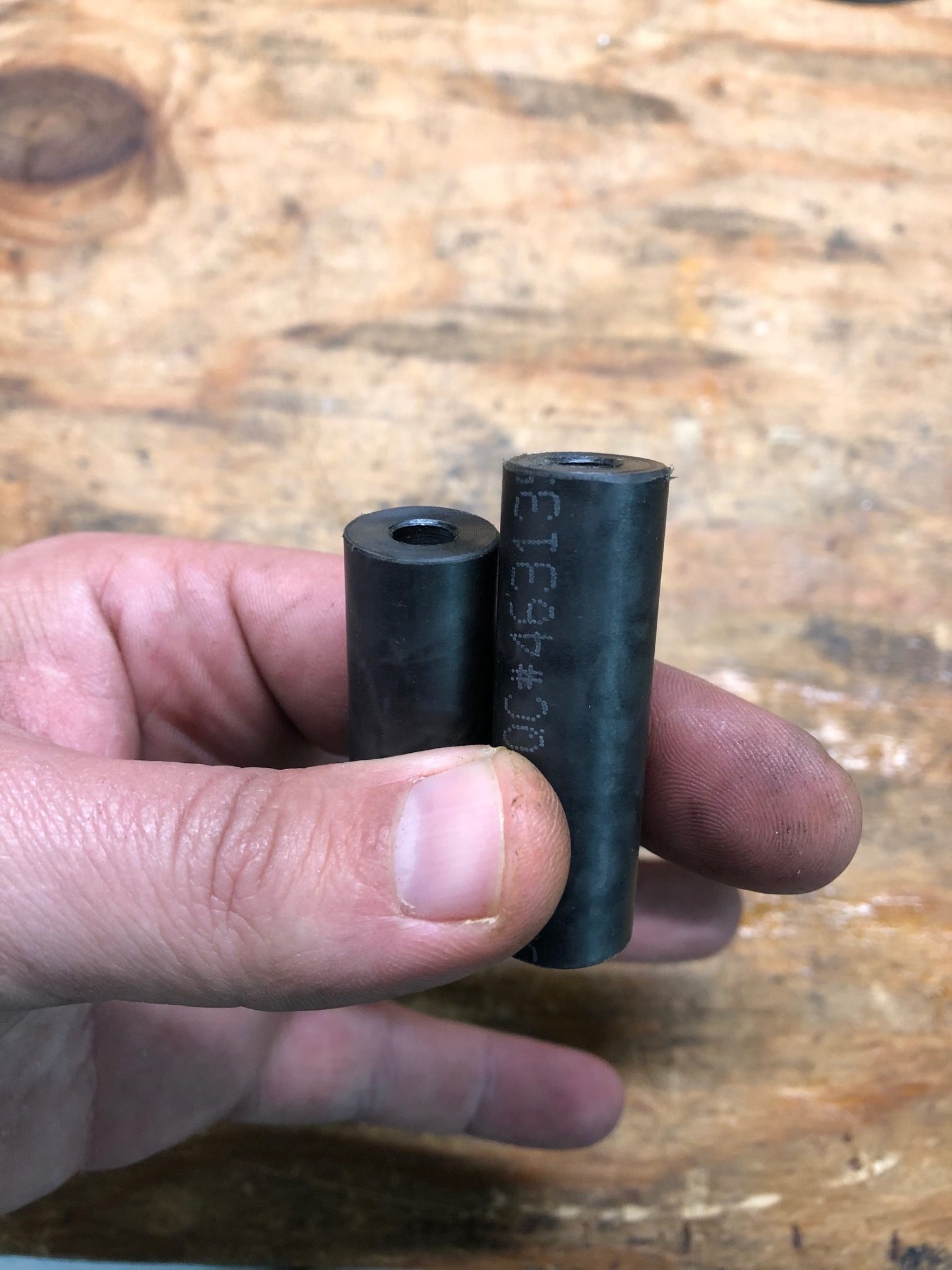 Spacers shown above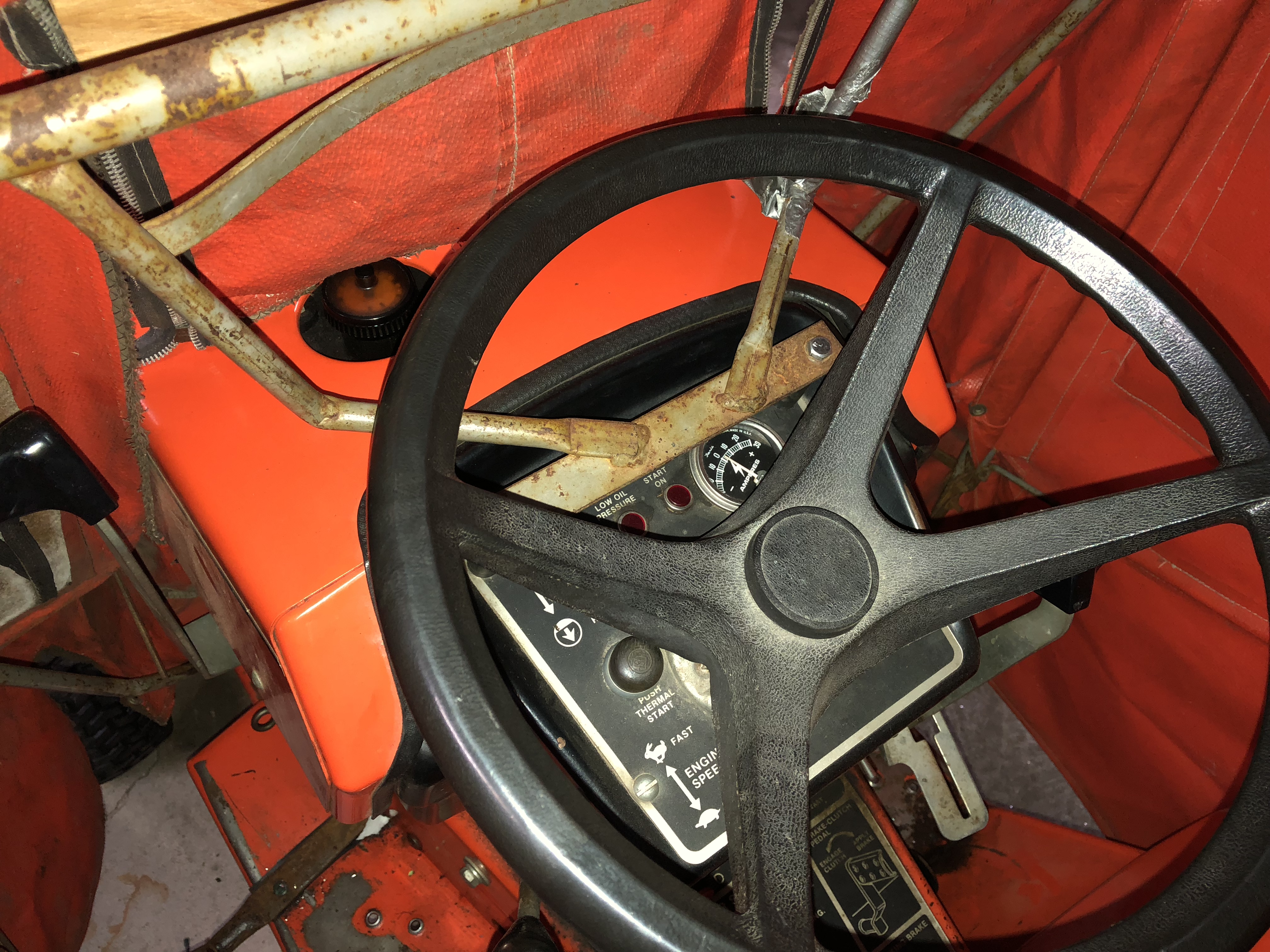 The spacers mount under the frame to the dashboard as shown (shown above)
All the other mounting locations were fine.  I drilled a few holes in the foot rests and I had two drill two holes behind the seat on the fenders.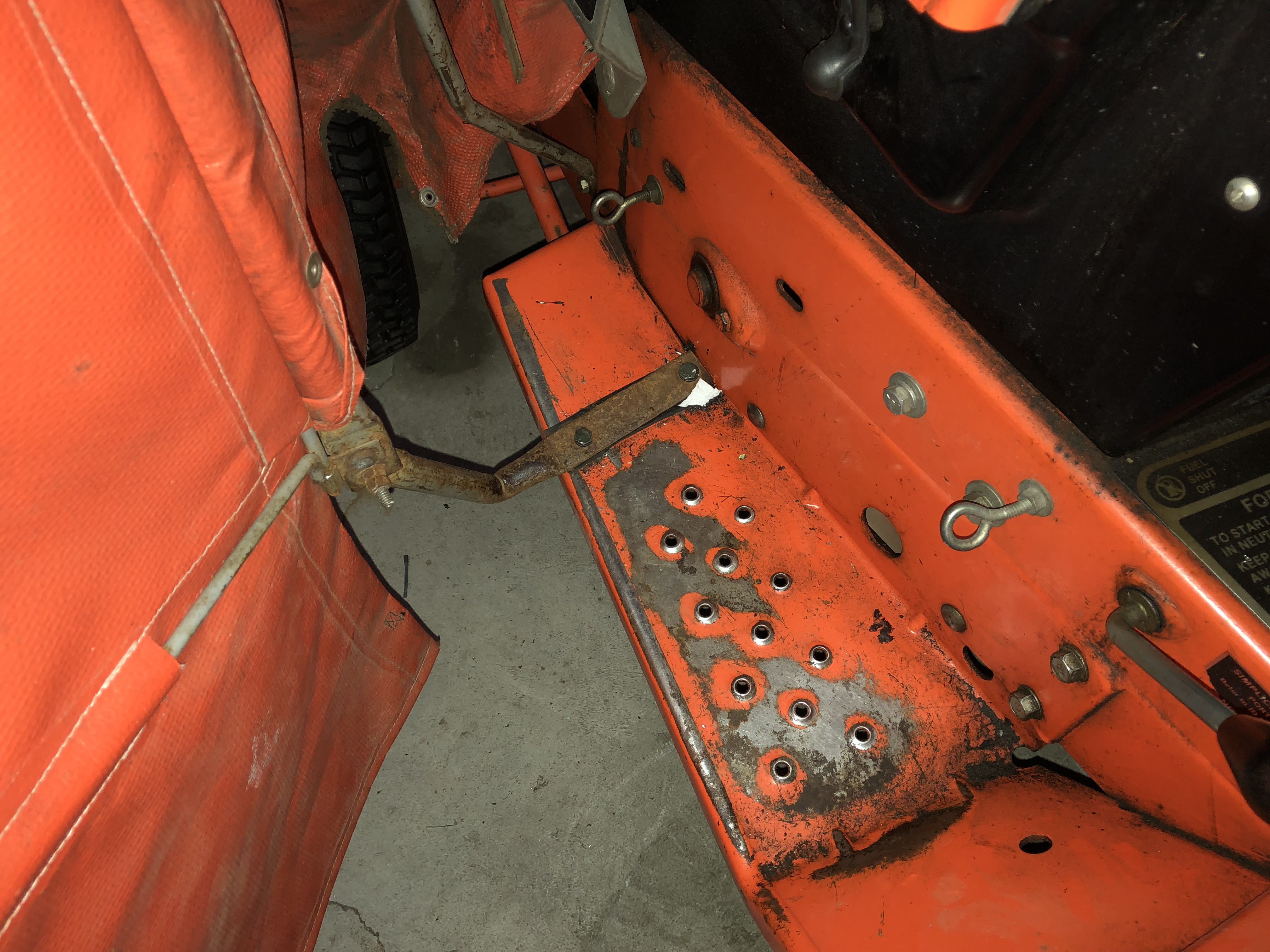 Above you can see where the cab mounts to the foot rest.  I drilled two holes per side.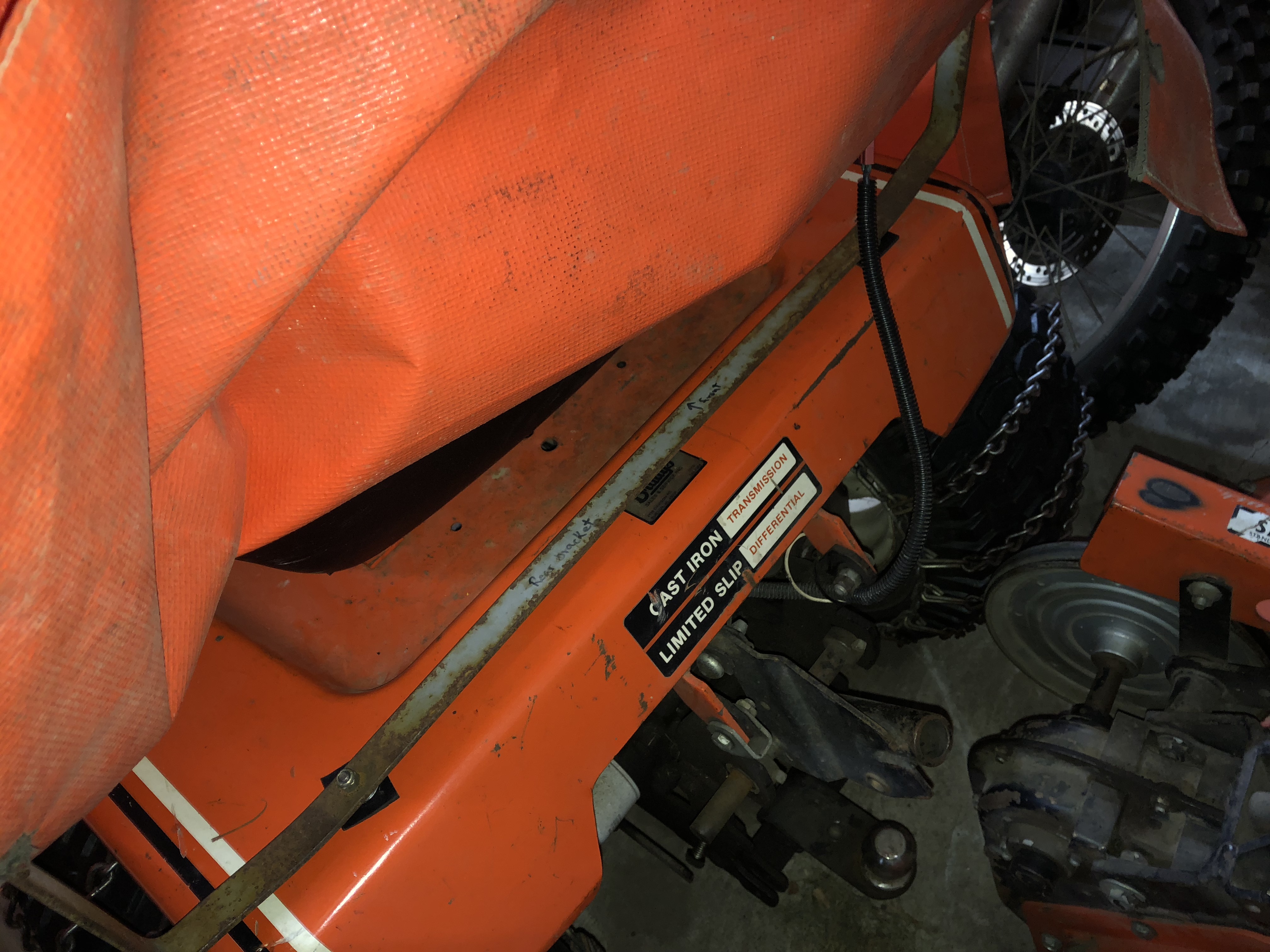 Behind the seat I drilled two holes for the rear mount on the fender (shown above)    I used heavy duty rubber spacer between every mount so I would not scratch my paint.
The other upgrade I wanted to do was to add some lights to the cab.  The front headlights are half blocked by the snow blower so I wanted some high mounted lights near the roof.   I bought some cheap off road LED flood lights off Amazon for $13 a pair.  I bought 2 pair and mounted two lights facing forward and one light facing backwards.  I used the same wire for the rear mounted fender light and just added a plug for the cab.  I ran wires inside the cab and added some switches.   I also added a amber blinking LED safety light to the top for when I am on the county road snow blowing the end of my driveway.  Its high traffic and I don't want to get hit.  I did not drill any holes for any of the light mounts.   I used the existing cab mounting bolts and holes for the light brackets.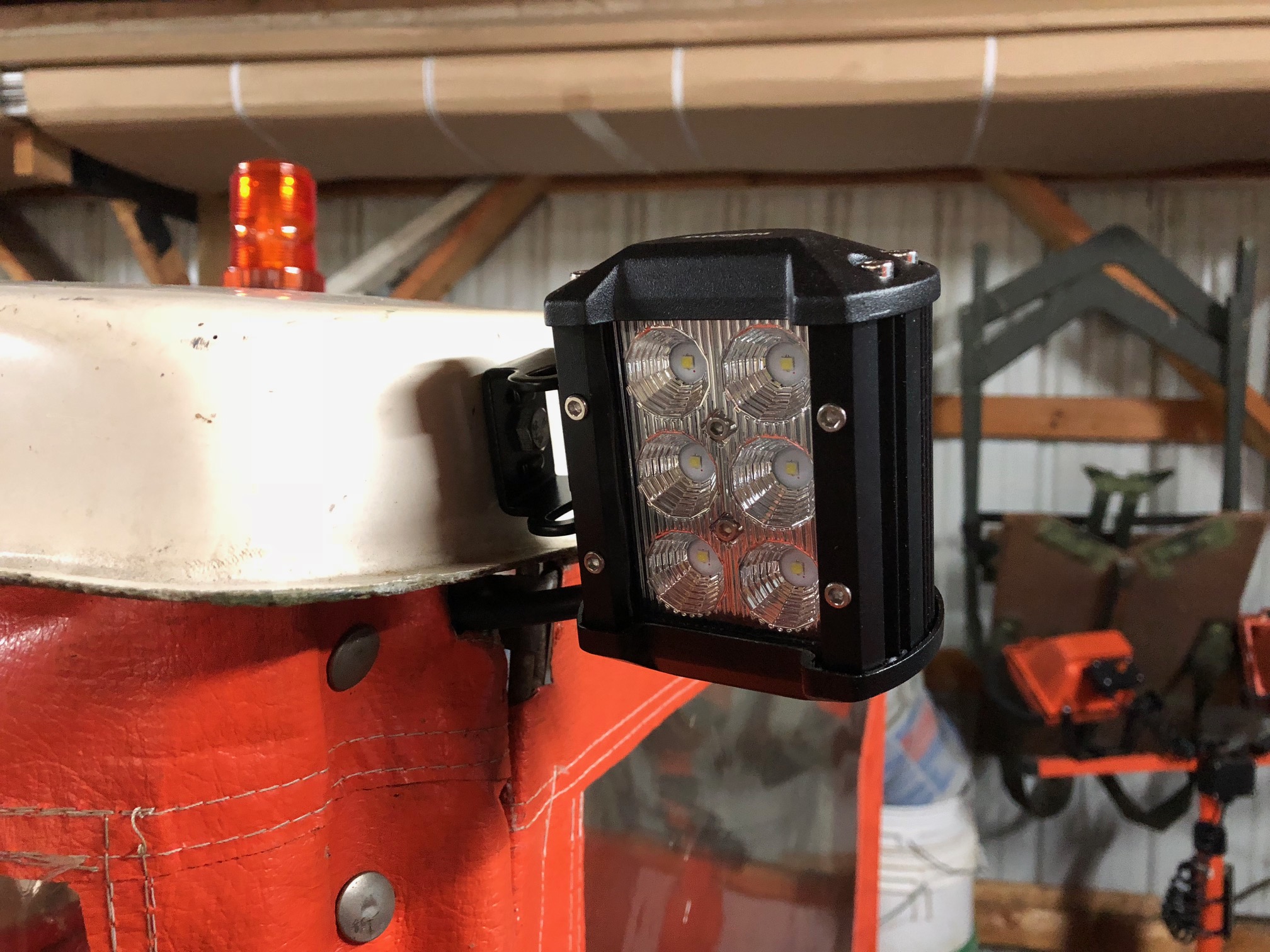 Off road lights I mounted (shown above).  Each light draws 1 AMP.   They are super bright and I am very happy with them.
https://www.amazon.com/gp/product/B00G620ZVU/ref=oh_aui_detailpage_o07_s00?ie=UTF8&psc=1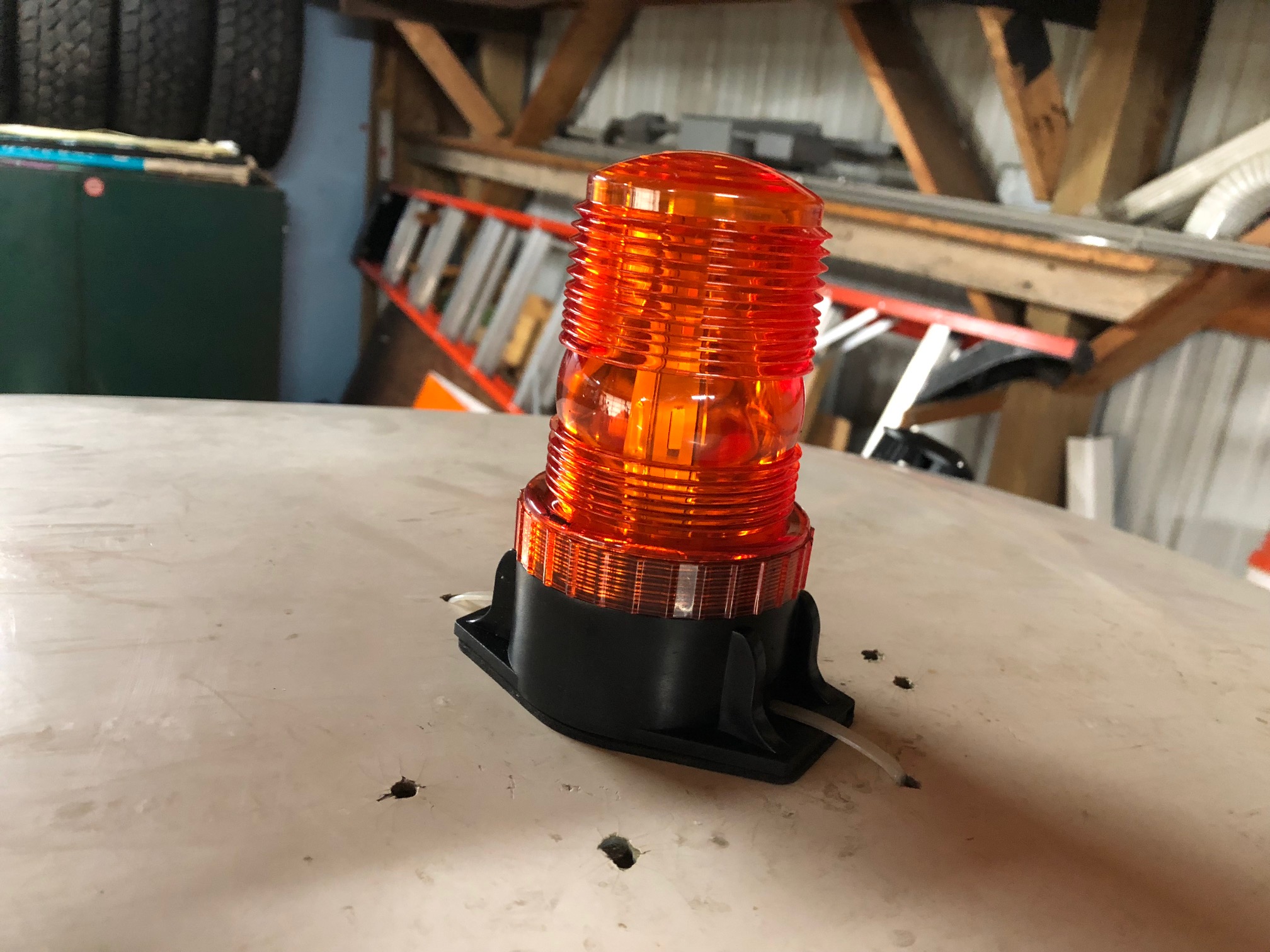 Safety Light Shown above.  Draws 0.2 AMPS
https://www.amazon.com/gp/product/B06XRCCZC8/ref=oh_aui_detailpage_o07_s00?ie=UTF8&psc=1
I was worried about all the extra amp load on the electrical system and I don't know the rated output of the Lombardini alternator.   I did not want to risk burning it up so I swapped out all the old OEM bulbs or low amp LED bulbs.   Each OEM headlight draws 3 Amps each bulb.   The new LED replacement draws about 1 AMP each bulb.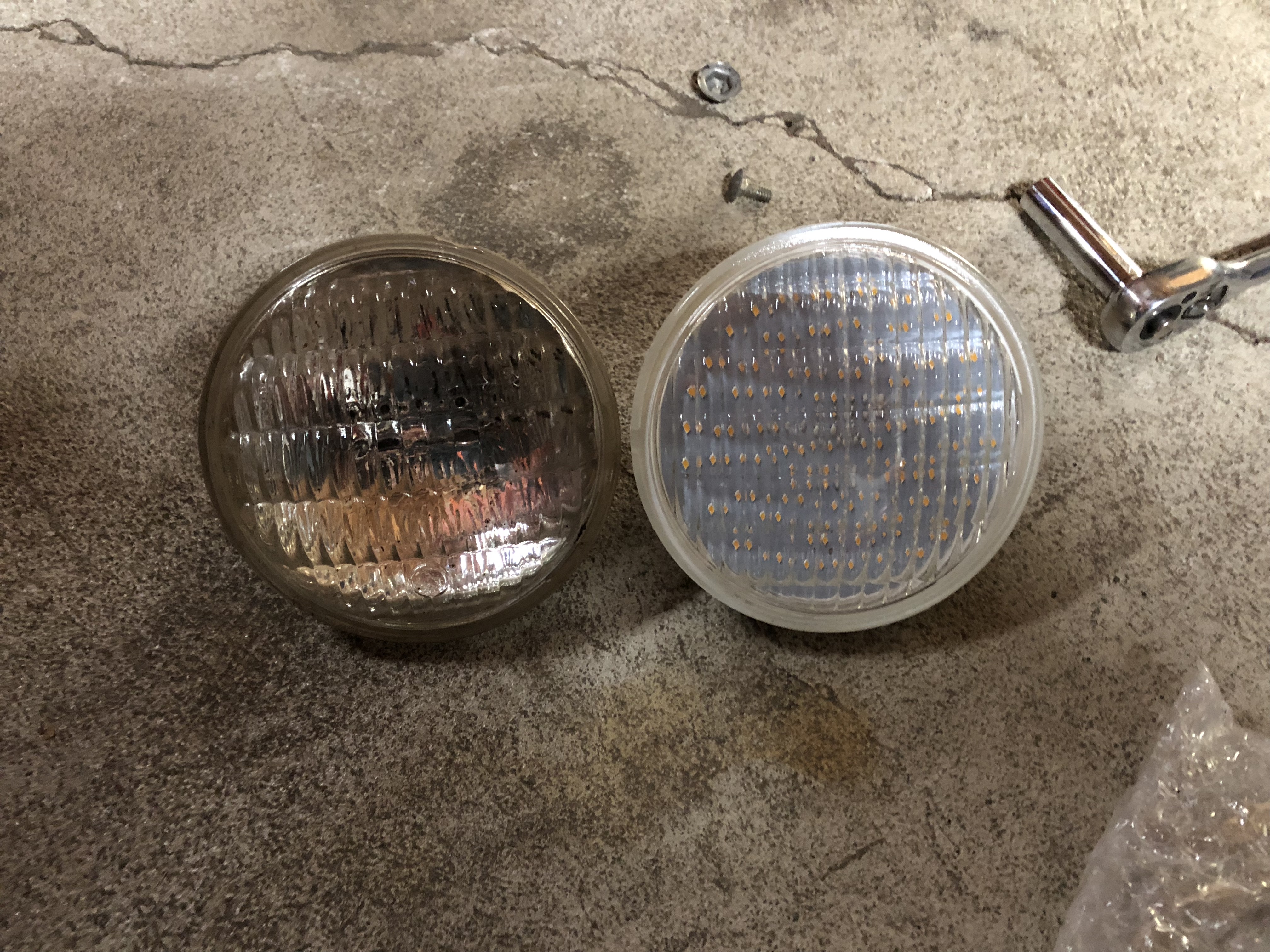 Above the OEM bulb is on the left and the LED is on the right.  The LED bulb is solid glass and is 2x as heavy as the OEM bulb.   Link is below for the ones I bought (3000k color)
https://www.amazon.com/gp/product/B06XWWB5LM/ref=oh_aui_detailpage_o08_s00?ie=UTF8&psc=1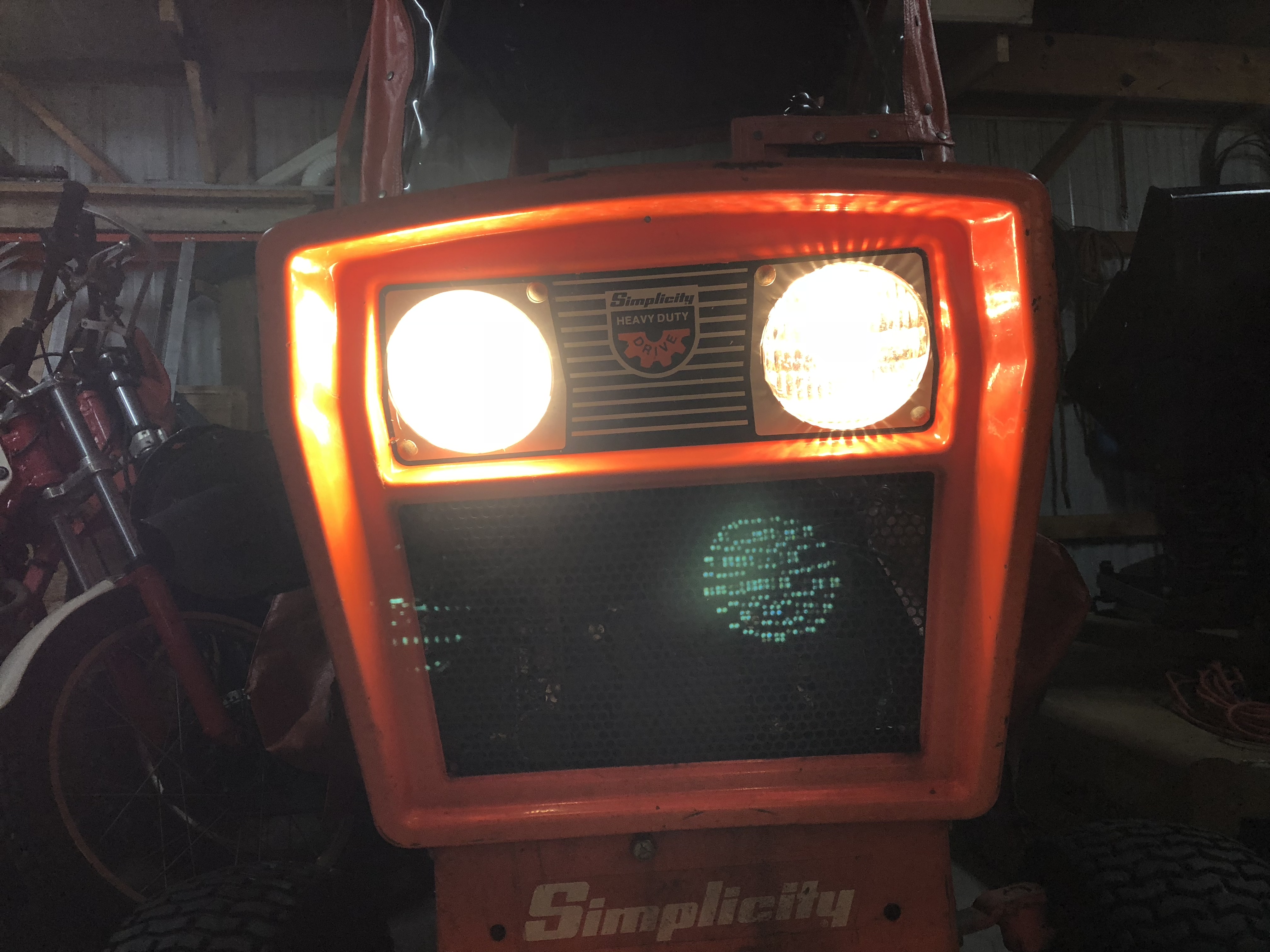 The LED light is shown above on the left.  The original bulb is on the right.  Honestly I could not tell the difference.  The LED light is very bright and works just as well as the original.  I still kept the original lights just in case I wanted to convert them back.
Update 11-07-22
I installed the snowblower today while getting everything ready for winter.  The snowblower belt was really bad with cracks and chunks of belt missing so I replaced it.   The belt is 1/2″ x 146″  and I used a Gates A144.   It lasted 20 yrs so I guess its time for a new one.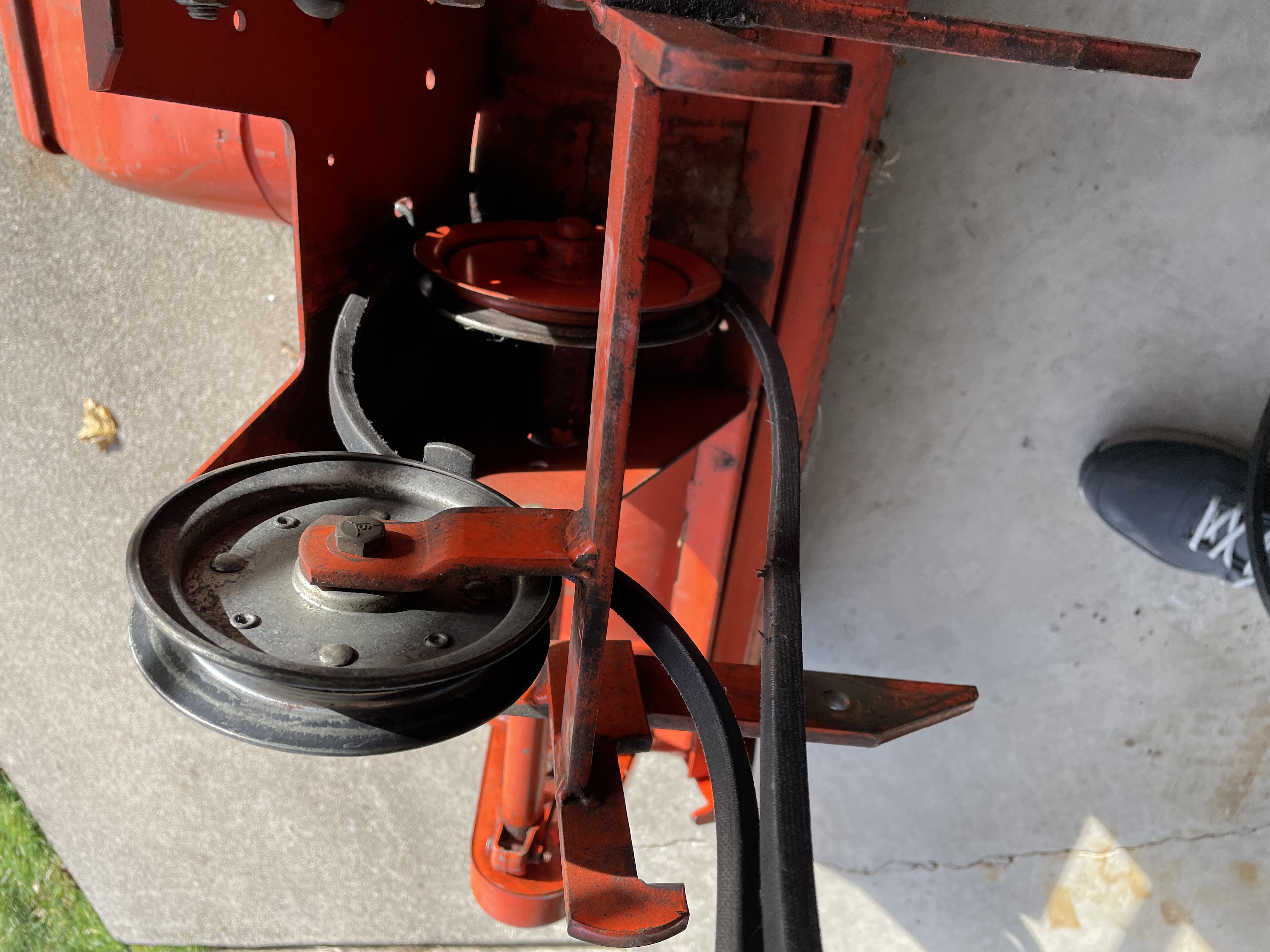 Fluids and Misc Info I use:
Engine Oil :  Rotella T 30Wt   (also T1 works)
Transaxle Oil: Valvoline ATF type FA transmission fluid (2.5 qts)
Gear Box Oil: 80-90Wt Gear Oil
Fuel: Off Road Diesel.   I also have used 100's of gallons of #2 Heating oil.  No Problems.
Battery:  AC-Delco 34PG    Group 34 Size is the biggest that will fit.
Paint: Dupli-Color "Chevrolet Orange"  part # DE1620.    Can be bought at Advanced Auto.
Simplicity 7790 Operators Manual
Simplicity 7790 Parts Manual
Simplicity 7790 Snow Blower Attachment
Engine Service Manual PDF
Simplicity 7100 Snow Cab
Drawing of Drive Shaft Coupling
Engine Service Manual I used: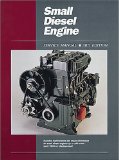 I also have an electrical schematic for the alternator if interested: